Tim Cook praises Supreme Court ruling on marriage as a "victory for equality"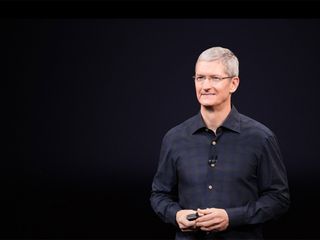 Tim Cook has spoken out about the recent decision by the United States Supreme Court that legalized same-sex marriage in all 50 states. A long-time voice for equality and inclusivity, Cook praised the decision, calling it a victory for equality.
Today marks a victory for equality, perseverance and love.Today marks a victory for equality, perseverance and love.— Tim Cook (@tim_cook) June 26, 2015June 26, 2015
He followed up with a quote from Apple's original Think Different campaign:
"The people who are crazy enough to think they can change the world are the ones who do.""The people who are crazy enough to think they can change the world are the ones who do."— Tim Cook (@tim_cook) June 26, 2015June 26, 2015
Cook has long been an advocate for equality, and has expressed himself on this and similar issues before. He opened up about his own sexuality last fall, hoping in part to inspire people to "insist on their own equality".
Source: Tim Cook (Twitter)
Joseph Keller is the former Editor in Chief of iMore. An Apple user for almost 20 years, he spends his time learning the ins and outs of iOS and macOS, always finding ways of getting the most out of his iPhone, iPad, Apple Watch, and Mac.
Indeed, this historic day marks another victory for equality over bigotry. All Americans can now fully participate in the realization of love in a lifetime commitment, and the recognition and continuity of benefits and protections granted them in a civil society. Dr. Martin Luther King Jr. remarked that the "arc of the moral universe is long, but it bends towards justice." And with today's ruling, as it was with Loving v. Virginia in 1967, a couple's right to pursue happiness with dignity shall endure.

I take no sides... but pursuing the right to disagree is not bigotry. Unfortunately, the major issue is labels being quickly and easily thrown on others each way. It's not the governments place to impose rules that cross personal/moral beliefs no matter which side of any argument a person takes. Those screaming of the intolerance of people who are using their rights to disagree are the people who are being incredibly intolerant of anyone who disagrees with them. It's gotten to the point where if you don't go along, you are labeled an intolerant bigot. That's simply a sad statement of the overall condition of the nation. /2 cents

+10,000! There is NO ideology more bigoted and intolerant, dogmatic...and illiberal, for that matter, than what has become of modern "liberalism". And besides, why are we reading about this on a tech site, anyway? Oh, because Tim Cook said it. Well then why, if we're turning Mobile Nations into a source for the tech-unrelated musings and opinions of tech giants, are we not seeing articles tackling the burning questions of whether Tim prefers jelly or jam on his toast? Oh, because Jelly vs Jam is not a trendy, glitzy social movement marching like a parade to the revelers, and like a "Kaiser Kurios" to the dissenters by that whole pesky "OBEY" tendency of the so-called "liberal". And if we are gonna go there, Mobile Nations, where's the opposing voice to make this fair journalism? Oh yeah. It's heretical to the new "orthodoxy" of the so-called "liberal". We don't like heresy ... Kaiser Kurios! STICK TO TECH, MOBILE NATIONS! Quit forcing an ideology that has NOTHING to do with tech down our throats, especially when you have in your midst viewers who are NOT AT ALL sympathetic, and consider leaving every time you take to your little soapbox.... ...or is it a matter of "the more heretics we run off, the less we have to burn at the stake" (...or at least, "the more we run off, the better a party we can all have")? I'm here for the tech. If you're here for something else, I'm outtie. Posted via the iMore App for Android

A court ruling is not ideology, and you clicking on a heading reading "Tim Cook praises Supreme Court ruling on marriage as a victory for equality" is not exactly "forcing something down your throat". The latter is rather something Christian priests excel at.

Yeah I never understood the "forcing down your throat" trope. Nobody is forcing anybody to read one article on a subject.

Goodbye and good riddance. There's nothing extremely liberal about people getting married, and there's nothing being rammed down your throat besides the opinions of a worldwide cult known as the Catholic Church, but it isn't happening on imore. Get a grip. Sent from the iMore App

Respectfully, you're throwing out several logical fallacies and strawmen. 1) "It's not the government's place to impose rules that cross personal/moral beliefs". No one is saying that straight couples must become gay, or even that religious institutions must perform rites. State laws prohibiting gays from marrying are violating those people's rights under the 14th amendment (equal protection). 2) "Those screaming of intolerance....are being incredibly intolerant". Tolerance does not mean that one does not speak up when your opinions/views/laws are discriminatory, oppressive, or burdensome on others. It's not "tolerant" to be silent in the face of homophobia and racism. This is a tiresome trope that comes out whenever people get called out on their opinions.

My congratulations to everyone in the U.S., even those who are unhappy about this ruling (you'll be ok; really, you will). Next month will mark 10 years of same-sex marriage being legal in Canada. Welcome to the party! :-)

If only this were from an announcement that Tim Cook was running for president with Joe Biden as permanent VP.

Well, that's officially the dumbest thing I've read today. Sent from the iMore App

Yea, another awesome magnificent moron! Typical of today's voters, fkn clueless and looking for a handout!

Now on to bigger things! Soon it will be legal for men to marry children and women to marry animals!! What a triumph for America, at least until there is a cure for this problem!

Yes the old slippery slope argument, throwing logic in the trash to make a point that kinda doesn't make one....

consent Besides the whole marrying animals trope was used to death back when interracial marriage was being debated years ago, except black people were considered animals.

Give them time. The attempt to decay any remnant of traditional America is far from over.

Traditional America? Sorry I like being able to vote and sit at the same lunch counter as you

See, that proves my point. To people like yourself, on the left, "traditional America" is bigotry and racism, you guys TOTALLY don't see any positives about the history and traditions of our nation. To the left, America is either illegitimate or just completely awful, based on events from decades or centuries ago. Nowhere in my post, did I reference what you described, nor is that what I consider a "traditional value" of the nation.

You have not a clue about what you spew. Posted via the Android iMore App!

I'm assuming you're saying that to me....that's fine, it's your opinion. I find it interesting you can't challenge me on anything and instead just resort to a blanket and generic, negative reply.

Why do you assume I am on the "left"? Traditional America does have a long and painful past for millions of Americans. This romanticized idea of traditional America only existed for some people, and yes it was completely awful for millions of people. Our history is full of lengthy battles for equality for generations of Americans and every time people resisted by bringing up "tradition".

There's the whole Mormon issue of multiple wives. Then perhaps relatives. If everyone consents, okay, correct? A trope? Straw man? Those are real things--not like the marrying animals "trope" above (not sure you understand what that word means). The fact is there is a slippery slope and you will see the arguments noted above sooner rather than later. And if you enjoy having your rights or life decisions and rights made and defined by five of nine unelected septa and octal-generian lawyers as opposed to the democratic process, then today's decision was perfect for you. Until they make a decision you dislike.

I do enjoy having my rights made and defined by five of nine unelected lawyers. It's how I got the right to marry the person I chose to marry https://en.wikipedia.org/wiki/Loving_v._Virginia

Sounds good today and yesterday. One day in the future, those five (or a different five) will probably make a decision that is just as consequential. Although you might not be as thrilled.... My argument is simple----don't give unelected people that you CANNOT REMOVE FROM OFFICE, EVER, the power to define you rights. You might like it now but detest it later.

http://www.civilrights.org/resources/civilrights101/supremecourt.html?re...

ISIS, Russia, China, Economy, Unemployment and this is what is deemed so important? Let concentrate on the real important things. This and abortion rights are fringe issues that few care about about either way.

Because I am sure the Supreme Court can just make ISIS go away.

What do you expect to read on iMore? World news? Come on... Posted from my Samsung Galaxy S6

It's just another way to tear down any kind of traditional value and to attempt to fundamentally alter the fabric of American society for the worse. The way they see it, anything goes unless you believe in God or Believe in the principles that made America what it is, or should I say it was.

https://en.wikipedia.org/wiki/Loving_v._Virginia "Almighty God created the races white, black, yellow, malay and red, and he placed them on separate continents. And, but for the interference with his arrangement, there would be no cause for such marriage. The fact that he separated the races shows that he did not intend for the races to mix."

Irrelevant. The left knows what they'e trying to do and it has everything to do with removing any trace of tradition, history, or Christianity, from America. Anything that was a part of the past, it's fair game. Whatever was/is considered traditional, must be re-defined, and the people that support tradition, must be marginalized. Don't EVEN compare this to interracial marriage, totally different circumstances.

I can compare it to interracial marriage because the same arguments were made then that are being made now. Gay marriage: children will have issues
Interracial marriage: children will have issues Traditions change...

Traditions change because the left is trying to undo everything that has been woven into the fabric and history of the country. You're trying to de-legitimize everything that has a religious or moral value to it and attach a negative connotation to it, in an effort to marginalize people who still have reverence for history and what is considered moral.

I am glad a lot of traditions changed though, I like having the same rights as you when it comes to voting, where I can live, eat, work. etc.

But those weren't traditions, per se, those were legitimate civil rights violations. Obviously you consider marriage a civil right....I do not, thus we'll probably disagree on that as well.

I think Christianity should be abolished and that any hippo rite purporting to uphold "Christian values" should not be allowed to speak at all. But you are in the U.S. and have the right to your speech, not the right to use your backwards values to infringe on the rights of others. Funny how "the party of personal responsibility" turns into cry babies the moment they don't get their way. "Wah wah" too bad. Everyone has rights despite what you f-in values are. Your values can be practiced in the privacy of your church or in speech alone. There is something called real life and we are not beholden to whatever delusions you choose to uphold chubs. Sent from the iMore App

I think you misunderstand. I don't think anyone is saying that marriage in itself is a civil right. Since 1964 in the US, it has been illegal to discriminate based on who you are. Since 1868, the 14th Amendment has said that the government cannot deny equal protection under the law. Thus state laws prohibiting individuals from marrying are unconstitutional.

This is incredibly silly. Gays do not have a pervasive history of being chained like animals, raped, hanged, burned, lynched and made to sit at the back of the bus or use different bathrooms like black Americans. The experience is completely different. You might see a Matthew Shepard thing here or there, but to compare the gay experience with the black experience (especially a black person marrying a white person, as was the case in Loving) is ignorant. If I were black I'd be offended by the way you are conflating the two experiences. Shameful.

https://en.wikipedia.org/wiki/Holocaust_victims While the term Holocaust victims generally refers to the victims of a systematic genocide against the Jewish people in Nazi Germany, the Nazis systematically murdered a large number of non-Jewish people that were considered subhuman (Untermenschen) or undesirable. The non-Jewish (gentile) victims of the Holocaust included: Poles, Ukrainians, Slavs, Serbs, Romanis (often known in the English-speaking world by the ethnonym gypsies), lesbian, gay, bisexual and trans individuals (LGBTs);[a] mentally or physically disabled people;[b] Soviet POWs, Roman Catholics, Jehovah's Witnesses,[c] Spanish Republicans, Freemasons,[d] people of color (especially African-German mischlinge, who Hitler and the Nazi regime called the "Rhineland Bastards"); the Deaf, leftists, Communists, trade unionists, social democrats, socialists, anarchists, and every other minority or dissident that wasn't considered part of the Aryan race or Herrenvolk ("master race").[e][2][3]

Are you comparing how homosexuals are being treated today, in the United States, versus 70 years ago by a historically INSANE Nazi regime that gassed and murdered every person of non-Arian, sexual preference, religious beliefs, etc??? Wow.

Well, now that you're "equal", what are you going to complain about now? I've read several articles today, with quotes from several notable gay rights activists, and the macro theme is the same... What do gays have in common now that the oppression is over? I wonder how many gays are actually thinking "oh crap, now I don't have an excuse for not getting married!" Posted via the iMore App for Android

It's just not normal. Males and females are meant to be together for marriage and reproduction, and to be a mother and father to their children. Sent from the iMore App

Not normal, but if they want to marry, who cares. It's not really that important to me either way.

Agree and disagree. I do not agree with same sex partnership but I respect it. I agree with if 2 people want to do it, you're right it's their business, but looking at the bigger picture, this is a issue. I now see there's reality TV show that is basically propaganda (promotion) of this. Influence is a big weapon. Tomorrow my kids and/or grand kids may not even be able to differentiate the 2. We so much appeal to science when it is convenient to us but we all know very easily that the rectum was not made for intercourse. It's unhealthy and very defiling IMO. Am I against people who want to do that? Nope. But I do not appreciate this thing being thought as ok or normal for it is not. We are born of a man and a woman and no other way.

So infertile couples shouldn't be allowed to marry, either?

Yes they just have to keep trying to have children. Also if you are elderly no marriage 4u

This is childish. He respects your opinion but disagrees. He makes zero mention of being infertile as part of his argument, unless you're focusing on the "rectum not made for intercourse" statement (although I don't see the scientific evidence for that act, but that's besides the point, unless science is your God and then......?). You drop your hammer of a comment on the guy who didn't say anything about fertility. Are you itching for a fight? How about taking this reasonable attitude: "He has his right to believe what he believes as long as he leaves me alone and I agree to leave him alone?" Your side won the argument. Let it end. Unless you feel going around and putting the sword through the skull of every fallen "enemy" is how to go about things.

Great. "It's just not normal". Not exactly a thorough justification for denying equal protection under the law (14th Amendment) or discriminating (Civil Rights Act of 1964).

What equality? A man/woman still can't legally marry his/her car or motorcycle.

Can a car or motorcycle give consent?

If there's a side-car or scooter involved, it would bring up a whole new set of debates. [sarcastic humor]

Scooters are immoral, says so page 43 of the Bible.

Consent is irrelevant. You just watch, the next thing will be plural marriages, then onto people under 18, then to inanimate objects. Think I'm full of bull? Go back 10 years and look at how people viewed the chances of gay marriage being allowed. Heck, it wasn't until 2013 that Obama and Clinton stopped objecting to gay marriage. Mark my words, this is simply another nail in the coffin as we slide toward a complete state of moral decay and more nails are to come.

Consent is relevant, marriage is between two CONSENTING adults. The claims of the decline of moral decay were stated numerous times in past cases when it came to women's rights, the civil rights movement, etc. The whole point of not allowing interracial marriage was to "protect women". Plural marriages were in the Bible, it only became not the norm much later. Marriage is a contract, it's none of my business if people want to practice polygamy as long as they are consenting adults which is why the word "consent" matters. I fail to see the logic of denying one group the same rights "I" have because I am worried about "something" else. It's illogical to use the slippery slope argument repeatedly throughout history when looking back it's laughable to see how ignorant the claims were looking back.

You still don't get it. These things have been tried before and in Europe, they're being tried right now. Things we believe to be unthinkable, they're happening elsewhere, we're just behind the immorality and decadence of many other nations, but we're catching up. Then, you have this, which only serves to add another layer things. http://thelibertarianrepublic.com/millionaire-gay-couple-suing-force-chu... A Pandora's Box has been opened and everything that has been right, proper, and traditional, is under assault, in favor of things that were immoral.

Ok so we need to deny a right to an entire group because somebody in that group might do something to another group. Good thing we don't apply that logic to everybody equally

And you don't think that the potentiality of events doesn't come into play on Supreme Court decisions? You're being a wee bit naive, because they most certainly do come under scrutiny, when decisions are reached.

Since you've asked, yes, you are full of bull. Posted via the Android iMore App!

You going to actually participate in the discussion, or just be a troll? I know it takes a little bit of mental horsepower to debate an issue, so maybe you're just not capable. At least CVJ is able to coherently and intelligently discuss an issue with me, without having to resort to your level of inane attack posts.

Yeah it's easy to just name call it takes work to post an intelligent response.

People, objects, same thing. Are you even serious?

I'm having a very difficult time deciding who's serious and who's joking in this thread. Are the negative comments above actually serious? Are you REALLY that filled with hate? How sad...

Hey if gay people get married then it reduces the value of my heterosexual marriage with it's fifty percent divorce rate.

Is it only 50%? I thought it was higher than that now! haha
Thanks for your replies to some of the people above. I'm not even American but I really appreciate it.

Give it a couple of years and see what the gay divorce rate is... I bet it's higher. Gays simply wanted the right, then they're going to realize they messed up, and one will lose half his or her crap. It's like legal weed in Colorado.. The majority of people smoking and buying are tourists. Half the people I knew who smoked have quit now that it's legal. Posted via the iMore App for Android

I don't hate anyone, I just don't believe that a "marriage" is defined as anything other than a man or woman. That is how human society has always viewed it, that is what is best. Disagreeing with the leftist issue of the day, doesn't mean hate. You guys have so perverted the words, "hate", "racist", and "bigot", so much, that you just mis-use them, repeatedly, and nauseatingly, anytime someone disagree with you.

You don't hate anyone you just prefer they don't have the same rights as you.

They have the same rights as me. Men can marry a woman just like I can, and women can marry men, just like my wife can. Since when is a lifestyle or a personal preference for sexuality, a reason to grant things? If someone has a proclivity for what is deemed an "illegal" or "immoral" relationship today, they now have a legal foothold, to challenge on. Again, people like you misuse the word "hate" and apply it to people who have disagreements.

If it's a personal preference can you explain to me what it's like to be gay? I tried once and almost gagged at the thought.

Seeing as how I'm not gay, it's difficult for me to do that. I don't believe ALL people choose to be gay, nor did I say as much, I simply used "lifestyle" and "personal preference" as a means of saying that simply living or choosing to live a way, doesn't mean you should get certain allowances, under the law, unless those actions (such as religious beliefs, activism, etc.) are protected. You ignore the more important point, that we essentially have now provided a legal standing, for people who may engage in acts that while objectionable now, can be re-defined, by the courts.

You say you don't hate people like me, but you call us immoral and compare us to pedophiles and people who have sex with animals. You say you aren't a bigot, but you support politicians and laws that prevent people like me from having the same rights as you. Sounds a lot like hatred and bigotry to me. You can hate all you want, but at least be honest about it. You're not fooling anybody with your 'I don't hate anyone' BS.

So because I think this was something best left to the states and I see this as a slide away from the long understood definition of marriage, I'm a bigot. Unreal! You're exact the person I've been describing. Live your life, do what you want, I don't care, but I'm not keeping you from doing anything. I'm fine with you having a civil ceremony and partnering up for life and being legally recognized, so I don't know what your complaint is. I just view that type of relationship as not being a marriage, has has always been defined. The next time people say they are anti my gun rights, I, going to start labeling them bigots, since they are obviously for squelching my civil rights and for preventing me from practicing my right to keep and bear arms. Oh, for the record, the Constitution doesn't say anything about marriage and marriage isn't guaranteed, in any form.

Would REALY be great if tech sites could stick with tech instead of social new events.

Absolutely agree with this!

I really wish people would stop using an imaginary friend in the sky as an excuse to hate other people.

Opposing gay marriage is NOT ABOUT HATE! Get that through your heads. I have a right to a religious belief and whether you like it or not, me believing in the tenets of that faith, does not mean I have hatred for anyone. The REAL hate is on the left, it's palpable and it's comments like yours, where you denigrate the majority of the world's population, where it shows so vividly. I don't hate anyone, regardless of race, creed, orientation, place of birth, what have you, but I view this as another slide towards a profligate society, where the people who follow traditional beliefs and values, are marginalized, in favor of everything that is "different".

Religion was used to justify banning interracial marriage, it's a good thing the courts ignored the religious protesters.

Don't give me this crap, it was also used to justify freeing the slaves, ok? You make it sound like all people of faith are/were against interracial marriage and we know that's not the case. I notice people like yourself don't seem to be denying anything I'm saying, regarding the goals and bigger picture of this, you just keep picking at religion and accusing people of hatred.

I am not picking at religion, I only bring it up because it is constantly brought up as a reason to NOT allow it......

Because it's a very closely held thing to many people and our definition and traditional beliefs of marriage, have some roots in religion. See, for people like you, there's no connection between the two, but for people like me, there is and when a court fundamentally re-defines what a "marriage" can be, that's a serious thing. Not to mention the potential and impending challenges to pastor's, to try to force them to perform gay weddings.

At least be honest----you hate religion.

No. Hate is hate. Justifying it with religion is irrelevant. You can't claim to not hate someone while you deny them the same rights are others. If your "traditional beliefs and values" were based on any type of logic or a provable standard then I would be more inclined to listen to you. And it's interesting that you don't want to be "marginalized" but you are more than happy to have other people "marginalized." Typical religious-right garbage. Poor me, I'm being discriminated against because I can't discriminate against others! Your belief in your friend in the sky does NOT and can NOT trump the human rights of real, living, breathing people! If your god is SO against same sex marriage then get him to come down and tell us, himself. Oh, right, he can't do that; I wonder why...

Such vitriol! I'm not denying anyone any rights and again, you're misusing the word "hate". They've got their rights, I respect their legal right, but it's not the same marriage to me and you won't change that. The thing about beliefs and faith is, I don't have to prove them to anyone and although there is quite a lot of evidence out there for the presence of a higher power, you just ignore it and I respect your right to do so. I never said I or anyone else was being discriminate against, that is YOU saying it, not me. Regardless of the religious angle, human civilization has viewed marriage in a certain light, for a millennia, re-defining something that so many people view as sacred, hits at the core of beliefs for a great number of people. Again, obviously it doesn't for you, but I'd remind you, marriage IS NOT recognized as a human right. The remainder of your sneering, snarling, legitimately spiteful and hateful post, as opposed to mine, is simply a means of trying to personally attack people of faith and as such isn't worth any further attention.

"If your god is SO against same sex marriage then get him to come down and tell us, himself. Oh, right, he can't do that; I wonder why..." My God will come down. And when He does, He will take his people back with Him, and people like you will be left behind to suffer.

And when Tim Cook is at the judgement after he passes, God will not care how powerful he was nor how rich he was.

Again, is this serious or sarcastic? Just asking.

Revelation 20:11-15King James Version (KJV) 11 And I saw a great white throne, and him that sat on it, from whose face the earth and the heaven fled away; and there was found no place for them. 12 And I saw the dead, small and great, stand before God; and the books were opened: and another book was opened, which is the book of life: and the dead were judged out of those things which were written in the books, according to their works. 13 And the sea gave up the dead which were in it; and death and hell delivered up the dead which were in them: and they were judged every man according to their works. 14 And death and hell were cast into the lake of fire. This is the second death. 15 And whosoever was not found written in the book of life was cast into the lake of fire.

"Fear is the path to the dark side…fear leads to anger…anger leads to hate…hate leads to suffering."

Remember: Truth does not depend on whether you believe it or not Below is the truth from the Word of God.. John 14:6 Jesus saith unto him, I am the way, the truth, and the life: no man cometh unto the Father, but by me. Galatians 1:1 Paul, an apostle, (not of men, neither by man, but by Jesus Christ, and God the Father, who raised him from the dead;)

Romans 14:11 11 For it is written, As I live, saith the Lord, every knee shall bow to me, and every tongue shall confess to God.

And wishing something to exist doesn't make it so.

Well, there is one thing obvious about people who value 2000 year old bullshit over their fellow citizen's happiness: arguing anything with them is throwing pearls to swine.

AMEN! I mean, good point...

You will remember this comment WHEN you bow before the Holy God.

Which one Allah, Zeus, ra, Poseidon? Posted via the iMore App for Android

Agreed with let's stick with tech. What does Tim Cook's opinion on this SCOTUS ruling have to do with my up and coming Apple TV. And by the way CVJ God didn't put the races on different continents. Get your 'facts' straight. Sent from the iMore App

I was quoting something from the Loving case...

Hey, how's about we just stick to the tech stuff, huh? Rather than forcing an ideology down the throats of your readers (not all of whom are cheering, by the way), an ideology with which the ONLY connection to tech is the fact that it's coming from a tech CEO, we could instead be talking about the tech that we all love here. And besides, I have a sneaky suspicion this is a one way street here to boot. Suppose a tech figurehead stood up for the opposite stance? Would that get any Mobile Nations air time at all...other than to demonize? Or heck, you'll talk about this every time Tim sneezes, but why not write an article about whether he prefers jelly or jam on his toast?....I mean, if we're making Mobile Nations into a platform for the tech-unrelated thoughts and opinions of tech giants, you really need to diversify your scope. Oh, but I get it. Jelly vs Jam is not a trendy social movement. :-/ Look, we all love tech here. Just stick to that and let other sources yay and boo all this stuff! I'm really starting to feel like I'm [metaphorically] "reading a completely different magazine here." Posted via the iMore App for Android

Your post was longer than the article, it would just be easier to skip right past it lol

And your comment was longer than what it would've taken to skip right past it. TL:DR is the single most USELESS response in all of the internet, totally wasting BOTH our time...and yet you went there. :-l Posted via the iMore App for Android

Post was also dead on....

Let's stick to technology in the future, please.

+10,000,000,000,000! Posted via the iMore App for Android

Well hats off to everyone for not cursing anybody out, if this was YouTube......

No reason to do that. We just have fundamental disagreements on issues, that's all.

Fundamental disagreements? That's all? Again, you MUST be joking. Thinking that other people shouldn't have the same rights as you is not just a disagreement. (The whole "gay people can marry opposite sex people just like me" argument would be understandable coming from a five year old. It's embarrassing coming from an adult.) I'm going to have to leave this thread now because I'm getting too upset. I'm going to spend the rest of my day working, paying my bills and taxes, loving my family, enjoying time with my friends, teaching fitness classes for free to people who can't afford them and all the regular stuff that gay people do. A huge shoutout and thank you to CVJ and the others for being so logical, rational and caring.

Good, your vitriol and insults won't be missed. Toddles.

Gays prefer ta ta... FYI Posted via the iMore App for Android

Very interesting discussion. First, Tim Cook gives his PERSONAL opinion and iMore chooses to report it. How this is related to Apple products and tech is beyond me. Then you have someone disagree with Cook's position, and they are called haters and bigots. So let me understand this, it is alright for Cook to express his opinion, but if someone disagrees they don't have that right.
Finally, let's be totally clearn on something, marriage is not a right. There are millions of people who want to be married but are not, why, they are not in a relationship. No where in any documents governing humans has marriage EVER been enumerated as a right. The plight of African Americans in slavery, working, housing, education, and life is a civil right. Marriage is not, live with it. It will be interesting when the first religious group gets sued because they will not preform a marriage ceremony for a gay couple because their faith teaches against it. BTW, it will not ONLY be "Christian" groups, but others. Nothing is being forced down anyone throat, tell that to the bakery owner, photographer, and caterers who were sued because homosexual marriage violated their belief systems, tell them that it is not being forced on them.

Again with the "we need to deny a group a right because we need to protect against something else". The logical response would be to give a group a right and give everybody else the right to protect themselves from the hypothetical "threat".

So your "tolerant" view is my rights outweigh yours, if you don't like it, too bad. Why must one group be granted a "right" and another be given "the right to protect themselves"? And what hypothetical threat are you referring to? You mean the actual cases of a family owned bakery, a photographer, and a caterer that actually were either sued or had the property and physical person threatened with violence from those "tolerant" people who do not share the same opinion? Your straw man is easily shown for what it is, and your discussion about "rights" holds the least as you have yet to show what human right was denied.

Yeah, typical leftist behavior. They preach tolerance, but once you actually disagree with them, the tolerance is over, and they come at you with palpable anger and hatred. Most are complete hypocrites.

Who the hell cares Sent from the iMore App

Just my thoughts, but isn't the duty of government (from the point of view of a well read Christian), to ensure things such as justice and human rights/dignity, rather than morality? For example, it would not be the duty of government to interfere if one person hates another person. But if the hater chooses to violate the rights of the hatee, it becomes the duty of the government to interfere. Biblically speaking, homosexuality (acting thereupon, specifically) is a sin. But so are lots of other things. Like hating people. Since gay marriage doesn't cut into other people's rights, I think it falls outside of the realm of government. If God exists, they'll be punished fully in the end. If God doesn't exist, it doesn't matter anyway. This all said, the mainstream voice of homosexuality is quite oppressive (especially by their own use of "oppressive"), calling anyone who disagrees to any extent bigoted (though people who are bigoted certainly exist). and using force to silence these people, rather than responding with debate. I think that this is also poor behavior, and unacceptable from a movement that claims to pursue freedom.

One issue is when people claim they are not being tolerated for their opinion to not tolerate somebody else. "I don't want gays to have the same right as I do" "counter point"' "!! I want my intolerance to be tolerated!!" /illogical

That point can be applied to either side. Your first point refers to the section of population that is legitimately intolerant. The second isn't really a point at all. As to your last point, the same is true of many pro-gay marriage people. They want their intolerance for the opposition to be tolerated. In this case, I consider it slightly worse due to the element of hypocrisy. What I am referring to is disagreement, with respect to the people presenting the opposing argument. Marching with a sign that says "God hates fags" is an example of being intolerant. Calling someone a bigot or homophobic because they respectfully disagree with your viewpoint is also being intolerant. Again, that said, there are people who bigots and intolerant. Both sides have many proponents who do well in showing respect for the opposition. Both sides also have massive amounts of proponents who are incredibly disrespectful and intolerant

Again, what "right" are you referring to? Tolerance, so those who don't believe in homosexual marriage is okay should not be allowed to express their opinion because those with the view that homosexual marriage is okay and a "right" do not like hearing opposing positions, how is this tolerance or logical? Sorry, both sides have a right to their opinion and the right to express it. Just because someone does not believe that homosexual marriage is a right, does not fit the historic definition of marriage, or their faith/moral views does not mean they hate anyone, it simply means they disagree and BOTH views SHOULD BE TOLERATED.

The Title say Tim praises "victory for equality." This is not about equality, but about redefinition - redefining what marriage is or is not. Gays have every right to have equal rights that the Bill of Rights affords to every American, but marriage is not a right. The sun will come up tomorrow and life will go on. Those of us who follow Jesus know that nothing has really changed in the bigger picture - God is still God. We believe that he is still in control and that he will judge humankind not man.

It's a right between a man and a woman yet not between people of the same gender? That's a bit absurd. Not everyone believes in God truth be told and thank goodness we live in a nation of the separation between church and state. Posted via the iMore App on my iPad Air or iPod Touch 5

Jesus never existed Sent from the iMore App

Jesus is listed in several non religious historical texts, such as Antiquities of the Jews, a historical text from the first century. To say Jesus did not exist is bad history. To debate whether or not you think he is/was God, that's another story.

And marriage pre-dated religion. Sent from the iMore App

And religion re-defined marriage a couple of millennia ago and people followed along under the threat of death. Real righteous... Great morals. Tim Cook is going to give away all of his money to charity and these religious nuts are better than him because they want to force others to live in the image of "their God" yet do nothing but talk a bunch of trash about a whole group of people. Great human beings these nuts are. Sent from the iMore App

Please get this political BS off the tech blog.

This. I frankly don't give a crap what Tim Cook thinks on any issue other than Apple and/or technology in general. Sent from the iMore App

Tl;dr
This is great for the US (I'm from France). It's great that the US Supreme Court finally realised that suppressing the right of an entire group of people for the sake of "traditional American values" was rather immoral. I personally don't believe religion should have any influence whatsoever. Religion is something that applies to individuals, not an entire group or society where obviously not everyone will believe the same thing. For those saying "other" societies (i.e. European ones) are becoming "immoral", look at the quality of life in US compared to that of countries like Sweden or France where religion is nearly gone. Religion is quite frankly a drag on society. Religion is the biggest source of not only bigotry, but also ignorance and your politicians thrive on religious ignorance. In today's society, religion has no role or part that's needed.

Im gonna wade into the cesspool here. People backing marriage equality (even those who are politically conservative) are not HATING on peoples religious beliefs. You want to avoid shellfish and take communion and believe in resurrection, have at it. What those backing marriage equality are celebrating is that as a country we turned a corner that says we are NOT going to treat this group over here different than another group for who they are. This is a different issue all together. If you personally want to join a church or club or whatever that thinks one group is subhuman, that is your preference and your bias. Personally I disagree with you but thats MY bias. What the SCOTUS did was say in this case it will not be the law of the land to treat one group different. It doesn't say everyone in america has to marry gay or have gay sex or even have gay friends. If you are making this about you, and you are not personally impacted by this in your daily life (and your opinion differing doesn't count, it doesn't impact you day to day)... Personally, I am tired of a small set of fundamentalist christians pushing THIER on views on religion and religious interpretation on others. But again thats my bias.
Get the best of iMore in in your inbox, every day!
Thank you for signing up to iMore. You will receive a verification email shortly.
There was a problem. Please refresh the page and try again.