Tips for using Portrait Mode with Christmas lights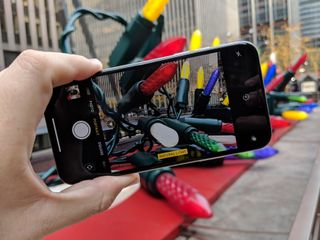 For some people, Portrait Mode has changed the way they use their iPhones to take photos. It's the kind of thing that encourages you to think a little differently about how you are composing a shot, instead of just pointing and shooting. That's a really cool thing to have as an option. There are plenty of great photos to come from this feature, as well as a few misses while Apple improves things in the background, but Christmas lights add both a fun background and a unique challenge in using this camera mode.
Here are a few quick tips on using Portrait Mode successfully when Christmas lights are around.
Don't forget about foreground lighting
If there are a ton of very pretty Christmas lights behind the people you are taking a photo of, that can occasionally mean there's not a ton of light shining on their faces. That means the phone has to work extra hard to make the faces brighter in order to get the shot, which can either mean a background that is blown out or faces that are grainy and not very good looking.
Make sure you think about the foreground when taking a photo, especially when the camera mode you are using places such an emphasis on the face!
Put some distance in the shot
Portrait Mode adds a bit of a blur around the edge of the person you are trying to get a photo of, which means anything right next to the face of the person you are trying to take a photo of may look a little unusual compared to the rest of the shot.
When composing a great Portrait Mode photo, make sure there's a little distance between the person you're photographing and the lights. It doesn't have to be a ton of distance, maybe 1-2 feet as a minimum, but the more distance you have the better than blurred effect will be.
Be mindful of winter headgear
If you're taking photos of people who are big into silly holiday hats with antlers and elf ears, there's a good chance you don't want to use Portrait Mode for those photos. This photo mode is really only great for human-shaped things, and those hats will wind up being blurry and far less visually pleasing.
If you're trying to use Portrait Mode, just remember to tell everyone to lose the hats!
Check out our complete guide on how to use Portrait Mode and Portrait Lighting for more tips!
Get the best of iMore in in your inbox, every day!
Russell is a Contributing Editor at iMore. He's a passionate futurist whose trusty iPad mini is never far from reach. You can usually find him chasing the next tech trend, much to the pain of his wallet. Reach out on Twitter!
Thank you for signing up to iMore. You will receive a verification email shortly.
There was a problem. Please refresh the page and try again.