HomePod Rings and Apple Problems: Explained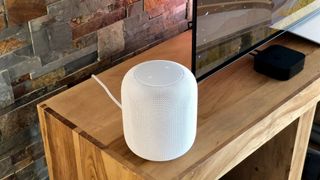 Watch the video version:
Every year, at the end of the year, I go over what I consider to be the biggest problems facing Apple. Last year, just before New Year, I wrote about the challenges of scaling:
But, like most who write about Apple, I was never responsible for shipping product at scales that reach into the hundreds of millions. Steven Sinofsky, who ran Office and then Windows at Microsoft, and also worked on early versions of SkyDrive and Outlook.com, was.
Sinofsky understands developing and shipping software and services at massive scale. So, when the topic of Apple and software and services quality came up again, Sinofsky took to Twitter for what can only be described as an epic — and epically long — tweet storm and reality check. (And, unsurprisingly, the former Microsoft guy understands Apple-at-scale better than any Apple pundit or reporter.)
Excerpted from @stevesi:
It is absolutely ok — in fact, it's imperative — that we report constantly and consistently about bugs and issues that need to be fixed. But it's just as important to stop and remember all the features that we've gotten over the last few years, and what they've enabled, beyond just the bugs that need to be smoothed out.
Some years and releases are met with far-reaching excitement. Others with the equivalent of "bored now". The truth is always in between — not every whiz-bang new feature keeps being used for years and some barely noticed architectural changes reap dividends for decades. Over the course of the last twenty and ten years, though, all of the those updates all stacked together have undeniably enabled entirely new, more personal, more functional workflows and brought as all the future faster.
You can have it be fast, you can have it be good, and you can have it be cheap, but you can't have it be all of those things at the same time...
Passbook was similar. When Apple introduced it, many rolled their eyes at how limited it was. But it was clear Apple was just laying foundations, and that parts could be swapped in and layered on. And then we Passbook became Wallet, we got Apple Pay authenticated through Touch ID — and now through Face ID. Same with iCloud Keychain, Extensibility, Continuity, and so many of the technologies that started small and became fundamental parts of the architecture over time.
A system designed to support one product (Mac), scaled to the biggest product in history (iPhone), added on to with several more significant products (iPad, Apple TV, Apple Watch, AirPods, HomePod) will show stress fractures.
Smart executives will have some special projects groups go off an explore other ways of managing future projects, and allow existing systems to be tested and evolved in new ways to better support existing projects.
Just like Apple considered several candidates for a new language before unveiling Swift, and several candidates for a new file system before unveiling APFS, almost all of this happens internally, in small groups, and and only looks sudden from the outside.
I've said this before: Humans forget past pain quickly but feel present pain acutely. It's what lets us survive. There are fewer showstoppers today because Apple became really good at finding and fixing them. Kernel panics and SpringBoard crashes, which used to be frequent are few and far between now.
But "frustrators", the small things that crop up and harshen your user experience in one way or another, feel more frequent. That's a function of Apple's much, much, much wider product portfolio (the teams are doing far more than ever before), and our increased usage of the wider product portfolio (we're hitting them harder than ever before).
If you've been paying attention, change has been happening for years. Last year was different than the year before. And the year before, different than the year before that. Craig Federighi has said as much at the last couple of WWDCs, including last year's revelation that engineers were given time to work on and fix issues they felt were important beyond the release spec and schedule.
As Jason Snell, former head of Macworld, currently at Six Colors, pointed out — Sinofsky is one of the few people who could have written this.
For anyone who cares about understanding Apple at scale, it's terrific that he did.
Get the best of iMore in in your inbox, every day!
Rene Ritchie is one of the most respected Apple analysts in the business, reaching a combined audience of over 40 million readers a month. His YouTube channel, Vector, has over 90 thousand subscribers and 14 million views and his podcasts, including Debug, have been downloaded over 20 million times. He also regularly co-hosts MacBreak Weekly for the TWiT network and co-hosted CES Live! and Talk Mobile. Based in Montreal, Rene is a former director of product marketing, web developer, and graphic designer. He's authored several books and appeared on numerous television and radio segments to discuss Apple and the technology industry. When not working, he likes to cook, grapple, and spend time with his friends and family.
Rene can't bring himself to criticize Apple as a standalone position without wrapping it with excuses.

Wall Street is decidedly bored with whatever Apple attempts to do. Wall Street's greed is far beyond anything Apple can accomplish. Apple's revenue is quite high and always asking for double-digit growth from the company is absolutely ridiculous. At this point, Apple shareholders are definitely screwed because iPhone sales growth is almost at an end and Apple doesn't have anything significant to greatly increase revenue growth. I've given up on Apple's growth aspect and now I'm only looking for increased Apple dividends every year.

"Yet, through it all, Apple has maintained its functional organization and small, focused team-based approach. Our greatest strength is often our greatest weakness. " Is this an admission you work for Apple?

Rene is very knowledgable and obviously works very hard but it's turning into a caricature at this point. Can always count on iMore for the Apple spin.

And we can always count on the likes of you for the irrational hatred of the company.

Aw...nice try bud. I use lots of Apple products (5k iMac, 15in MBP, Airpods, Beats Studio 3 Wireless, 4 Apple Tv's in the house, 4 iPads (mine, wife, 2 kids), and 2 iPhones)...so wow, so so wrong you are.... have been using Apple products for 10+ years. Software quality and hardware quality (less so, specifically in MacBook keyboards) is going downhill, there's no rational argument to that. Apple, by orders of magnitude, still makes the best hardware...no rational argument there. iMore is by far the most pro-Apple excuse making publication out there....again, no rational argument there. Apple doesn't get better by a...what was your word again? oh yes, irrational....Apple doesn't get better by an irrational defense and pro-Apple stance by industry pubs.

Don't even bother responding to LKarupp. The guy's a shill for Apple who can do no wrong in his eyes and resorts to insults and juvenile name-calling when called out.

Apple hardware has always been a bit iffy (eMac, Mighty Mouse, iPhone 4 antennae to name but three) but at least you could count on the software to behave itself. Ever since they abandoned the feline nomenclature for OSX every update has been a buggy minefield, and iOS 11 has been introduced a multitude of issues. It's a bit of a worry to say the least.

"It is absolutely ok — in fact, it's imperative — that we report constantly and consistently about bugs and issues that need to be fixed. But it's just as important to stop and remember all the features..." No, we really do not [have to stop and remember all the features] -- if the only recourse for the "fsroot tree corrupted" error is to wipe out the drive, restore from backups and hope that it will not reappear in a few weeks (and yes it did reappear for some people -- go search Apple support forums), Apple need to stop *all* feature development until they can provide the way to roll people back to HFS+. I was willing to cut Apple some slack when APFS snapshot feature happily ate disk space *without giving user any indication of what is wrong* and with the recourse not suitable for the average user (yes, I know how to delete local snapshots with tmutil). However, the latter was not destroying my data and the former just did.
Thank you for signing up to iMore. You will receive a verification email shortly.
There was a problem. Please refresh the page and try again.