Update your 2010 iPod nano with new watch faces now!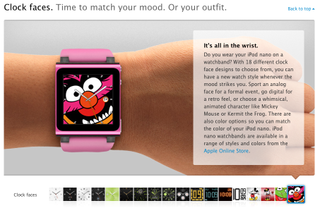 If you bought a new iPod nano in 2010, don't worry, Apple has already pushed out an update to bring you all the new features, including big icons and 12 new watch faces -- today! That's right, just plug into iTunes, hit update, and you'll be ready to rock everything from a classic timepiece to Mickey Mouse and... wait for it... ANIMAL!
What's really super sweet is that the watch faces know what color nano you have an match themselves accordingly. So if you have a golden nano, they'll be colored differently than if you have a silver one, for example.
It's great that Apple pays such attention to detail.
Get the best of iMore in in your inbox, every day!
Senior Editor at iMore and a practicing therapist specializing in stress and anxiety. She speaks everywhere from conferences to corporations, co-host of Vector and Isometric podcasts, follow her on Twitter @Georgia_Dow and check out her series at anxiety-videos.com.
So glad this is a software update! Starter to worry !

Just wish, I didnt have to use the dongle for my heart rate monitor and nike shoes

So is the new Ipod Nano just a software update? Bought one last week and updated with new software last night. I like to run so wanted to take advantage of the fitness update. Is there new hardware too?

Anyone know which watch band they are using to demo the clock faces with?

The TikTok. you can get one in a number of colors at lunatik.com. They are very nice. I have one in just about any color, but the TikTok is a much better option than most on the market, I have seen and tried a few, none are as reliable as the TikTok, good price point too!

Anyone have any idea how to spot a new Nano versus an old one at retail?

This is a cool watch band worth looking at. There are two models. I would rather have the more expensive one. The cheap one seams like you could lose your Nano real easy. http://lunatik.com/

The "cheap one" you mention is much better than some of the cheap options out there and trust me, it will not just fall out like some of the other ones on the market. Both are very nice though. "Cheap one" = TikTok, "Expensive one" = LunaTik. The one that is on preorder right now at the site is pretty sweet too! I highly recommend. I was an original "backer" through kickstarter back when these watches first came to market, very cool stuff.

As far as I can tell the 4S is the only new hardware announced. iPod touch and nano are still last year's models. I guess Apple figures with the Zune HD dead they don't have to bother to compete in the pocket multimedia/gaming/web space, and they haven't had to compete in the pure music/video player space in a long time.

There appear to be 16 new watch faces as advertised. I was a little confused by the post, thought they might withholding some of the new faces unless you purchased this year's version, but they're all there! I'm pretty psyched about this!

This update was actually available yesterday! I was surprised it dropped so soon.

so the only thing new about the nanos is the firmware and the price drop?
if that's the case I'm going to look for the previous generation nano and update it.
Thank you for signing up to iMore. You will receive a verification email shortly.
There was a problem. Please refresh the page and try again.