How To Use AirPods to Control Your HomeKit Home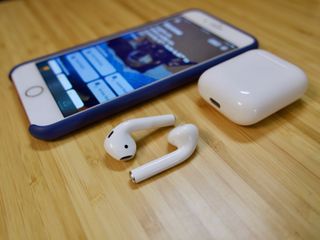 I knew I'd be getting AirPods the moment Apple announced them — not because they were something I desperately wanted, but because — as the latest, greatest gadget to come outta Cupertino — I felt it was important to have them, to use them, and to understand them.
When I opened the box and pulled out the device(s), I was pleasantly surprised by the floss-sized capsule. See, there's something about Apple product photography that has always fooled my brain into thinking the products are going to be larger than they actually are. The same thing happened with Apple Watch — in fact, when I opened my Apple Watch I was all but convinced I'd ordered the wrong size! … OK, I'll save you from any further digression.
AirPods, aka HomeKit Command Central
I didn't realize it at first, but AirPods make my home-automation-loving heart a very happy camper. Why? Think about what makes Amazon's Echo device such a compelling product (I've always adored the Echo): No fuss, no frills — just you controlling a device with your voice and nothing more. With AirPods, you get to control multiple devices with no fuss or frills, just your voice. It's an Alexa (or, in this case, Siri) that goes with you where you go.
And that means no matter where I am in my HomeKit-powered home, I can command my home automation accessories with a double tap and a quick conversation with Siri. My entire smart home: lights, switches, plugs, thermostats, motion sensors — they're all at my whim at all times!
Yes, C. Montgomery Burns gets it! I genuinely feel like some sort of magician, or wizard, or pilot, or … you probably get the idea. It's the smart home realized: I don't have to fiddle with my phone, tap a wall switch, do jumping jacks, or any number of other things to adjust the lighting in my house — I just ask Siri to do it for me. And in places where Alexa can't hear me, Siri's right there waiting to hear my request.
A wireless, effortless, magical smart home
Apple describes Airpods as "Wireless. Effortless. Magical." and they are, but the thing that's truly sold me on their usefulness is how they make my smart home all the more wireless, effortless, and magical. As someone who's spent a lot of time using HomeKit-enabled accessories, I'm not often wowed by the experience anymore — it's still cool, yes, but it's not awe-inspiring.
AirPods + HomeKit? Now that's awe-inspiring.
What about you?
Have you picked up a pair of AirPods? Using them to control your smart home? I wanna hear about your experiences using Apple's wireless headphones. Gimme a shout on Twitter or in the comments below!
○ Everything you need to know about AirPods
○ AirPods, Beats X, or PowerBeats 3?
○ Best way to buy AirPods
○ How to personalize AirPods
○ How to pair AirPods with W1
○ How to pair AirPods with Bluetooth
○ How to configure AirPods
○ How to use AirPods
○ How to use AirPods offline
○ How to clean AirPods
○ How to find lost AirPods

Get the best of iMore in in your inbox, every day!
Mikah Sargent is Senior Editor at Mobile Nations. When he's not bothering his chihuahuas, Mikah spends entirely too much time and money on HomeKit products. You can follow him on Twitter at @mikahsargent if you're so inclined.
If the activation of Siri wasn't so **** loud I would activate it. But wow, it's ear bleeding loud compared to the audio I"m listening to.

I got my 2nd Echo at Christmas (a dot) and I pretty much think I'm finished with Siri until there's some echo like device. Siri has always been available via my Watch but the delay in the Watch working out what I've actually said and then processing the command is so much slower than Alexa it's just not worth it.

I love my Airpods but I might have a problem. If I leave them in the case over night they seem to go dead and if I double tap on the to invoke Siri most of the time it don't work. I have to keep tapping. I don't know if I'm not doing it right or maybe I have a bad pair. I love them other than that I really do. The battery is pretty good when they are in my ear. I have another pair coming Tuesday for my son so we will see how that pair does so maybe I can see if I have a bad pair. Oh and using them for all my Hue lights is awesome when the double tap works Siri always picks up what I'm saying really good. Sent from the iMore App
Thank you for signing up to iMore. You will receive a verification email shortly.
There was a problem. Please refresh the page and try again.