Video iChat Icons, Strings in iPhone 3.2 SDK for iPad?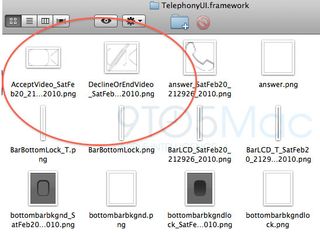 9to5mac continues to rip through the iPhone 3.2 SDK for iPad and has now come across the images above, which show icons for accepting a declining video chat, as well as strings referencing the same.
Of course, we've been teased with the possibility of video iChat on the iPhone going back to Kevin Rose in March, 2008, so while we're ever hopeful our optimism is also ever cautious on this one.
Still, video iChat sure would be a killer bullet point on iPhone 4.0, wouldn't it?
Rene Ritchie is one of the most respected Apple analysts in the business, reaching a combined audience of over 40 million readers a month. His YouTube channel, Vector, has over 90 thousand subscribers and 14 million views and his podcasts, including Debug, have been downloaded over 20 million times. He also regularly co-hosts MacBreak Weekly for the TWiT network and co-hosted CES Live! and Talk Mobile. Based in Montreal, Rene is a former director of product marketing, web developer, and graphic designer. He's authored several books and appeared on numerous television and radio segments to discuss Apple and the technology industry. When not working, he likes to cook, grapple, and spend time with his friends and family.
Could there be a march event again rene?
OT: i think its for the iphone, FINALLY.

Video calling is bound to happen before too long, and I can see the negative comments coming now such as "My four year old Sony Ericsson K800i has always been able to make video calls". But then those ppl need to ask themselves "True, but how often do you actually use that feature?" here's bettig the vast majority is "Never". And the reasons why it because video calling often performs badly, it's unintuitive, and it's made simply as "another feature", not really designed to be fun to use, or had much effort put behind it to make it a key feature. Not just a feature.
When video calling eventually arrives in the iPhone, expect the volume of video calls made by mobile users to boom, and not just on a temporary basis. The mobile industry needs this to happen because video calling has never truly taken off. It's time to take video calling to the next level.
http://www.macmag.co.uk

As awful as the call quality is on the iPhone how about they fix that first
ugh

I really hope this comes to the next iPhone, this would be a great addition!

What happens when your wife calls and your sitting next to a hot babe at the bar? Busted!

I'll believe it when I see it.

@mwebsterpgh:
Simple. You don't get married if you like hot babes.

@fastlane lol that was funny

@ Shaun (Thinkin' Different Blog)
I agree, apple policy is don't release it until it works properly. Although saying that i still have problems with my ichat connections.

Video chat is not going to catch on. It would have already if it were going to. Remember the Loveline "via TV phone" back in the 90s? The technology has been around that long and people never bought into it.
The only thing I can see a use for it is when you travel and have young kids at home. Then I can see the benefit of video chat. Otherwise it seems like a bandwidth intensive waste...

@Joe mcG
Man, your such a douche. How many people thought Apple would invent the greatest phone ever? The phone have reinvented technology. Your gonna try to doubt what their trying to do?

@GTFONoob
Wow, way to express a different opinion, by calling me names and not backing it up. Typical fanboy response: "Apple is great, Jobs is all knowing, and you're a douche".
I think the acne cream is starting to seep into your brain...

@Joe McG
Yeah I can't think of any video chat catching on, .... apart from skype with 21 million people using while I tell you this, ichat , msn , AIM , ,.. but apart from that ... i can't think of a single one.
The reason people don't use it is because a) it's expensive b) it's not standardised, apple will take us all a step closer to fixing those things.
I've video chat with my mate and it was great... but at 35p / min ... not worth using .. once its at a normal price i'll definitely use it in the future.

About time really, when are they going to bring us a flash!

I'm still of the opinion that regardless of how amazing any device with video calling is gonna be, it will never revitalise the waning interest in video calling while it still costs just shy of a bazillion pounds per minute to make said video call and is excluded from the minutes I have included with my monthly bill. Apple or not, nah. Could probably make phone sex more interesting i suppose, but again, with that cost, I'd rather do without the visuals.

I'm really starting to wonder if Apple just puts all these things just to see what kind of crazy rumors and speculation the internetz will come up with next.

Even if video chat did take off somewhat... how many times will only one person want to be seen, while the other is in curlers and robe with no makeup, messy house in the background, etc., etc.?
Video chat is like living alone with a teeter totter in your backyard.

@ Maniacfive
I agree , it will never take off while it is expensive. According to O2, video calling will cost the same as normal calls, so maybe there's hope.

I think there are some technical issues to work out, and at 3G we barely have VOIP, so Apple has some time before introducing mobile video conferencing. As I've mentioned on this issue in the past, I would expect to see an external webcam accessory before we see a built-in forward-facing webcam. Apple almost never leads the industry over things like this.

No, it would not be a killer feature....because it would only work with people that that have iPhones....thats not killer at all.

iPhone is not only used on AT&T. Outside US, bandwith is not a major problem. Video conferencing will be a great feature on a 4G iPhone along with the other expected improvements. I was very ready to buy iPad, but without front facing webcam it is absolutely out of the question. But that is me.

Have any of you streamed live video from your iPhones? one 15 min video call will knock your battery in half, not to mention the overheating issues, or the horrible quality of the video...
This has a looooooong way to go

all of you who don't think its possible , I've have used video chat on my n95 8gb and the quality was great .. this phone is over 2 years old and the network was 3g ... what is so hard to believe ?

@zero credibility:
It's not (for me anyway) a question of belief that it's possible. It's more that it has been possible, but, in the U.S., no one really seems to care, or else more people would have purchased phones with that capability. I just don't think Apple will prioritize a built-in webcam on the iPhone or iPad with the hope that millions of people will want to use one when they don't already.

@Joe, fastlane
We use video chat (Skype) almost exclusively for calls between family members in different time zones/countries. For some things, it is just plain better -- the grandparents get to see the grandkids, we can screen share when doing some work together, and of course calls to Mexico or France are cost the same as calls down the street -- nothing. For the reasons you both cite, I would not want my primary phone video-by-default for incoming calls, but in the proper setting, video chat shines.
That said, on the iPhone I bet video chat would chew through the battery like the Tasmanian Devil on triple espressos.

skype and other services are very popular and the ipad is the perfect device for it. For one thing as long as u have an internet connection video calls are free. And this is the perfect device to enable many people to use it and to do basic things. Not everybody needs a laptop or desktop. I know plenty of people who spend 1000 and more on a computer and they only surf the web so to those consumers the ipad is great. even if it does not have a cam on the first release i hope it at least can support a webcam though. I personally dont see it being of value to me as i own a macbook and an iphone but for my girlfriend who knows nothing about computers(lol) this will be perfect i think. Like others though i believe the cam and ability to multitask on it would make it a more relevant tool.

The following ended up being a outstanding report

Hot Wireless Camera system Product Reviews! lg vx8350 verizon wireless camera cell phone

Would love to constantly get updated outstanding website ! .

Pro: i think only for school purpose and to be watched i fdont trust a person

Excellent weblog here! Additionally your site rather a lot up fast! What host are you the usage of? Can I get your affiliate link for your host? I desire my site loaded up as quickly as yours lol
Get the best of iMore in in your inbox, every day!
Thank you for signing up to iMore. You will receive a verification email shortly.
There was a problem. Please refresh the page and try again.