Here's what Siri will and won't do on the Apple TV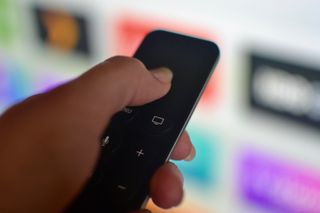 The fourth-generation Apple TV has a lot of great improvements over its predecessor, but one of its best features is Siri integration. Not only can the virtual personal assistant play and pause, but it can also search for content across media providers, give you info on specific movies, sports celebrities, weather, and more.
When you ask Siri what it can search for, it will respond, "I can search by title, people (actor, director, character name, guest star, producer, or writer), ratings (like PG or TV-G), reviews (such as best or worst), dates (like 2012 or the 80s), age (like kid-friendly or teen), seasons, episodes, and studio. And of course, I can search by genre."
But, what else can Siri do?
How to use Siri on Apple TV
To activate Siri, press and hold the Siri button on your Siri remote. It's the middle button on the left side of the remote with a microphone icon on it.
Siri does movie and TV show searches
Siri has a fairly robust search feature with multi-layer filtering. You know when you're sitting around talking about the movie you saw last year starring that one actor who was in that other movie, but can't remember any of the details? Siri can.
Ask Siri "What should I watch tonight?" and it will bring up a list of popular movies and television shows in iTunes and across a variety of media streaming apps, like Netflix, Hulu, HBO, Showtime, and more.
Ask Siri, "What are some popular [genre] movies/TV shows?" and you will get a list of popular titles within the given genre.

If you then ask Siri to show you "Only the new ones" or "Only the best ones," the search results will be filtered by your requested topic. You can add multiple criteria to each search. For example, you could say to Siri, "Show me popular sci-fi movies from the 80s" and then, "Only the best ones."
You can also ask, "What [genre] movies did [actor/director/producer] do from [decade]?"
Ask Siri, "Who played in [movie/TV show]?" to find the actors from a specific movie or TV show.

Then, ask Siri "What other movies did [actor/actress/director/producer] do?" to see a list of the subject's other titles.
Having trouble remembering the name of the movie that starred your two favorite actors? Ask Siri, "What movie stars [actor] and [actor]?"

You can follow up with: "Who else is in the movie?"

Can't remember the name of the actor that played a specific character in a movie or TV show? Ask Siri, "Who played [character] in [movie/TV show]?"
Siri keeps getting smarter, too. You can ask it to search for multiple criteria in one request. You could ask, "Show me action films from the 1980s" or "Search YouTube for kitten fails."
Siri helps with playback actions
While you are watching a movie or TV show, or listening to music, you can get a little extra help from Siri. It's like having a buddy sitting next to you — but they don't shush you when you ask a question.
Quickly search for a movie or TV show simply by telling Siri, "Play [name]."
If you started watching a movie six months ago and forgot about it, when Apple TV automatically picks up from where you last left off, you can instead ask to "Play from the beginning."
Of course, Siri will play or pause content if you just say the words (literally).
Want to go back to a particular scene because you walked out of the room for a minute? Tell Siri, "Rewind [number of] minutes." You can also tell Siri to skip ahead a specific increment of time.
Couldn't understand the marble-mouthed mumbles of Tim Armstrong when he guest starred in Episode four of The X-Files: Season 10? Ask Siri, "What did he say?" and the show will rewind 15 seconds and closed captioning will automatically turn on for about 30 seconds.
Wondering what the celebrity lineup is in the movie you are currently watching? Ask Siri, "Who stars in this?" to see a list of actors along the bottom of your screen.
Watching a foreign film? Ask Siri to "Turn on subtitles."
You can also ask Siri to "Turn on closed captions" when available.
Siri helps with music
You can search for content in the Music app on Apple TV by artist, album, or song title. With a little know-how, you can also turn Siri into your personal deejay.
As mentioned earlier, Siri will play or pause content with just a word, and like with video, you can rewind or skip ahead a certain increment of time in a song.
Tell Siri to "Play [album/song]." It works best when you include the name of the artist, too.
Tell Siri to "Play My Music," and songs in your iCloud Music Library will begin playing on shuffle. (Note: You must be signed into iCloud to use My Music on Apple TV.)
Tell Siri to "Play [song] by [artist] in My Music" to play a title in your music library.
Tell Siri, "I like this song," and the Apple TV will add a "Like."
Tell Siri, "Never play this song again" to remove it from rotation.
Tell Siri, "Skip this song" to move onto the next jam.
Ask Siri, "What is the name of this song?" or "What album is this on?" to find out more about what you are listening to.
Ask Siri, "Who sings this song?" to get the artist's name. Then tell Siri, "Show me albums by this artist" to see more.
Siri can search for apps and games
When you ask Siri to show you a specific app available in the Apple TV App Store, you'll get a list in the Siri tray that shows you all query results, which will hopefully include the app you're looking for.
If you say, "Download [app name]," you'll be taken directly to the download screen for that app.
Siri can turn off the lights for you
As of iOS 10, Apple TV supports HomeKit connectivity (though, there still isn't a HomeKit app on Apple TV). Once you've signed into iCloud on your Apple TV, your HomeKit connected devices can be controlled by Siri.
Say, "Turn off the bedroom light" or "Lock the front door" and if it's connected to HomeKit, Siri will oblige you.
Siri knows the time and weather anywhere in the world
While you may normally look to your smartphone for your weather predictions, Siri can be just as helpful about the conditions around the world as your local weatherman or app. All you have to do is ask.
Ask Siri, "What is the temperature?" to get the day's current conditions.
Ask Siri, "How hot/cold will it get today?" to get the current forecast.
Ask Siri, "Will it rain/snow?" to see if you need to bring an umbrella when you leave for work.
If you are going on a trip, ask Siri, "Will it rain on [date] in [location]?" to see what your travel conditions will be like.
Get the week's forecast by asking Siri, "What will the weather be like this week?"
You can also find out the time in a specific location just by asking, "What time is it in [location]?"
Want to know when the sun will go down in Dubai? Just ask Siri.
Siri follows sports
If you missed the game, want to know when your team plays next, or need detailed stats on a particular player, ask Siri.
Ask Siri, "What is the score of [game]?" to find out the current score.
Ask Siri, "Did [team] win the game?" to find out the score of your team's most recent game.
Ask Siri, "What was the point spread of [game]" to see the point spread or predicted odds for point spreads.
Ask Siri, "When does [team] play next?" to find out when your team plays again.
Ask Siri, "Who is going to win?" to find out which team is performing better this season.
Ask Siri who plays a specific position for a team to get the player's name.
Ask Siri, "How many [actions] did [player] have in the last game" to find out a player's stats.
Siri also follows the market
Siri can fill you in on some basic stock market information for the NASDAQ, DOW, and S&P 500.
Ask Siri how a specific stock is doing.
Ask Siri, "How are the markets doing?" to get a ticker for the three major stock markets.
Ask Siri, "What was the open/close of the markets?" to get the day's opening and closing numbers.
Some extra things Siri can do on Apple TV
When you ask Siri to "Open iTunes" you will be given the option to select from TV Shows, Movies, Music, or Trailers.
You can launch any app you have installed on Apple TV by saying, "Launch [app name]."
When you tell Siri, "Go back to the Home screen," you can exit out of any app directly to go to the Home screen.
If you are within view of any app's toolbar, like search, subscriptions, home, and the like, say the name of the tool and Siri will automatically redirect you to that new page.
Ask Siri to roll the dice, flip a coin, or use the built-in virtual Magic 8-Ball to get random numbers and answers.
What Siri can't do
While the list of things Siri can do on Apple TV grows, there are still a few things that can't be done with the virtual personal assistant on your television.
Siri can't close apps in the multitasking screen.
Siri can't search the Web.
Siri can't search libraries in Home Sharing.
Siri can't search content on your hard drive (Plex content, for example).
Siri can't create or add music to playlists in the Music app.
What does Siri do for you?
Do you know if any secrets that Siri does on Apple TV that we didn't list here? Tell us in the comments section.
Updated August 2017: Added information about Siri search for apps and games and HomeKit compatibility on Apple TV.
Master your iPhone in minutes
iMore offers spot-on advice and guidance from our team of experts, with decades of Apple device experience to lean on. Learn more with iMore!
Lory is a renaissance woman, writing news, reviews, and how-to guides for iMore. She also fancies herself a bit of a rock star in her town and spends too much time reading comic books. If she's not typing away at her keyboard, you can probably find her at Disneyland or watching Star Wars (or both).