Win the Ultimate Pokémon Go Survival Pack from iMore!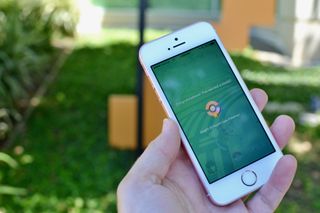 We know you're playing Pokémon Go and you wanna catch them all, so enter this contest and you could win an essential bundle of goodies that will not only help you play for as long as you like, but help you do it safely too! We've picked out some great accessories and two people are going to be taking home these cool prizes!
Pokémon Go can be draining on your battery, especially if you're out searching for new opponents to battle and gyms to conquer. And any mobile game can be dangerous if you're distracted or playing in unfamiliar locations. So, we've chosen some products to keep you charged and help you keep playing as long as you like. We're going to have two winners, so let's take a look at the prizes that are up for grabs!
Each winner will receive the following!
THE GIVEAWAY Head down to the widget at the bottom of this page (or the big blue button if you're using the iMore app). There are multiple ways to enter, each with varying point values. Complete all of the tasks for maximum entries and your best shot at winning! Keep in mind that all winning entries are verified and if the task was not completed or cannot be verified, a new winner will be chosen. The giveaway is open until August 4th, and winners will be announced right here shortly after the close date. Good luck!
Win the Ultimate Pokémon Go Survival Pack from iMore!
Please note: In the event the winner resides outside of the US, the prize may be subject to customs fees or taxes, which are the responsibility of the winner.
Get the best of iMore in in your inbox, every day!
I'd like to thank iMore, the academy, and the kids in the neighborhood who said they could beat an old man at Pokémon Go for this outstanding award. Thank you!

This would be really nice to win this.
Thanks

Nice give away again. The powerbank sounds really interesting!

I hope I win. This would be really nice.

I'm totally into that game!!

This is an ingenious way to get people to participate. :)

the people behind all these contests are genius. and they know very well what pokemon trainers need! thumbs up to you all. good luck to everyone!

It is a great prize . Thank you this opportunity.

Done and Done. Fingers Crossed on this one. Whoop.

Omg that battery would be amazing.

Ok its time to win something

Sooooo, who won and where can I pick up my prize? Lol! But in all seriousness, who's the winner?!
Thank you for signing up to iMore. You will receive a verification email shortly.
There was a problem. Please refresh the page and try again.