Windows PC users can get a taste of iCloud Drive before Mac users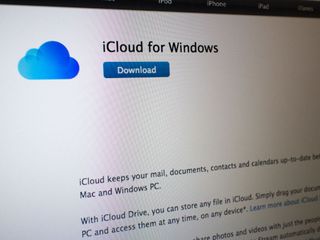 While Mac users will have to wait for Yosemite before they can take advantage of iCloud Drive on Mac, Windows PC users get a treat today with iCloud Drive support through an updated version of iCloud for Windows. The update enables a folder within Windows Explorer (under Favorites) that allows iCloud users to view and edit files, drag & drop, and create new folders. Of course you'll need to be running iOS 8 to take advantage of iCloud Drive at all.
Keep in mind that you may not want to enable iCloud Drive just yet (especially if you're on a Mac), but if you do we've got everything you need to know right here.
To grab the iCloud Drive update for Windows, head to Apple's support page here (opens in new tab).
Source: Ars Technica
Get the best of iMore in in your inbox, every day!
Editorial Director - High Yield
After getting his start writing about BlackBerry in 2008, Adam is now the Editorial Director of High-Yield content at Future. Leading an outstanding team, he oversees many of the articles the publisher produces about VPN, TV streaming, and antivirus software — from buying guides and how to watch content, to deal news and in-depth reviews. Adam's work can be seen on numerous Future brands including TechRadar, Tom's Guide, T3, TTR, Android Central, iMore and Real Homes.
I'm curious to know how much space do they offer when you sign up. I have 27 GB with one drive for free for my surface pro 3. Any ideas? Brought to you by the Nexus 5, or the mighty Surface Pro 3

$0.99 -20GB
$3.99 - 200GB
$9.99 - 500GB
$19.99 - 1TB Rates are monthly basis I am using onedrive like you and their pricing is still better! Sent from the iMore App

5GB Space. Pay for more. If you use your Surface Pro 3 more than lightly, then you're better off using Ourlook.com (forward iCloud to it), OneDrive, OneNote, and Office. Even if you own an iPhone or Android Phone. Microsoft's services have better accessibility from Platforms they don't won than both Google and Apple's. It's much less of a compromise of User Experience to use their services on iOS than it is to use iCloud services on Windows 8.1.

Wut? Is this an Apple program on Windows? Damn. Tim Cook is changing things Posted via iMore App

Apple have had apps on Windows for many years, our did you miss that whole iTunes thing?

I'm aware that there is iTunes and there used to be Safari as well. But compare that to how many programs Microsoft has on Macs Posted via iMore App

This is the control panel for iCloud for those who are iPhone, iPad users that are also Windows users. I installed it on a Windows PC I have to take a look at it and I will wait for Yosemite. I so much prefer my Mac!!! The Windows stuff is OK.

I gave this a quick go last night and it's basically just another skydrive or Google drive offering, but curiously much more expensive. I have the 1gb plan from Google and the Apple equivalent it's pretty much twice the price.

This is good..I ll download it tomorrow and see..but I have some 133 GBs of One Drive storage and I ll keep on using it..even camera roll of my iPod is backed up in One Drive.. Sent from the iMore App

Microsoft made it more sweeter, now I have 160 GB. Posted via the iMore App for Android

before anyone starts complaining, remember iPad users got a touch-first version of Office before Windows RT / Windows 8 users, who have to wait until next year for that.

It's gone. The download has been pulled.

C Sent from the iMore App

That's just sad. I need you to do better Apple Sent from the iMore App
Thank you for signing up to iMore. You will receive a verification email shortly.
There was a problem. Please refresh the page and try again.