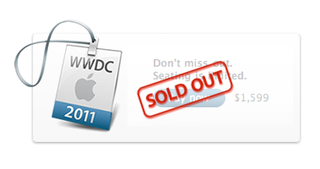 In less than a day, WWDC 2011 has completely sold out.
Apple's annual Worldwide Developers Conference was announced earlier today, and is to take place from June 6th till June 10th at Moscone West.
Tickets went on sale for developers to go and see the future of iOS and OSX. In around 12 hours, all the tickets had completely sold out, which, compared with WWDC 2010 which took 8 days to sell out, is the fastest sell out time ever.
What are we going to see at this years WWDC? Any Developers lucky enough to get a ticket?
Get the best of iMore in in your inbox, every day!
Writer for iMore, YouTube Vlogger, and Host for [TEChBrits]
Took Google IO less than an hour to sell out, and they don't even stack their audience with employees.

How many tickets at what price was Google I/O?

Nearly a quater of the price. Only $450 each. not sure how many were sold though.

Yeah, $450 and all attendees get a free unlocked android.. worth more than the ticket lol

It's only worth morethan the ticket For a week. Then value drops to nearly nothing when the new Android phone is released.

5,000 seats at 450 a ticket.

So ~1/4 the price of WWDC and it comes with a free dev phone? If WWDC was $450 and came with an unlocked GSM iPhone 4 I'm guessing it would have sold even faster :)

Ok, so Apple rapes its developers while Google showers them with Android goodness.

I wouldn't go so far as to say " android goodness". I tried a evo for a week and saw nothing goodness about it otherwise I would still have it.

Anything free is goodness

Apple just sold 5,000 tickets at $1,599/ticket and sold out in 10 hours. Considering the acceleration of the trend of how quickly this event sells out from one year to the next, it's easy to see why this is noteworthy.
So many developers, so few seats...no wonder some people are relisting their tickets for as much as $4,000 on eBay.
EricSchmidt - use your semi-smartphone to try to find a Droid fanboy site, and then go over there to perform your troll act...we're not impressed with it over here.

Maybe the entrepreneurs who ate up all the iPads at launch also got all the tickets and are selling them for thousands on eBay as well.

we're going to see a new Iphone..."At this year's conference we are going to unveil the future of iOS and Mac OS," said Philip Schiller, Apple's senior vice president of Worldwide Product Marketing. "If you are an iOS or Mac OS X software developer, this is the event that you do not want to miss." he didn't say anything about the keynote. and like Steve is going to let his baby surface early after last year.

most of them will be selling on eBay..

Got mine! 1st WWDC- w00t! Looking forward to it.

Does that price right there say $1599? Are they fookin' crazy?

:shock: I just hope that whatever they announce, it's the best yet... (again)...

will they provide live keynote which we can watch on iphones and ipads as well as macs?

It sold out around 6pm Chicago time Last time I checked because I was watching DWTS at 7pm and I was on the computer before at or b4 6 so it probaly even sold out at 3,4,5

I just hope they are more forthcoming about answering questions this year. The ducking of questions in Q+A sessions, when we have forked over a decent amount of cash specifically for this kind of access, is tiresome.

Peak apple, like peak oil.

good news:welcome our website _(( vipsho pper.us )) ( Please enter
the website
Please believe that we will be very good
)
love shopping friend accept credit card and so mang payment
( Please copy stick this website )
Welcome to my web site please patiently watch will have your favorite items
__(( vipsho pper.us ))

If you kinda think about it, Google IO doesn't last as long as WWDC and they prolly don't have live entertainment.
Thank you for signing up to iMore. You will receive a verification email shortly.
There was a problem. Please refresh the page and try again.