WWDC 2011 ticket for sale on EBAY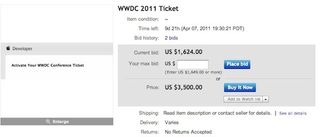 Yesterday, WWDC 2011 sold out in a record 10 hours and now one of those tickets has popped up on EBAY with a Buy It Now price of $3,500. That's $1901 more than the original $1,599 price set by Apple. The seller claims that this ticket was purchased for a colleague who ended up not being able to make the event.
We expect Apple will put an end to this auction in a heartbeat. The last thing Apple wants is for people to snatch up tickets and turn them over for a profit.
What do you think? Are you angry at this dev for trying to make a buck off this "extra" ticket?
[
[TUAW]
Get the best of iMore in in your inbox, every day!
Former app and photography editor at iMore, Leanna has since moved on to other endeavors. Mother, wife, mathamagician, even though she no longer writes for iMore you can still follow her on Twitter @llofte.
If you bought a WWDC ticket just to scalp know that there's a special layer of .NET coded hell waiting for you. END OF LINE.

AGREED.
May XCode rebug all his codez and Interface Builder crash repeatedly upon launch.

Man, you guys are negative as hell. Lighten up. Watch the Care Bears or something.

If it really was for a colleague who couldn't go, he could at least put it on ebay with a "buy it now" price of $1600. sounds like he was just trying to make a quick buck.

There are a few others cropping up on eBay now. Do you not have to be a registered developer to buy them? If not, you should be. I know the ticket has to be activated after you buy it but its too late then to stop this happening!

The problem with this is the fact that you have to be a registered developer since you have to agree to the developer terms and conditions (which you can only do as a paid Apple Dev Member).
I'm not quite sure how this would work as I'm pretty sure the person that activates the ticket would have to present credentials showing their organization. So if anyone but a registered dev purchases this ticket, they just burned their money (I'd think).

If the ticket purchaser is also a paid Apple Developer and just wants to attend the conference badly enough to pay an inflated scalped price, what's the harm? It's not like some random weirdo is buying the ticket and going in to "ooh" and "ahh" over a first glimpse at a new iOS or device?
Relax and get over it Allyson.

Please explain what the difference is between this and scalping a hot ticket to a concert or prize fight? Is this a sacred event?

It's not a sacred event, but it is an event that a lot of honest developers pay a lot of really good money to attend. They want to learn and get the most out of WWDC. It's a great yearly opportunity to learn and expand your knowledge base. That is why it is a bit exclusive and not a free for all that is open to the public.
It's also why Apple makes you agree when you purchase a ticket that you are only buying it for yourself as a paying Apple registered developer or for a colleague or contractor within your organization.

So is a Metallica concert (to some people)...
I get your point, but I'm just saying there's no difference.

P.S. It sold out in 10 hours, that's 9.5 hours someone had to buy a ticket. If they didn't get one, they should of gotten online earlier.

i think its fair...if he bought it then he has all the rights to sell it less or more for what he paid....suck it apple !!!!

No, you do not have the right to sell the ticket in this case.
As a paying Apple developer, I read the fine print yesterday. You agree that you are only buying the ticket as a registered developer for yourself or a colleague within your organization.

In California (so far), you cannot force a purchaser to waive first-sale rights. Some courts have argued that certain software licenses are exempt, but that case law is, at best, conflicted, and still winding through the system. Event tickets, AFAIK, have never been exempted from first-sale rights, so legally, regardless of Apple's language in the dev agreement, this particular reseller is in the clear.
Of course, since a ticket is as much a contract as a purchase, the non-transferable language might give Apple all they need to deny entrance to the eventual purchaser, but that would probably be a PR nightmare they would be better off avoiding.

agreed! finally someone who doesn't make @*#& up.

The only issue I see is that the buy now is so high. Like B3rnieMac said, if it's on sale really due to a sick colleague who couldn't make it sale it for face value or just enough to cover mailing cost and no more. He better end the auction soon and take what he can get b4 Apple does put an end to it or invalidate that ticket.

who cares if buy now is high. if you guys(we) can get buy it now on i4 for $600 on ebay cash then this makes no difference.
if you think buy it now is too high just ignore it and move on.

How is this any different than the people who go into an Apple store, buy 6 base level iPads, and then sell them on Craigslist for $900?

You guys are way too sensitive about this stuff.

How about the dude from NYC who made over $100,000 by selling white iPhone 4 "kits" until Apple came down with a cease and desist order I believe. This is a simple arbitrage business opportunity. I predicted this would happen and nobody believed it. I feel so...vindicated. lol...Anyway, file this under "Who cares?". Next

Let's take a step back. The ticket is originally 1599$. Just To attend an event. Enough said. This Event has become so mainstream that it's ticket are going to be up for the same piracy as concert tix.

Seriously who cares. Wishing his interface builder to crash coughallysoncough is a real mature thing to do. Here's to him selling it for 3500 and laughing about it. :)

hm. it's an event a lot of people pay a lot of money for specifically because it's a bit more exclusive and to have access to apple engineers and designers. not to have 80 billion people roaming around that really have no place there.
and it was a joke cough cough (kind of)

The Super Bowl is the same thing and people scalp those tickets all the time. If Apple wants to limit access, they should only sell x number of tickets and hold it in house at Cupertino. Do you really think that this is the first time a non-developer has bought a ticket to this thing that has had the price jacked? I would darn near guarantee that it's not.

I'd agree. They did only sell a limited number of tickets. They sold out extremely quickly.
I'm sure people pay the $99 as a developer just to buy one. I guess my point of view is that it's a week long conference with engineers, developers, etc from Apple. It's an excellent resource for actual developers. I can see why Apple would want the event to be a bit exclusive. I'm sure a lot of developers wouldn't want to pay $1600 to have people running around like crazy while they're actually trying to take in information from the workshops for their benefit.

So one ticket gets sold at 3500 and you guys are cursing the seller out? You're ridiculous to compare this with "80 billion people" roaming the hallways. Come on. The purchaser has just as much a right to be there as anybody else does. Anybody willing to pay 3500 USD for a ticket to WWDC, odds are they were another unlucky developer that didn't get their own ticket in time.
Time to relax Allyson and Rene. You kids are way too grumpy.

Apple wants WWDC to be for developers and to help them make better apps. They don't want the average Joe fans walking around WWDC. Since they are hosting event, if someone breaks the rules that they agreed to, they have every right to deny entry.

You don't have to be a PAYING developer to get a ticket. I am a REGISTERED developer but not a paying one and I got an offer to buy tickets.
If this guy wants to sell this and someone wants to buy the ticket , it's solely between them , cause I don't see why anyone else should get their panties in a wad over a transaction that doesn't affect any of us in any way.
Apple got their money they asked for , so should they be able to play God with EVRYTHING ?! I think I hear a H3LL YEAH from our blind fanboys. :roll:
EVEN if this was limited to PAYING developers , this guy paid his $100 to have such privileges to get a tickets that he could use , sell or just light up with a lighter.

I wish I had $1,600 to spend on a ticket for a developers conference. Must be nice..

Checked this morning, and there are now at least 15 auctions for tickets to WWDC 2011 listed on eBay.

Its such as you learn my thoughts! You appear to know a lot approximately this, such as you wrote the e-book in it or something. I think that you just could do with some percent to power the message house a little bit, but instead of that, this is wonderful blog. A great read. I will certainly be back.
Thank you for signing up to iMore. You will receive a verification email shortly.
There was a problem. Please refresh the page and try again.