5 high-capacity power banks that are great for the traveling techie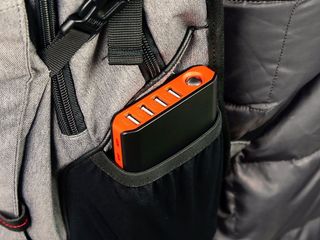 Given today's power-hungry phones and tablets, any power pack under 20,000mAh shouldn't be considered high-capacity. While the majority of these beefier backup batteries aren't suited for storing in your pocket, they're still compact enough to toss in a backpack, suitcase, or laptop bag for a quick charge when you need it. Check out these five power banks that provide enough battery to keep up with the most demanding tech-lover.
Note: When we state how many charges you can expect to get from each battery pack, we're using a hypothetical 2200mAh iPhone (right between the iPhone 6s and 6s Plus) as our basis.
CHOETECH 20,000mAh Power Bank
Rocking dual-USB outputs this power bank from CHOETECH has a 20,000mAh capacity. What's more, it can charge off of either a Micro-USB cable or an Apple Lightning cable, giving flexibility to anyone dealing with multiple devices. Keeping you on top of how much charge is left are four LED lights on top next to the main power button.
The first USB output provides a steady 1-amp charge and even devices that don't have Quick Charge 2.0 technology can still utilize the second blue-coated output thanks its safe auto-detection feature. When topped off, you should get 9 charges off this power bank.
See at Amazon (opens in new tab)
Anker PowerCore 20100
Okay, so maybe this power bank can fit in your pocket — it's also one of the most compact power banks available for its hefty 20,000mAh capacity. Anker's PowerCore 20100 delivers 2.4 amps to both of its ports for a total output of 4.8 amps. It has four blue charging LEDs on the front for easy checks on how much battery life remains in the PowerCore; and when you do need to recharge you can do it with the included Micro-USB cable. Anker also features their Power IQ and VoltageBoost technologies to provide the fastest and safest charge to each connected device. Expect approximately 9 charges when the PowerCore is at full capacity.
See at Amazon (opens in new tab)
EasyAcc Monster 26,000mAh Power Bank
If you're after more than just a pair outputs to keep your phones and tablets charged up, the EasyAcc Monster packs a 26,000mAh capacity and provides four USB ports as well as two Micro-USB inputs on the side that can work in tandem decrease recharge time up to 50%. With a total output of 4.8 amps, the more devices connected means a slower charge, but the overall convenience, functionality, and capacity outweigh reduced charging times.
Next to the USB outputs is a built-in LED flashlight that's handy for seeing in the dark, and on top are four tiny lights that indicate how much battery life remains in the power bank. EasyAcc has added plenty of safety features to prevent any damage to your connected devices, too. Capable of providing around 12 full charges, the EasyAcc Monster makes a great external battery to have on hand.
See at Amazon (opens in new tab)
Anker Astro E7
The Astro E7 features a huge 26,800mAh capacity with a maximum output of 4 amps to charge up to three devices simultaneously. A single 2-amp (max) Micro-USB input charges the premium LG battery cells inside when connected to a proper power source. A small LED flashlight is located on the front, adding easy visibility in the dark, while 4 charging LEDs can be found on top of the power bank. As with most Anker power banks, their PowerIQ technology pushes the fastest and safest possible speed to each connected device. Fully charged, you can expect approximately 12 charges off the Astro E7.
See at Amazon (opens in new tab)
Intocircuit 32,000mAh Power Monster
This beastly backup battery rocks an impressive 32,000mAh capacity that's able to provide power to phones, tablets, and even laptops. It has two USB ports on the front — one 2.1-amp and one 1-amp — next to a DC output for connecting any one of the included laptop cables. On top of its brushed aluminum chassis is an LCD display that provides readings of its power level and charging status. With over 13 notebook connectors and AC adapters for the U.S., UK, and EU, the Intocircuit Power Monster is the ideal power bank for serious traveling techies. Expect around 14 to 15 charges when it's topped off.
See at Amazon (opens in new tab)
Get the best of iMore in in your inbox, every day!
Your friendly neighborhood accessories guru
Do you know about the attrition rate when using external batteries to charge you phone or are you just using simple math so you won't have to write about it? Each of these batteries should give you roughly 30% fewer full charges than you are claiming.

It's worth noting that there's also a plus version of the Anker PowerCore 20100. It has a USB-C port instead of micro-USB. It can both charge and be charged by the 2015 MacBook, and can also be charged using the MacBook's power adapter. I have one and love it!

I would like to see prices listed and more sites selling the products than just Amazon, thanks. Sent from the iMore App
Thank you for signing up to iMore. You will receive a verification email shortly.
There was a problem. Please refresh the page and try again.