The 9.7-inch iPad is here and iMore is giving one away!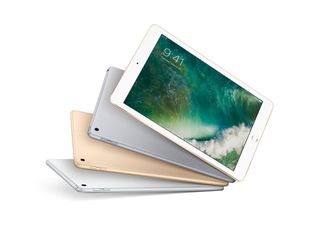 Apple has just announced a new version of its 9.7-inch iPad, replacing the aging iPad Air 2. The new 9.7-inch iPad has some upgrades from the previous iPad, and it's a nice entry point for the education market and first-time tablet users, or anyone that doesn't need all the bells and whistles you get with the iPad Pro. If that's you, or you just really like iPads and want to win this new version, keep reading and see how you can enter!
The Prize: One lucky iMore reader will win a new 128GB 9.7-inch iPad in their choice of Space Gray, Silver, or Gold!!
The Rules: There are multiple ways to enter, each with varying point values, in the widget at the bottom of this post. Complete all of the tasks by clicking each option in the widget for maximum entries and your best shot at winning! Keep in mind that all winning entries are verified and if the task was not completed or cannot be verified, a new winner will be chosen. The giveaway is open until April 11th, and the winner will be announced right here in the widget shortly after the close date. Good luck everyone!
PRO TIP: As you'll notice, you can come back DAILY to earn MORE entries by simply participating in the iMore forums. Make sure you participate daily AND log your entry in the widget to maximize your odds of winning! Good luck!
The 9.7-inch iPad is here and iMore is giving one away! Enter now!
Get the best of iMore in your inbox, every day!
Great giveaway once again, thanks! Cheers

Love to have one!!! Sent from the iMore App

My mom has been wanting a new iPad! This would be a great gift :)

Thanks iMore for your many giveaway contests! I hope I can win this one and good luck to the others as well!

First in need for a student!

Apple to left the Rose Gold exclusively for Ipad Pro, But, no problem in gold is fine for me

Would love to win one and give to my mother who is constantly getting viruses on her computer from clicking on anything and everything.

Wow, I would like to win this.

I would love to win that!

Hi iMore, I want to complete all the tasks, but there's one that says download the app, I tried several times, and I can't get that +5, kindly note that I'm using an android device, what should I do? I want this ipad for reading books, and storing major league information, If I don't win it I'll blame you for not giving me the +5. Isaiah Heart.

Just in time for graduating children! lol

Would be great to win for my sons 7th bday! come on baby Jesus. ;-)

Awesome giveaway Sent from the iMore App

Amazing giveaway! Best of luck to everybody and keep up the amazing work iMore.

Thanks for the opportunity for this give away!!!

LOVE THE ANSWERS TO THE GREEN ICON QUESTIONS......

Love the new iPad! It's perfect for the people who are always on the go ☺

Whoever gets it will showoff a lot...

Cross finger to win this one.

Winning this would be a dream come true!

I'd love to win this for my son.

Thank you iMore for giving these things away. Its really nice to continuously award users for participating.

Way to go, iMore team -- another great giveaway!

I would dig a new iPad. I really should just pull the trigger on a iPad Pro with Pencil and Keyboard. Posted via the iMore App for Android

I don't care that it's somewhat of a regression, a new iPad is a new iPad! I'd love to win!

this would be a great for work

I have never had an Apple product, hope i'm lucky now! :)

Wow, it would be nice if I can win this.
Thanks

I never use Apple products. maybe if I get this, I would feel happy and will be reviewing (-{}-)"

would love to update my old iPad 2

This would be Redonkulous to win! =B-)

I want one!!! Sent from the iMore App

Can someone tell me where Georgia is, she's been MIA Sent from the iMore App

REALLY great giveaway once again, thanks! Cheers.

Once again, a great Apple prize from iMore is possible to own. Thanks for the chance.

Thanks to the iMore team for another fantastic offer!

This would be a great replacement for my iPad2.

How do I sign up if I've already signed up for the newsletters, twitter, and all the other things needed in the past?

Would love to win this as our family iPad is an old iPad 3

My chances of winning are 1 in 5,085 what are yours?! 🤓🤔 Sent from the iMore App

Would love to win one to have a bigger screen to watch my video podcasts like iMore and TWiT

I'm in! Thanks for doing a contest that doesn't involve having a Facebook login ... so many contests these days seem to. :)