Apple Fitness Plus should ditch the Apple Watch requirement, here's why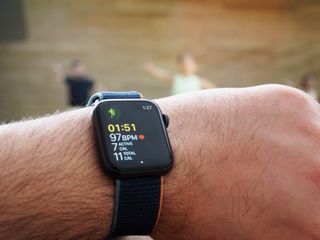 (Image credit: Luke Filipowicz / iMore)
For a long time, Apple has preferred to keep its best features and services to itself so it's no real surprise that Apple Fitness+ is only available to Apple device owners just over a year since its launch. However, we have seen Apple move away from this strategy in recent years, either in search of increasing services revenue or through external pressures to open up its walled garden, moving some of its services cross-platform.
A for-pay fitness service seems like the perfect app to roll out across platforms. Several such services already exist on the web and in apps, but none with the brand cache, budget, and production value of Apple Fitness+. That begs the question, why can't Apple just put Fitness+ everywhere? The answer: the Apple Watch.
No Apple Watch, no Fitness+
The call for Apple Fitness+ to ditch the Apple Watch requirement is not a new one. Despite praising the service overall in our Apple Fitness+ review last year, our reviewer Luke Filipowicz even called it out then:
There are many great fitness trackers out there; some are better suited to certain types of workouts than even the best Apple Watch. Fitness-focused devices from the likes of Garmin and Fitbit are popular with keen exercisers while smartwatches from Samsung, TicWatch, Fossil, and many more brands all help you keep an eye on your daily activity.
That means that there are plenty of folks, both fitness fanatics and those who are just trying to be a bit healthier, that cannot be served by Apple Fitness+ because they'd need to own an Apple Watch in order to sign up and try it out.
Launching the Fitness+ app on other platforms, as it has with the TV app and Apple Music, would put it in front of many more eyeballs and unlock whole new markets of users.
If Apple wants to keep the service exclusive to its own platforms, removing the Apple Watch requirement and opening up Fitness+ to anyone with an iPhone, iPad, or Apple TV would still increase the addressable market greatly.
A tale of two strategies
Whether or not Apple would consider taking this step depends on whether the company sees Fitness+ as a feature that sells Apple Watches or a service it can sell in and of itself.
In the past, Apple's primary focus was on hardware. That's where the company made its money with significant margins on every product. Software features and tight services integrations were merely tools to get people to buy products and keep them in the Apple ecosystem every time they upgraded a device. Even when Apple put iTunes on Windows in 2003, it was a move designed to shift more iPod units.
However, in recent years we've seen a shift of emphasis from Apple toward growing its services business. It even put out a press release just last week detailing how well that part of the business is doing.
While we've seen some services like Apple Arcade and Apple News+ remain exclusive to Apple users, others like Apple Music and Apple TV+ have launched on competing devices. Particularly with TV+, Apple is pushing hard to scale that business as it continues to spend copious amounts of money on Apple TV+ shows. It won't be spending as much to staff its Fitness+ instructor and production teams, but the service's reach is severely limited by the number of people wearing an Apple Watch, which is already a sub-group of iPhone owners.
Close your rings
Apple has put a lot of its Apple Watch marketing efforts into the "Close Your Rings (opens in new tab)" mantra. Fitness+ instructors sign off each session by encouraging you to close them, your Apple Watch pings you periodically to keep you up to speed on your Activity ring progress each day, and at this time of year Apple even encourages you to take the "Ring in the New Year" challenge.
Opening up Apple Fitness+ poses potential complications when it comes to these metrics, especially when communicating to those taking part in sessions who have never used an Apple Watch. When the instructor asks you to check in on your Activity ring progress, the Fitness app puts your ring data front and center. Similarly, instructors often mention heart rate or the Burn Bar, metrics that the Fitness app won't be able to display without that tight Apple Watch integration. Fitness+ has thousands of sessions all with messaging that would make little to no sense to non-Apple Watch wearers.
That being said, you can currently choose to start a Fitness+ workout without your Apple Watch on your wrist — you merely have to have an Apple Watch to sign up for the service in the first place — and Apple deals with it by simply not showing your metrics on screen.
Apple could be clear with users upfront when signing up for Apple Fitness+ that the best experience will be enjoyed by those wearing an Apple Watch. It could also use that as an opportunity to explain the terminology used by instructors and the metrics that they are missing out on without one. In doing so, that special sauce would remain a sell for the Apple Watch while Apple still picks up $10 a month from folks who are excluded from giving them that money right now.
Time will tell
Apple Fitness+ is only just in its second year of existence, and there are plenty of ways to improve Apple Fitness+ in 2022 and beyond. It's likely that Apple will resolve some of the lingering issues the service has before it looks to broaden its addressable market.
If it really wants to juice its subscriber numbers, though, it needs to either get more people wearing Apple Watches or open it up to everyone. The latter would likely be easier and may even help achieve the former.
Adam Oram is a Senior Writer at iMore. He studied Media at Newcastle University and has been writing about technology since 2013. He previously worked as an Apple Genius and as a Deals Editor at Thrifter. His spare time is spent watching football (both kinds), playing Pokémon games, and eating vegan food. Follow him on Twitter at @adamoram.
One thing you failed to note is that the Apple Watch itself is useless, without an iPhone. So there are really two requirements. You can do that family watch thing, but someone gotta have an iPhone.

That's not Apple's way. You might as well wish for iOS to be on non Apple devices, iMessage to be on Android or AppleTV hardware to run Windows.
Apple largely creates these services to enhance the reasons to stay in the eco that begets buying other Apple hardware/upgrade existing hardware. That's how Apple makes the vast amount of their revenue. OTOH difficult for Apple to compete with other service based offerings because they've made a point not to greatly monetize data. The others rely heavily on that monetizing. Apple relies just as heavily on that new/returning hardware purchases. As such they are going to try to create exclusivity and as easy to use as possible with your Apple eco products. The eco and exclusivity they've created is arguably as good as there's been. What that means is they simply can't start trying to be many things to many people. Apple wouldn't be Apple and the biz plan would crater.
Fitness+ is a service exclusivity for Watch buyers. Watch Buyers need an IPhone. Best audio with it all is to get AirPods. Make it super easy to watch Fitness+ trainers by getting an AppleTV. Keep the devices all together to manage in FindMy with iCloud. Here's music that is populated and easy to use and pay for in a fitness iCloud bundle. See how that exclusivity/stay with us ball keeps rolling?
Get the best of iMore in in your inbox, every day!
Thank you for signing up to iMore. You will receive a verification email shortly.
There was a problem. Please refresh the page and try again.