Apple to hold next iPad and Mac event on October 22, 2013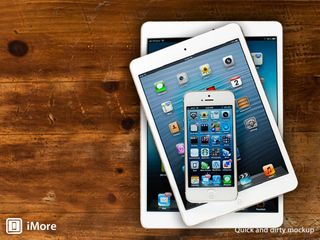 Apple will hold their next iPad and Mac event on Tuesday, October 22. That's according to John Paczkowski of the Wall Street Journal and fits with the time line I'm hearing as well. It also fits with what Apple did last year.
On the agenda will be the new iPad 5 we told you about back in January, the one that's as slim and thin as the iPad mini but still packs a 9.7 inch screen. Apple's been working on a Retina iPad mini as well, and if it's ready, it'll be shown off alongside its bigger brother.
Apple also has that brand new can't-innovate-anymore-Phil-Schiller's-ass Mac Pro to show off again, which should ship with OS X 10.9 Mavericks.
Still, with everything we think we know, there's a lot that still needs to play out - will there be a gold iPad? Colored iPad minis? Will the Apple A7 go A7X for the iPad 5? Will Touch ID make it onto either the full-sized or mini iPad?
Keep it locked to iMore for full coverage of Apple's next iPad and Mac event, everything leading up to it, and everything you need to know thereafter!
Source: Wall Street Journal
Get the best of iMore in your inbox, every day!
Rene Ritchie is one of the most respected Apple analysts in the business, reaching a combined audience of over 40 million readers a month. His YouTube channel, Vector, has over 90 thousand subscribers and 14 million views and his podcasts, including Debug, have been downloaded over 20 million times. He also regularly co-hosts MacBreak Weekly for the TWiT network and co-hosted CES Live! and Talk Mobile. Based in Montreal, Rene is a former director of product marketing, web developer, and graphic designer. He's authored several books and appeared on numerous television and radio segments to discuss Apple and the technology industry. When not working, he likes to cook, grapple, and spend time with his friends and family.
Mavericks should drop same day??

Any word on new Apple TV 4th Gen? Sent from the iMore App

Hi Rene, Shouldn't the title of this named "Apple to possibly hold next iPad and Mac event on October 22, 2013" instead? As this has not been made as official news, so anything coming out at this time should be speculative at this time. Not trying to nick pick (maybe I am), but just thought this is not how it should be worded, especially after I read the article sans the official Apple invite.

ATD is pretty reliable and the fact that we have a Dalrymple "Yep" now is all the confirmation you will every need Woody.

I think Mavericks will ship a/o 22 Oct.

Can't wait, I'm dying to get a new iPad 5.

As you type this on your iPad 4 lol

lol? Glad you found your own lame joke amusing bruh

any news on R-MBP updates? I assume Haswell updates are coming but they seem to be under the radar. Have been waiting to upgrade since like May :(

I'm in similar boat. I sold my old rMBP for a good price a few months ago to help cover most of the cost of my upgrade. lord, talk about rMBP withdraw! Take my money already! On a side note, I'm REALLY hoping they upgrade the Thunderbolt displays. I've been holding off since April, waiting for a USB 3.0 version. Now I'm hoping they support TB2.. Hoping the rMBP supports TB2 as well.. and they pump the nVidia card to a GTX 775M w/2gb GDDR5.. or at least allow for the option/upgrade!

Any word on Maverics' price tag?
$30-ish like before? Sent from the iMore App

Mountain Lion is/was $19.99

No word, but I bet $19.99. Sent from the iMore App

Hoping for iWork '13...or something since '09...and iWork for iCloud out of beta. Also hoping for retina iPad mini, hopefully still will offer slate. Sent from the iMore App

I can't wait, I have been longing for an iPad..

I think they'll at least introduce colored iPad minis, if not the iPad 5. And they'll probably bring Touch ID to the iPad 5 but most likely not to the iPad mini until at least 2014. And I think the same thing goes for the Mac. There's so many other companies with their own desktops and laptops that have some sort of touch ID. I don't understand why Apple hasn't done it yet.

YES!!! Finally! 64GB iPad5 WiFi+Cellular (Verizon) in Slate Gray, I have a home for you. I and my wallet have been waiting for you all year. :-) This will be the first of several Apple product purchases for me this year. Updated AppleTV, please? Updated Haswell Mac Mini, please?

I liked it better when iPhones were released in July, iPods were in october, and iPads were in April. But noooooooo, Its all messed up

I agree. If not then at least move macbooks to April. Some form of staggered launch would be great.

It IS crazy to release everything at once in September/October (iPhones, iPads, Macs, iOS, OSX etc.).
Not only new Macs were delayed but we still don't know what AppleTV upgrade will look like or is iWatch a nice iOS accessory, will Mavericks be a free update, will iPod touch get a refresh or just a price drop, and not to mention iPad exact specifics (still 16GB ? WiFi 802.11ac ? TouchID ?). Are we waiting in vain ? I hope that the next iPhone 6 & 6C will be released June 2014.

What about Mac Mini?? Finally ready to trash all my Windows PCs.

Serious question here: What do you guys think is the likely hood of a new iPad mini coming out at this event? I literally just bought a 32gb iPad mini from Futureshop yesterday not knowing about a near release. Should I just return it and wait? Thanks!

The real question is,"What is their return policy?"

14 days. I place that on the 21st lol the day before the event.

Don't return it until the 20th.

Return it while you still can! It is more likely they will take it back few days after purchase than after 10 days

I would return it. I have the mini and it staggers on a lot of apps.

Seems like ios7 is hit or miss on the Mini bc mine is actually snappier & slicker since the update, with battery life a tad bit better also.

There have been reports in the tech news that a new mini may not be ready due to Retina problems until 2014. This happens every year. You can never tell what is reliable. I really hope there will be a iPad mini Retina display. Been saving up for one in 4g or LTE. That would be nice. I think I would return it. If the new Retina mini does not come out, you can always buy another one.

what about regular macbook pro haswell updates?

Either they'll get a silent release like the iMac next Tuesday, or they'll get a quick mention along with the MacMini at the Event. They're both just spec bumps to Haswell, so there's not much to go over.

I just purchased a new non-retina MacBook Pro. That should be arriving on the 16. If apple comes out with a spec bump to haswell, do you think they will let me swap up?

It's unknown whether Apple will update the non-Retina MBPs. They're just a stopgap until the price of the Retina displays comes down. As soon as those displays don't have just a price premium then the non-Retina machines will go away. Whether that's this year or next year is anyone's guess.

Been waiting to advertise my iPad 4 on eBay and today was the day. Thanks for the update! I hope to have an iPad mini look iPad 5 with TouchID and the A7 chip. I love my gold iPhone, but generally buy black iPads because for me the black bevel is better for watching video etc. New smart covers would also be nice, but I suppose that's dependent on whether they introduce new colours to the iPads. Sent from the iMore App

I am looking for the MBP Retina to be Haswell updated shipping with Mavericks. I'm not buying until then.

I am so looking forward to the 22nd! Apple could be introducing a new washcloth and I would still run out to the Apple store to buy it!!