Apple offers $100/£100 refund to recent iPad customers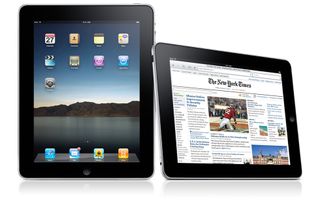 Apple is offering a $100/£100 refund to those of you who bought a first-generation iPad, within the last 2 weeks.
When the iPad 2 was revealed, we saw a $100/£100reduction on the first-gen iPad, which is still available to buy in the Apple Online Store .
Apple have agreed to refund anyone who bought the iPad, from the 16th February, the difference of $100/£100. Alternatively, you can refund the entire iPad for the full price, and join everyone else in the wait for the iPad 2. If you want to take advantage of this refund offer, you'll have to contact Apple personally.
Do you qualify for the $100/£100 rebate? Or will you be claiming a full refund on your iPad, to get ready for iPad 2 next week?
Writer for iMore, YouTube Vlogger, and Host for [TEChBrits]
If someone bought the iPad 1 from like say, Walmart two weeks ago. They out of luck?

God on you Apple, world class. I wish Canon would have acted the same way when I bought my EOS 400 a few years ago, just before the 450 was launched!

for once Apples USD/GBP exchange rate works in the favour of us Brits!

I've bought an ipad 1 on the 28 of february. And I live in Holland can I join this refund? of even better can I get an ipad 2?
greetings Wendy

Considering what I paid for the iPad 3G I am using right now there is no way even this matches that...but this is a nice gesture for those who bought them within the last few weeks. I would probably just return it and grab the iPad 2 had I paid full price though.

I got the 32gb 3G model on Feb. 21st at Walmart. Can I get the 100 refund? I don't care about the iPad 2 so I don't want a full refund. I'm pretty happy with mine and I don't care about the cameras.

Walmart should have a price protection guarantee. I bought through best buy and they are honoring it. Check with walmart

Called apple, no such policies. this is false

i would think that this wouldnt be real. as nice as it is, if you think about it people would sell their ipads on ebay anyways, and still take the $100 from apple anyways. and im willing to bet the majority of people would do this. so i hope that this aint true, so that people cant take advantage of it

Idiots at Verizon aren't give the $100 refund or allowing you to trade up to the iPAD4.
Apple say's I have to work with Verizon

I called Apple and they said that they are only doing a $100 refund if you swap out the first gen one. Not a full refund for the second.

Thanks for the comment. I just tested AirTight again with music and radio program AirPlay-streaming direct from an iPad 2, and it did work in once instance but mostly did not. AirTight's audio-only AirPlay target support seems to be unreliable at this point, from the few times I've tried it. Additionally, the AirTight 0.9.6 Android Market listing contains this note from the developer: "Music is not yet supported (but we're looking into it)."
Get the best of iMore in in your inbox, every day!
Thank you for signing up to iMore. You will receive a verification email shortly.
There was a problem. Please refresh the page and try again.