Apple quietly releases new iPad Smart Case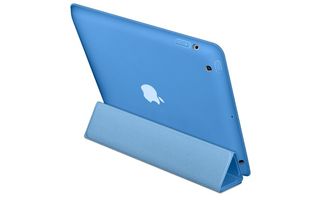 Apple quietly released a new iPad Smart Case, amongst the many other announcements at WWDC 2012.
When the Apple Store went back online shortly after the keynote, many people noticed that Apple had snuck in a new iPad accessory into the store, 'The iPad Smart Case."
The 'Smart Case' is compatible with both the iPad 2 and the new iPad, and covers both the front and back of the device, giving your device extra protection. It's made out polyurethane and works with all current 'Smart Covers', giving you the same functionality, in both 'typing' and 'watching' positions. You can customise your 'Smart Case' with Apple's free lazer engraving service.
The new 'iPad Smart Case' is available for $49.00 in Grey, Black, Blue, Green, Pink and 'PRODUCT (Red)'.
Apple Store (opens in new tab)
Get the best of iMore in in your inbox, every day!
Writer for iMore, YouTube Vlogger, and Host for [TEChBrits]
Anyone know if these are available today in Apple stores? This is exactly what I've been looking for!

I need one, wonder if I can sell my old one on eBay.

Its only the case; not the Smart Cover.

Actually, I just spoke to an Apple sales rep and they stated that the Smart Case is an all-in-one product. It includes both the back casing and from the way I understood him, the Smart Cover portion is integrated into the case. However, I'm not really sure that it's removable like the normal Smart Cover is.
The one thing I'm worried about is that the actual "Smart Cover" hinge appears to be made from polyurethane, instead of metal like on the normal Smart Cover, and that may be a point of weakness over a long period of time that I suspect might eventually fail with a lot of folding. But that's just a guess based on the photos on Apple's website. I wish they had a video or more information about the new Smart Case, so I think for now, I'll wait a bit until they're available in store and can check them out. They do look nice though.

Good point, that hinge seems like it would wear out quick.

It's both front and back.

Similar case here
http://www.monoprice.com/products/product.asp?cid=108&cpid=10843&csid=1084313&pid=8457&seq=1&format=1#largeimage
Under $10

It's not even close to similar because it's fake.
Those products tempt to fall apart within a few months.
I have also a cheapskate uncle that acted like you and didn't want to spend the few extra bucks on the original smart cover.
It looked really ugly and it did fall apart after 3 months.
My previous iPad 2 which I gave to my daughter still has the same cover, which I bought almost a year and a half ago.
Come on just spend the few extra bucks, and get the real thing

http://www.monoprice.com/products/product.aspcid=108&cpid=10843&csid=1084313&pid=8457&seq=1&format=2

Sorry for the bad links. But monoprice.com has similar cases if your looking to save $$

Cheapskate, go hide in your cave.

I guess you're mistaken. "The iPad Smart Case covers your iPad — both front and back — "
It DOES "include" the smart cover. Its back and front protection on a single cover.

Timing's bad... and the colors. I've already gone with the black leather SC and the clear slim back cover w/magnet (holds SC against back of iPad when open).
These will sell well, though. Wonder why this wasn't thought of last year for the iPad 2... they would've effectively crushed all 3rd-party case competition I'm sure.

They should have put a magnet on the back to hold the smart cover in place when folded back.

The fact that you have to choose a material (Polyurethane), but it's the only option, sorta indicates there's another material option coming soon enough to build the selection choice into the web page, I'd guess leather is around the corner ;-)

I like it and probably would have bought one when I got my new iPad, but I like my smart cover and belkin snap shield setup better. 1. Because I can take off the smart cover 2. It has the metal strip on the snap shield to secure the smart cover.

I like the idea, but I don't like the fact that the smart cover is integrated into the case and non-removable. When I'm playing a game on my iPad in portrait mode, I take the smart cover off because it gets in the way.

Ya'll need to check out www.speckproducts.com. They have some killer cases for all your Apple babies - I have been a satisfied customer since the original iPhone. You won't be disappointed.

Excellent points altogether, you simply received a logo new reader. What could you suggest in regards to your post that you simply made some days in the past? Any certain?

Great work! That is the type of info that are meant to be shared around the web. Disgrace on Google for not positioning this put up upper! Come on over and consult with my web site . Thanks =)

Hi there, You have performed an excellent job. I'll certainly digg it and in my view suggest to my friends. I am sure they'll be benefited from this site.

You're actually a good webmaster. The web site loading pace is amazing. It kind of feels that you are doing any unique trick. Furthermore, The contents are masterpiece. you've done a wonderful activity in this topic!

Thank you for the auspicious writeup. It in reality was a leisure account it. Glance advanced to more introduced agreeable from you! However, how could we keep up a correspondence?

My brother suggested I would possibly like this web site. He used to be entirely right. This submit truly made my day. You can not consider simply how so much time I had spent for this info! Thank you!

It's clean and pretty for maybe month. Then the thing gets dirty full of uncleanable smudges all around the corners and lines around. And the case does not fit on iPad well, it's a bit loose. Don't like it. Original Smart Cover is waaaay better.

I love my iPad smart case! Use it every day, had it for about 6 months and have no smudges or dirtiness. Only complains I have is that I feel it should have a magnet somewhere on the back of the case so that when you open the cover it sticks to the back of the case so it's not flopping around or you have to hold it, and also when you use it as a stand it stands like directly straight up and tips over a lot.

i have the smart case. i like but i have the same problem as the person above.
Thank you for signing up to iMore. You will receive a verification email shortly.
There was a problem. Please refresh the page and try again.