Apple removes Liquid Contact Indicators from iPad 2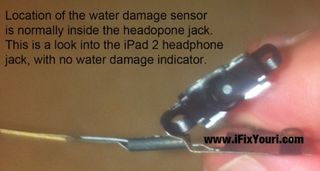 Apple has removed the LCI's (Liquid Contact Indictors) from the iPad 2. We already know that Apple has relaxed its policies on water damage to various iPods. This we believe, is down to the unreliability of the indicators; false positives when no water damage has occurred. The sensors are supposed to activate when moisture comes into contact with them. This can then easily be spotted by an Apple representative, voiding your warranty.
The iPad 2 has none of these sensors. In the first generation iPad the sensors were located in the headphone plug and 30 pin dock connector. iPad2 has a redesigned headphone jack which does not have the sensors. The sensor are also missing from the dock connector.
The only way for Apple to check for water damage, according to the Genius Bar DB, is to check for corrosion in the SIM card tray.
So who is going to risk taking their iPad 2 into the bath now?
UK editor at iMore, mobile technology lover and air conditioning design engineer.
What about the wifi only versions?

I was just about to ask the same question. I've got a WiFi only iPad 2 :-).

I notice that two of you asked this question. What makes you think this is a wifi vs 3G model issue?

They're asking how Apple will check for water damage on Wifi iPads since there is no SIM card tray.

Don't worry whether it's 3G or wifi. The real problem these indicators have is that they are proven as unreliable now. Apple found out they had too many false positives and decided to save the cost of the indicators and simply not include them. I doubt they planned on having another indicator right away, but if they know they don't work, why pay for them? Experienced users were getting around them anyway and it's creeping into the mainstream that these indicators give false positives so Apple is actually leading the way in finding another way... that or they'll just not care any more.

The problem might really be the location of the sensors and their sensitivity. Being in the dock and/or headphone port they are exposed to humidity and moisture anywhere. Over time they can slowly be tripped as more moisture reaches the sensor. Where as with other devices that the back just pops off the sensor is normally under the battery or some where inside that is more protected from everything but liquid water if it was submerged.

The bathtub is the best place to use the iPad....

FaceTime in the tub... here come I!!!

I've already been using the iPad 2 in the tub, with a waterproof case. No issues here, but good to know that I now do not need to worry if it gets submerged, as long as I disassemble and dry it out, then take it in the next day.

good news:welcome our website _(( vipsho pper.us )) ( Please enter
the website
Please believe that we will be very good
)
love shopping friend accept credit card and so mang payment
( Please copy stick this website )
Welcome to my web site please patiently watch will have your favorite items
__(( vipsho pper.us ))

I wash my ipad in the dishwasher all the time... Didn't you know you are suppose to keep the screen clean this way???

"is to check for corrosion in the SIM card tray"
and what if you only have the wifi ipad???

I ran into a couple situations with my iPad and h2o. I went and got an iLoc iPad Case for just a couple bucks and put my iPad in it to protect it when near water. Picked it up at http://www.ilocstore.com. Have even seen it on ebay and amazon.

Hi, Neat post. There's a problem along with your site in internet explorer, would check this? IE still is the market chief and a big section of folks will omit your magnificent writing due to this problem.
Thank you for signing up to iMore. You will receive a verification email shortly.
There was a problem. Please refresh the page and try again.