Apple event reportedly set for October 16 with new iPads, Macs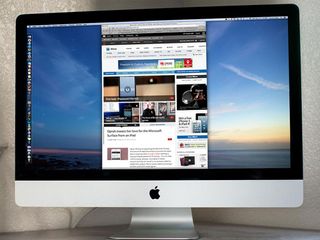 Apple will reportedly hold its next event on Thursday, October 16. This is expected to be the debut of the new iPads, new Macs, and OS X Yosemite. It is also expected to be a more relaxed event than the one held in September, held at the Town Hall on Apple's campus in Cupertino.
From Re/code:
A Retina display iMac has been rumored to be close to launch. Additionally, Apple recently released the first Yosemite GM candidate to developers, along with calling on them to submit their apps to the Mac App Store, suggesting an imminent release.
What are you hoping to see at Apple's October event? Leave your thoughts in the comments.
Source: Re/code
Get the best of iMore in your inbox, every day!
Joseph Keller is the former Editor in Chief of iMore. An Apple user for almost 20 years, he spends his time learning the ins and outs of iOS and macOS, always finding ways of getting the most out of his iPhone, iPad, Apple Watch, and Mac.
I doubt it as thats a Thursday and their announcements almost always land on a Tuesday.

If this was any other website (no disrespect iMore) reporting then yes, I would have doubts. But it's Re/Code reporting, which is the next best thing to an official Apple announcement.

i have been an avid fan of iMore for years and if iMore says something is going to happen it is probably going to happen i would probably put iMore on same level as re/code

THEY BETTER RELEASE A MAC MINI

All I want for Christmas is a 15" MacBook Air. And a pony.

Apple doesn't make ponies. They do make unicorns though, with 18K gold saddles with Jony Ive's name engraved into them.

That's tempting, but if I have to choose I'll go with the 15" Air

15 air fanless for the win. I would actually get rid of my 2013 15 inch retina MacBook Pro and get the air instead. Sent from the iMore App

Do you like the MacBook Air better than the Pro? Just wondering because I am considering buying the 15-Inch Pro but if a 15-Inch Air is announced, What is the difference? Sent from the iMore App

There will be no 15" MBA announced. I'll bet money on it. Right now the rumors are that Apple is making a smaller MBA, not larger one.

Smaller than the 11"? I'm skeptical. A retina 13"? That seems possible....

to be exact, it was a 12" rMBA that was rumored.

So the question remains...with the branding options, is this an iPony or an Apple Pony?

My preference as well. I just hope it doesn't need to be tethered to my iPhone...

If Apple does make a revamped iPod Touch, I'd rather they make a 5.5" version and have it focused on gaming. Of course it'll do much more than that, but gaming on a 5.5" Retina HD screen is so much nicer.

New MAC Mini - Pleeeeease!!

Agreeing with RealNeal and JRLBruins. I so desperately need an updated MacMini to replace my slowly failing, non-upgradeable PowerPC iMac. PLEASE let there be a new Haswell MacMini released this Fall. :-)

I've been waiting to buy my first mac for so long now i want a mac mini

I sure would like to see someone from the blind community, or even the community of people with disabilities in general, invited to these AppleEvents. Sent from the iMore App

If a new Mac Mini is released, I'll get rid of an old MBP.
Vader: "And?"
I may also get my first iPad, a mini.
Vader: "And?" Sent from the iMore App

They'll be adding ac wireless across the board

Can we expect Apple Pay this day as well? :-) Sent from the iMore App

Probably an Ipad with touch ID. Sent from the iMore App

And maybe the 1080 Retina HD Display? Sent from the iMore App

Isn't the iPad already 1440? Sent from the iMore App

It well be interesting to see what GPU Apple put into a retina iMac. It had better be seriously high end.

Bigger ipad and some upgrade for APPLE TV Sent from the iMore App

i would like to have an official date for the release of the apple watch!!! really looking forward to it :)

I am hoping for the release date and pricing on the apple watch as well. My wife's birthday is in January and she wants a stainless steel apple watch. I just hope the price is somewhat reasonable.

I want a new Apple TV!!!! Sent from the iMore App

Me too, but only if it has an app store. Enough with the closed ecosystem nonsense, open it up Apple, make it useful for people who don't live in America. I doubt we'll see one this year though.

I want a new Apple TV!!!! Sent from the iMore App

12" iPad pro and 17" non glossy screen MacBook Pro - Home studio/ Road warriors would love that ? Sent from the iMore App

12"iPad and 17" Non glossy MacBook Pro - Home studio warriors would love it ?
Max mini needs a revamp too.... Sent from the iMore App

Any new iPad would be nice. My New iPad, or iPad 3 is getting old. It works ok on iOS 8 but will not be long until it's outdated reference updates. The iPad 2 is really on the outs. I would like a bigger screen, but would settle for the new chip, and the 128G. I am not an iMac fan. When you see that price, might as well save up for the Mac Pro. I would also like to see a new MacBook Pro. The iPad is great, but will never have the power of the MacBook Pro.

I want to see a Mac mini that has some characteristics of the Mac Pro. And a new Apple TV. It has to happen. Give it a little storage, some gaming, and let me use that huge iPhone 6+ screen as a controller. Sent from the iMore App

I am holding off on buying a Mac mini server for my home media until I find out if they are updating it. I hope they are, though if the update is only moderate then I'd buy the older model when it goes on sale.

4K AppleTV with 4K movie rentals Sent from the iMore App

My guess -
1) iPad pro
2) Retina iMac
3) All new Apple TV And most likely, Yosemite will get public release date as Oct 21st or 23rd

I bet the non-retina MacBook Pro will finally get to rest in peace after the new Macs are launched. Sent from the iMore App

I use Applecare+ expiration to dictate the soonest I get something new. So no iPhone or iPad or Mac for me this time around. That leaves the Apple TV and the Apple Watch on the table so far as what I know of that I'm "eligible" for. I'd definitely get a new Apple TV if there is one. The big deal for me is going to be Yosemite, plain and simple. The new OSs are always big excitement in our home and the expanded integration of devices is going to be great fun. I have two article requests when enough information is known: 1. What will the Apple Watch do and not do with various models of iPhone? I'm thinking NFC payments will not be possible with my iPhone 5, but am I right about that? The Watch does NFC, right? What else might it do or not do with various iPhones? This is need to know! 2. I'd like to see a direct comparison of CarPlay vs iPhone in a dashmount. An iPhone 6+ in a dashmount could be closer to your view and appear subjectively larger than the built-in car screen, and probably easier to read in sunlight. My car already puts Siri and music and phone calls in the car speakers even though there is no CarPlay as such. So what, specifically, does CarPlay bring to the table?

I just want a new Apple TV Sent from the iMore App

Sure hope we DON'T see an update to the retina MacBook Pro. I just got one a few days ago. Sent from the iMore App

A new updated iPod Touch please Apple, with that 128GB of storage. Posted via the Android iMore App!