Apple Trade In program: Everything you need to know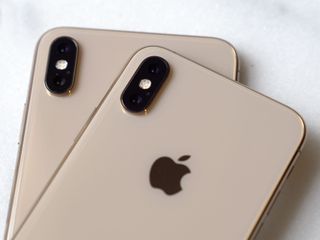 (Image credit: iMore)
The time for new iPhones will (hopefully) soon be upon us, and if you're looking to upgrade, you might already be searching for the best way to trade in your current phone for money towards a new one. While there are a few options out there from carriers to big-box retailers, you might want to take a look at Apple's Trade In program (opens in new tab). The program lets you trade in your iPhone, either in-store or online, for credit towards a new phone or towards your monthly payments to your carrier. Trade In offers you as much as $500 for an iPhone 11 Pro Max.
Here's everything you need to know about Apple's Trade In program.
What is Apple's Trade In program?
Trade In is Apple's program where you can exchange your existing devices for credit that you can use towards a new device.
Is this related to the iPhone Upgrade Program?
No. The iPhone Upgrade Program sees you pay off the full cost of an iPhone with Apple over 24 months. In that program, you're eligible for an iPhone upgrade when you trade in your current device after 12 payments.
How do I trade in my device?
To get started, go to the Apple Trade In (opens in new tab) website and select your trade-in device to get an estimate. For online trade-ins, you can mail in your device for free and Apple will apply the amount as a credit toward your purchase if you paid in full for it already. If you are using Apple iPhone Payments, the estimated trade-in value will be applied to the overall price of your new iPhone. If it turns out that the actual value is different than the estimate, the price will be adjusted accordingly. If you haven't purchased a new iPhone yet, but want to trade in an old device anyway, you'll be issued a gift card for its value.
Can I trade in any iPhone?
Not exactly. For its in-store Trade In program, Apple only accepts the iPhone 6 and first-generation iPhone SE through iPhone 11 Pro Max. You can trade in other recent smartphones or Apple devices, but when it comes to iPhones, those are the ones Apple's willing to take.
So how much is each iPhone worth?
Apple breaks down the maximum trade-in value for each eligible iPhone like so:
iPhone SE (First generation): Up to $30
iPhone SE (Second generation): Up to $210
iPhone 6: Up to $30
iPhone 6 Plus: Up to $50
iPhone 6s: Up to $60
iPhone 6s Plus: Up to $80
iPhone 7: Up to $100
iPhone 7 Plus: Up to $140
iPhone 8: Up to $140
iPhone 8 Plus: Up to $210
iPhone X: Up to $250
iPhone XR: Up to $250
iPhone XS: Up to $300
iPhone XS Max: Up to $370
iPhone 11: Up to $350
iPhone 11 Pro: Up to $450
iPhone 11 Pro Max: Up to $500
Both Apple and Brightstar note that the iPhone you trade will be evaluated on a number of criteria, including whether or not the device powers on, damage (normal wear and tear is fine), and if it's been damaged by liquid. How an iPhone does in its evaluation will determine the full value that you get for your trade-in.
Does Apple Trade In only accept iPhones?
Nope. You can trade in more recent iPads and Macs, as well as Series 1-5 Apple Watches, and still expect a decent credit. Here's how iPads break down:
iPad mini: Up to $175
iPad Air: Up to $210
iPad: Up to $200
iPad Pro: Up to $500
Mac:
Mac mini: Up to $980
Mac Pro: Up to $1,490
iMac: Up to $1,390
iMac Pro: Up to $3,580
MacBook: Up to $450
MacBook Air: Up to $670
MacBook Pro: Up to $1,760
Apple Watch:
Series 1: Up to $30
Series 2: Up to $60
Series 3: Up to $85
Series 4: Up to $145
Series 5: Up to $190
Apple does not currently offer trade-ins for non-Apple devices or devices not listed here, but you can send it to Apple and it will be recycled for free.
Do I have to use my credit towards a new iPhone?
Apple says that you can use your credit towards the full price of a new iPhone, or to lower the monthly payments you make to your carrier for your device.
Update October 2020: Updated with Apple's new trade-in values, including on the iPhone 11, iPhone 11 Pro, and iPhone 11 Pro Max.
Joseph Keller is the former Editor in Chief of iMore. An Apple user for almost 20 years, he spends his time learning the ins and outs of iOS and macOS, always finding ways of getting the most out of his iPhone, iPad, Apple Watch, and Mac.
iPhone 6: $135
iPhone 6 Plus: $70
This is surprising unless it was supposed to be $170

Unfortunate that as a T-Mobile subscriber I will not be able to register for the iPhone Upgrade Program in advance of the iPhone X preorder date either in-store or online (website says to visit a store). In store they told me I would have to upgrade at the time of registering for the program. Rene, Serenity, Mikah... do you guys have any other knowledge about the iPhone Upgrade Program with T-Mobile?
Thank you for signing up to iMore. You will receive a verification email shortly.
There was a problem. Please refresh the page and try again.