131 Black Friday deals every Apple fan should know about — the definitive list
All the deals in one place.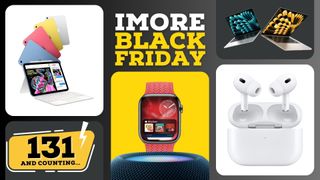 (Image credit: Future)
If you've ever used the search function on Amazon during a sales event like Black Friday, you'll be aware that it's absolutely terrible. I don't mean a bit awkward or quirky, like actually terrible. For instance, if you search for iPad in the Black Friday section, you get one result from Apple, the 10th generation iPad. The following 11 results are all tablets from either Samsung or Amazon. If you search for iPhone, not a single result on the first page is an Apple device. The same goes for AirPods, Apple Watch, and MacBook, although the latter two are ever so slightly better.
The upshot is that if you want to immerse yourself in deals for a certain sector, like Apple and Apple-adjacent accessories, you're better off looking elsewhere. That's why we've compiled a carefully curated list of nearly every single deal we're tracking now that Black Friday is in full swing, be it Apple or one of the many trusted third-party accessory makers we love here at iMore. Our team has more than 40 years of collective experience covering Apple and Apple accessories, and we've pulled together every sinew of our conscience to find the best deals on the web. So ditch Amazon's terrible search bar and take a look at everything Black Friday has to offer!
iPhone deals
Apple's iPhone is the company's most iconic product, and right now its lineup looks better than ever. The iPhone 15 Pro is the best iPhone available right now and one that's already seeing some excellent discounts in the Black Friday sales across a range of buyers. If you don't want to splash out on the latest and greatest there are also deals to be had on the iPhone 14 and iPhone 13 too. If you really want to save money or you're looking for a great iPhone gift, the $149 iPhone SE deal at Verizon is a fantastic shout.
The truth is that the best way to make a saving on the iPhone, a real saving, is to buy one on a carrier contract from the likes of Verizon, AT&T, or indeed Amazon. The latter is selling the iPhone 15 Pro at a massive 100% off when bought with a Boost Infinite plan. My iPhone 15 Pro has been a delight in its first two months, but I also have fond memories of the iPhone 12, 13, and 14, too.
Mac deals
Whether you want a great laptop or a new desktop, there's a Mac deal for everyone this Black Friday. Our favorite is this $499 M2 Mac mini deal at Amazon, which packs a serious punch for a sub-$500 machine. There are also savings to be had on several of Apple's brand new M3 Macs including the new iMac and the M3 MacBook Pro. With M3 so fresh and no other Macs due for a while, there's never been a better time to grab some of these deals. I'm especially fond of some of the M2 Pro deals that are very attractive when compared with the new M3 models. The M2 Pro powers my own MacBook Pro and I've never found myself wanting for power.
iPad deals
Apple's iPad is the quintessential tablet experience and one unrivaled in the tech space. Thanks to its epic combination of hardware and software, these are the ultimate portable touchscreen devices. They're almost too powerful for their own good, but they're also some of the most heavily discounted products in Apple's range over Black Friday thanks to their higher prices and the fact most have now been available for some time. It's now possible to own an iPad for just $229 thanks to a massive saving at Amazon, and that tablet is going to perform better than most cheap Android offerings on the market. My other favorite is the 10th-generation iPad and the M-powered iPad Air.