This is why I'm going to use iOS 17 before I buy an iPhone 15
iOS 17 is going to be just as exciting as the iPhone 15.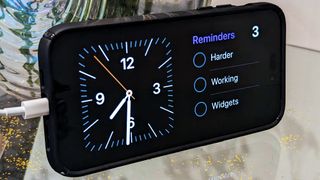 (Image credit: Future | Alex Walker-Todd)
With Apple's iPhone 15 line expected to launch around the end of the month after its expected debut at the September 12 event, there's quite a lot of excitement to see what the next iPhone has in store for us. However, some of what makes that new iPhone so exciting is what's included in iOS.
Though I'll likely love the new camera and appreciate the addition of a USB-C port, the thing that will be most noticeable in the first few weeks is the introduction of iOS 17. In a futile effort to temper my expectations, this is why I'm planning on fully testing out the new version of iOS before making a commitment to upgrade to one of the new iPhones.
What makes the iPhone 15 exciting to me?
As I haven't upgraded in a few years, my iPhone 12 is starting to feel a little clunky. Apps are loading a little slower, storage is filling up with seemingly nothing, and the battery life is getting worse. It's inevitable that the phone you once bought is now slow and outdated, seemingly overwritten with new tech and design choices by a new model. If you're an iPhone owner especially, a new one released every year only doubles down on this.
And this is before I explain why the iPhone 15, or even the iPhone 15 Pro Max, will suit me. A brand new chip, a 48mp rear camera, a rumored 2TB of storage, and a USB-C port. If everything that has been rumored turns out to be true, we're in for a very special iPhone.
The iPhone 12, on the other hand, lags behind with a 12MP camera, A14 chip, and 64GB of storage. Given that iOS takes up nearly a tenth of that storage size already and modern apps are only becoming more refined but in bigger downloadable chunks, the storage alone is a good excuse for something new.
With rumors of a new orange iPhone 15, I'm looking forward to replacing my red iPhone 12 with something that may be more vibrant. Though I love red, I'm ready for a new color.
With varying price points for each new phone, I worry the hype of the event will convince me to pick up the iPhone 15 Pro Max — something I'm not entirely sure I even need. It will likely have a nicer camera, better storage, and a more impressive chip but this may be a bit overkill for me, especially when I consider the price.
As is expected when you get anything new, there's a 'honeymoon' period that happens just after buying an iPhone. That big new iOS update is part of the shine each year, and I'm planning on thoroughly testing it out before settling on my phone choice.
I'm definitely buying an iPhone this year, partially due to my phone contract ending, but I'm hoping that trying out iOS 17 on my iPhone 12 to start with, will let me go in with a more level head.
What makes iOS 17 so exciting for me
Part of the reason I see myself getting caught up in the hype around iOS 17 is just how many great features are packed into it. Though a seemingly small change, interactive widgets on the home screen will make a big difference to using my iPhone daily. Instead of being sent to your music or video app after tapping on a widget for instance, you can directly interact with the media from your home screen to play something else.
As well as this, Contact Posters adds a touch of customizability to your friends and family, allowing you to set up profiles for callers with unique images, text, and colors. The calling experience looks different from iOS 16 immediately. And if it's as fun to use as the redesigned lock screen, which first appeared in iOS 16, it could be a runaway hit for many users.
But perhaps the feature I'm most excited about is the StandBy mode. If you place your iPhone in landscape mode when connected to power, you're greeted with a unique screen that displays widgets of information. This could feature the time, your calendar, notifications, or anything else you need to use. As you plug it in before bed, for example, you can have a much-improved alarm clock to wake you up when needed.
Ultimately, iOS 17 improves upon how you interact with your iPhone, making it feel different with new ways to customize your experience, alongside aesthetic changes, and some much-needed accessibility options.
The new version of iOS tends to drop just days before the launch of the next iPhone almost every year. StandBy mode and the new contacts system are such big aesthetic changes to how iPhones operate that they will inevitably be part of the next device. As well as this, I anticipate videos on accessibility features and how they will help the average person. This genius FOMO marketing always makes me feel like my upgrade was worth the price.
For this reason, I'm going to free up storage in my old iPhone 12 and take the time to learn how my life can benefit from everything it has to offer.
Hopefully, those few days of iOS 17 on my soon-to-be-sold iPhone could be enough to stave off the allure of Apple's most expensive phones. At least for a few days.
Master your iPhone in minutes
iMore offers spot-on advice and guidance from our team of experts, with decades of Apple device experience to lean on. Learn more with iMore!
James is a staff writer and general Jack of all trades at iMore. With news, features, reviews, and guides under his belt, he has always liked Apple for its unique branding and distinctive style. Originally buying a Macbook for music and video production, he has since gone on to join the Apple ecosystem with as many devices as he can fit on his person.
With a degree in Law and Media and being a little too young to move onto the next step of his law career, James started writing from his bedroom about games, movies, tech, and anything else he could think of. Within months, this turned into a fully-fledged career as a freelance journalist. Before joining iMore, he was a staff writer at Gfinity and saw himself published at sites like TechRadar, NME, and Eurogamer.
As his extensive portfolio implies, James was predominantly a games journalist before joining iMore and brings with him a unique perspective on Apple itself. When not working, he is trying to catch up with the movies and albums of the year, as well as finally finishing the Yakuza series. If you like Midwest emo music or pretentious indie games that will make you cry, he'll talk your ear off.