Belkin demos Damage Control screen protection for iPhone and iPad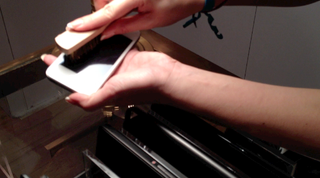 Belkin is here at CES 2012 with tons of cool accessories for iPhone and iPad. One of their newest products is a new screen protection technology called Damage Control. Belkin thinks it solves a lot of the current problems with existing screen protectors that are on the market.
The protector goes on clear and adheres quickly and easily preventing issues with bubbles. After applied the screen protector is barely visible. The biggest feature is the self healing scratch protection. Just like you wouldn't want to see scratches on your actual screen, it can sometimes be just as annoying to see them on the screen protector you're looking at constantly. Damage Control aims to deal with the scratch issue altogether by self healing the scratches on the screen protector itself.
No pricing or availability has been given as of yet.
iMore senior editor from 2011 to 2015.
Guys you need to use an external microphone, handheld is ideal. Expos are noisy.

anyone else wish she said tipb instead of imore... ugh

LOL it really is one of if not the absolute worst web site name ever.

The screen, like, scratches, like, in your pocket, so like we developed this like protector that like, doesn't scratch.

I really think the interviewer should ago a little enthusiasm

Please use a mic. I believe even a cheap one does a better job that what you are currently using. And just as a constructive critic, Ally more of enthusiasm could be more enjoyable to watch. I love your work and as many of the people who does, don't like the change to the "couldn't be more ridiculous name". I wish you keep the good job.

Thanks for the ideas. Constructive criticism is always welcome. This is my first time interviewing at all. I get nervous but I'll work on it. : ) I'm more comfortable behind a camera than in front of it :p

yeah i hope that neither you or anyone from this awesome website gets offended or upset with the relentless comments saying how the topics are useless or this was written by a 5 year old or any of that crap... it's most of the time just people that like this site and would like to see it at its best but dont exactly know how to phrase their opinions. and of course you're gonna get your fair share of troll comments just because this IS the internet.
but id like to say all you are doing a great job and giving us great coverage of everything for free i might add, which is something most people take for granted.

Why do I feel this website "iMore" SUCKS now........I have been reading the blog for over a year.....but now its just repetitive,repetitive , kind of style and posts.....

Prince will Quit... Foreverwww.musicwillchangeforever.com

I heard it is a bad idea to do that. The Mini needs to stay open to let out the heat.
Get the best of iMore in in your inbox, every day!
Thank you for signing up to iMore. You will receive a verification email shortly.
There was a problem. Please refresh the page and try again.