Best Accessories for the Ninja Foodi in 2020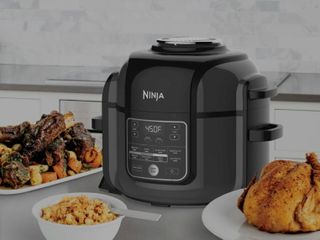 (Image credit: Ninja)
So, you're the proud owner of a Ninja Foodi. We feel the love, but to get the most out of your swanky multicooker, you must accessorize. While the standard Ninja Foodi accessories are pretty capable, there are a few more gadgets and gizmos you need in your kitchen that can take you from ninja-level to samurai sleek. We've rounded up a selection of items we find make all the difference when using our Foodis.
Culinary cool
Just these few affordable accessories can really take your Foodi experience to the next level. Depending on what recipes you like to cook in your Ninja Foodi, you might not need every single item on this list. But real foodies who enjoy both cooking and baking will get a lot out of these handy items.
Our favorite, the Fat Daddio's Cake Pan (opens in new tab) is perfect for any baker with its easy removal both from the Foodie and from the pan! The Pampered Chef Cake Tester (opens in new tab) seems simple, but having a proper tool, rather than say just using a toothpick, will make a difference.
When it comes to safety, the OXO Silicone Sling (opens in new tab) will more than justify the cost. Made from food-safe, heat-resistant materials, it will keep your cooking and baking experience pleasant. Everything on this list will inspire you. So, take your pick and bon appetit!
Amy-Mae has been writing about consumer technology since before the iPhone was even a twinkle in Steve Jobs' eye. She started out in magazine publishing with the UK lads' mag 'Boy's Toys' then moved online with startup Pocket-lint.com as the first full-time member of staff, helping grow the site to one of the UK's largest gadget sites. Amy-Mae then moved to Mashable when it only had a staff of around 10 people. After working her way up to a senior role there, Amy-Mae left in 2014 to have her daughter. Since then Amy-Mae has continued to contribute to Mashable and The Daily Dot, keeping up-to-date with the latest consumer technology and social media trends. For iMore.com, Amy-Mae gets to her explore her love of home cooking, concentrating on all things kitchen tech.
Get the best of iMore in in your inbox, every day!
Thank you for signing up to iMore. You will receive a verification email shortly.
There was a problem. Please refresh the page and try again.