Best Automatic Feeders for Cats in 2022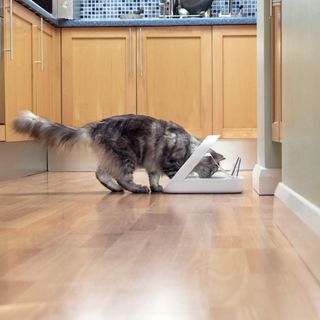 (Image credit: Surefeed)
As anyone knows who is lucky enough to live with one, cats rule. And they absolutely know it. They're also much more independent than dogs and should be treated as such. That's why when it comes to feeding your felines, you shouldn't worry too much, but having an automatic feeder definitely simplifies your life while letting cats be cats.
Catisfaction
We love our cats, but life gets the best of us sometimes. Your cat shouldn't have to miss out on a meal (and probably plot against you) just because you got too busy with something else (oh, the horror!). If you can trust your cat not to overeat, the most simple solution is a gravity-based feeder, like the AmazonBasics Self-Dispensing Gravity Pet Feeder (opens in new tab) that allows dry food to trickle down as required.
But if your cat can be greedy, then these automated feeders keep your cat happy and well-fed while letting you worry about other things. Our personal favorite is WESTLINK Automatic Pet Food Dispenser (opens in new tab) because it can be programmed, you can record your voice, and its price is hard to beat for what you get.
Amy-Mae has been writing about consumer technology since before the iPhone was even a twinkle in Steve Jobs' eye. She started out in magazine publishing with the UK lads' mag 'Boy's Toys' then moved online with startup Pocket-lint.com as the first full-time member of staff, helping grow the site to one of the UK's largest gadget sites. Amy-Mae then moved to Mashable when it only had a staff of around 10 people. After working her way up to a senior role there, Amy-Mae left in 2014 to have her daughter. Since then Amy-Mae has continued to contribute to Mashable and The Daily Dot, keeping up-to-date with the latest consumer technology and social media trends. For iMore.com, Amy-Mae gets to her explore her love of home cooking, concentrating on all things kitchen tech.
Get the best of iMore in in your inbox, every day!
Thank you for signing up to iMore. You will receive a verification email shortly.
There was a problem. Please refresh the page and try again.