Best BenQ Projectors in 2022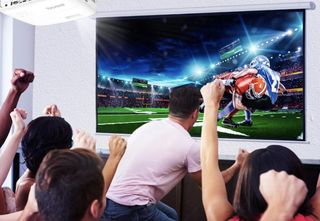 Nothing beats the experience of a movie theater. The popcorn, the comfy seats, the bone-shattering sound, the large, eye-popping picture are too good to pass up. Unless, of course, you bring the theater to your home. BenQ offers a number of high-end projectors that will bring the immersive experience of a movie theater to your living room.
Start your home theater journey
Whether you're building a home theater or simply want an alternative solution to watch your favorite movies, BenQ has a lot of great options without breaking the bank.
The BenQ TK800 (opens in new tab) is our top pick because it features a sharp, vibrant picture, HDR10, and several custom picture modes for sports. It's also easily portable for quick and convenient transportation.
For gamers, the BenQ TH671ST (opens in new tab) is worth checking out for its 5W stereo speakers, ultra-fast 16.67ms low input lag, and support for 1080p resolution.