Best Boom Arm for Your Blue Yeti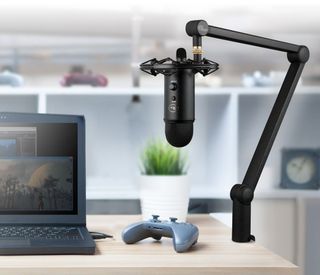 The Blue Compass will hold your Blue Yeti securely with no movement and will also let you position it right where you need it.
Blue Compass
The perfect desktop companion for your Yeti
There's a lot of options for desktop microphone mounts, but it's usually pretty easy to trust the company that makes the product to make a great accessory for it. Blue has designed this mount to be perfectly compatible with your Yeti.
Who should buy this boom arm
You can always trust iMore. Our team of Apple experts have years of experience testing all kinds of tech and gadgets, so you can be sure our recommendations and criticisms are accurate and helpful. Find out more about how we test.
If you are one of a large number of creators who uses a Blue Yeti microphone to make a living then you should absolutely consider this mount. You already know that Blue makes outstanding products and who better to build a mount for the microphone than the company who made it?
It has the same level of quality you would expect with an enclosed aluminum construction, internal springs, and built-in cable management (which in itself may be reason enough to buy it). It also has full 360-degree rotation so you're fully covered, and it's quiet so there are no squeaks in your audio. Best of all, there are no tools required to set it up!
Is it a good time to buy this arm?
Yep! This mount came out earlier this year so it's still early in its product cycle. There aren't any features that are left out and there's no reason to think the price will drop any time soon. The price point it's currently at is very competitive, so apart from any sort of limited time sales, I wouldn't expect the price to drop any time soon.
Why you should buy a boom arm
To say that the internet has changed the world would probably be the biggest understatement one could make. To say that YouTube has done any different would also be a grand miscalculation. Thanks to the likes of YouTube, Twitch, and others, it's now more possible than ever to share your voice with the world. Within the past few years, the world has seen an incredible increase in the number of people socializing, shopping, entertaining, working, living, and doing so much more online. More and more people are using the internet to share their voice and quite a lot of folks are using Blue Yeti microphones to do it.
Blue is consistently named as one of the best USB microphone makers on the market and it has become the go-to choice for a vast majority of podcasters, streamers, and YouTubers. If you need great quality audio of any sort and you're going through your computer to get it, then you want a Blue Yeti. One unfortunate downside of this mic being so good is that any sort of movement could potentially be picked up and mess up your recording. Also, once you set a microphone in the best spot to pick up audio, you want to leave it in that exact spot so the audio doesn't sound off. In order to ensure your mic doesn't move, most professionals use a boom arm.
Boom arm microphone mounts allow for stability and flexibility in the same package. The arm mounts securely to your desk and is strong enough to hold the weight of the Yeti without it moving during the recording, so you don't have to take your hands off the keyboard during an epic run to readjust your mic. You also get full 360-degree movement so you can position and reposition the mic wherever you need it throughout your stream.
Alternatives to the Compass
Thanks to good ol' friendly competition (and a healthy dose of Amazon), there is always a slew of great options when it comes to purchasing gadgets for your tech. If you don't necessarily like getting first-generation products, or you're just looking to save a few bucks, there are certainly other solid options out there.
Rode PSA 1
A great product from a legendary name
Reasons to buy
+
Great quality
+
Built for the microphone
+
Integrated cable management
+
Quiet
Reasons to avoid
-
Pricey
-
First boom arm from Blue
This provides almost all of the same features as the Blue Compass but comes in a bit cheaper. It's also made by a company with a legendary reputation in microphones.
If you ask anyone in the music or audio production business who one of the best microphone manufacturers is, you'll undoubtedly hear the name RODE. RODE is a company that lives and breathes audio production and it makes industry-leading microphones for everything from the studio to the smartphone. It's been leading the industry for years so they definitely know how to make a solid mic mount too. The only thing left out was integrated cable management, but that's a small price to pay for such a great stand.
InnoGear Boom Scissor Arm Stand
A solid arm that won't cost you one
This InnoGear stand will get the job done at a very affordable price. It also includes a pop filter and foam windscreen for your Yeti
I have dreams. I hope that one day, podcasting, streaming, and YouTubing will become a way of life for me but for now, it's still a hobby. As such, I operate on a hobbyist's budget, which is why I'm so glad this thing exists. It has a strong construction and is built to hold the weight of the Yeti without breaking my bank account. It has good flexibility as well and comes with a dual-layer pop filet and foam windscreen to top it off. It's a great package for those on a budget.
Bottom line
The Blue Compass is the perfect desk companion for your Blue Yeti. If you use a Yeti to produce your top-notch content, then this should definitely be one of your next purchases.
Get more iMore in your inbox!
Our news, reviews, opinions, and easy to follow guides can turn any iPhone owner into an Apple aficionado