Best Bundles for the Kodak Printomatic in 2022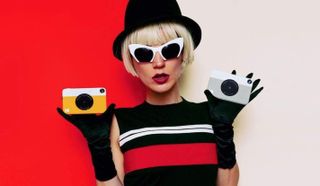 (Image credit: Kodak)
What's better than picking up a brand new, super cool Kodak Printomatic? Getting a bundle so you can explore a ton of creative options while you capture and instantly print your memories! Here are some of the best bundles available right now for the Kodak Printomatic!
Which bundle is right for you?
Shoot, print, and get creative with a Kodak Printomatic bundle. With so many options, which do you choose? We personally la-la-love all the extra creative crafty things you can do with the Kodak Printomatic All-In-Bundle (opens in new tab). This kit gives you everything you need to bring your photos to life.
If you'd rather keep it simple and keep costs down, stick with the Kodak Printomatic Paper Bundle (opens in new tab). Just grab a camera in your favorite color, and you'll be gifted 50 sheets of Zink photo paper. Now that's a deal!
Cella writes for iMore on social and photography. She's a true crime enthusiast, bestselling horror author, lipstick collector, buzzkill, and Sicilian. Follow her on Twitter and Instagram: @hellorousseau
Thank you for signing up to iMore. You will receive a verification email shortly.
There was a problem. Please refresh the page and try again.