Best Cases for Apple Pencil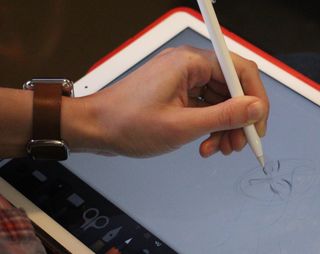 The Apple Pencil is your connection to a nearly organic drawing experience on the iPad Pro. You can take notes, draw, and use it as a simple stylus, and the pressure sensitivity is just so that you can even shade the pictures you draw — even using the side of the Pencil like you would a real one.
Your Apple Pencil is a somewhat delicate piece of tech, though, so you should protect while toting it around. Here are the best cases for Apple Pencil.
(opens in new tab)
Belkin carrying case and stand
This case is absolutely perfect for the hardcore iPad Pro artist on the go. For roughly $30, you get a fabric-line case, which features a protective lid, and it has space for your Lightning adapter, pencil cap, and an extra pencil tip, making it perfect for sketching and other artistic pursuits no matter where you go or for how long.The best feature is the hole for the tip (phrasing), which lets this act as an Apple Pencil stand as much as is it a case. It's like an inkwell for a quill!
(opens in new tab)
Zugu Case peel-n-stick elastic stylus pocket
Already have an iPad case that you love, but would also love one with a spot for an Apple Pencil? Well the Zugu Case stylus pocket lets you simply add one, thanks to a convenient adhesive strip. Peel and stick the pocket to the inside of your folio case or to the outside of any other iPad case you may have and boom: built-in Apple Pencil case.These come in navy blue and black and are roughly $12.
(opens in new tab)
Straight from the proverbial horse's mouth is Apple's own case for the Pencil. This simple leather case houses your Apple Pencil with a little window to show off its gorgeous design. The durable leather protects your Pencil while it's in a laptop bag or pocket, while adding an air of sophistication and elegance.You can get yours for $29 in saddle brown, taupe, midnight blue, or black.
(opens in new tab)
Fintie's case is Amazon's number 1 best seller. It's made from "vegan" leather and features a great-looking strap enclosure and an elastic strap that you can wrap around a notebook or your iPad Pro itself.At the bottom of the sleeve is a little slot for the USB adapter, which is held in place by fabric-covered elastic. Starting around $6, there are 23 color options to choose from, including some pretty funky patterns and designs.
(opens in new tab)
MoKo's sleeve is similar to Fintie's in that it's a PU leather sleeve, but this one features a snap closure with that handy elastic band around the back, which is perfect for holding your Pencil in place while carrying around your iPad Pro.There are 12 really pretty color options and patterns, with pricing starting around $6.
(opens in new tab)
The HDE hard shell is for folks who need or want a little more than just an Apple Pencil sleeve. This zipper pouch has a size with thick elastics to hold your Pencil in place, and the other side has a mesh pocket for earbuds and an elastic slot for a cable or any other small item you need to carry.The soft lining protects your items from scratches and that hard outer shell makes this case perfect for carrying in backpacks or purses. Pricing starts at $9, and you have your choice of seafoam green, black, or a purpley version with a lovely flower design.
(opens in new tab)
This second hit from MoKo is a PU leather zippered pouch, which features an elastic slot for your Pencil and two other slots — one for an SD card or maybe a wrapped up cable and another for a microSD card or a SIM card. The pleather is water-resistant, so you don't have to worry about carrying this around with your water bottle in the same bag.There are 14 colors and designs to choose from, including a really cool globe design — the perfect gift for any traveler. Pick any option for just $8.
WaterField Designs leather sleeve
If you're looking for a genuine leather sleeve that's a little more substantial, then check out this sleeve from WaterField Designs, which features a gorgeous and sophisticated aged leather look, with a simple slot closure.The inside is lined with WaterField's "Ultrasuede" liner, which will protect your Apple Pencil from scratches, and there's a clip on the outside, so you can secure it to a belt, a strap, or a pocket in your bag or notebook. Grab yours for $29.And if you'd prefer something a little less 1980s, there's also the Atelier Gear Case, which allows you to store the Pencil and a few charging cables.
How do you store your Pencil?
Why you can trust iMore Our expert reviewers spend hours testing and comparing products and services so you can choose the best for you. Find out more about how we test.
Do you use a case or do you just let your Pencil roam free in your bag, pocket, or notebook? If you have a case, which one? Sound off in the comments below.
Updated May 2018: Added the stylish and ultra-functional Belkin carrying case/stand and the Zugu adhesive pocket.
Get the best of iMore in in your inbox, every day!
Mick is a staff writer who's as frugal as they come, so he always does extensive research (much to the exhaustion of his wife) before making a purchase. If it's not worth the price, Mick ain't buying.
I just put my  Pencil in a pen pocket in my go bag. Keeps it safe and handy.

Snug as a bug in one of the pockets of my Especial Messenger. Together with 2 eraser pens, 4 Uni pencils, a Parker Jotter ballpoint and a Jotter pencil, a thick Koh-I-Noor refillable pencil, an Exacto knife and my Cross Century Medalist fountain pen. Yes. I use that last one every day.

I made an Apple Pencil holder in a couple of minutes. Not because it was cheapest but because it was the best Pencil holder for my needs.

I use a StylusSling (https://www.stylussling.com) have had it since the Pencil came out...it works fine...not as pretty as some of the ones here, but I like the black sling over my black Luvvitt case.

I am very surprised not to see this Belkin on there (http://www.belkin.com/us/p/P-F8W792/) You can hold everything for your AP in it; cable, cable adapter, extra tip, etc. It has a magnetic mechanism to hold it close too. The materials are pretty nice as well. I love the one I have.

I have this one and the other Belkin noted in the article. Best Buy had both for about half price one week so I got them both for the price of one. I like this one better for travel. Much more compact.
Thank you for signing up to iMore. You will receive a verification email shortly.
There was a problem. Please refresh the page and try again.