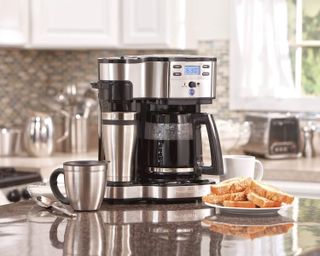 (Image credit: Hamilton Beach)
Whether you're brand new to coffee or have been living off of its sweet, sweet buzz since high school, you've probably had a horrific cup of mud at some point or another. Avoid that nasty swill or the long lines at your local coffee shop with one of these excellent coffee makers that'll have you looking forward to your morning cup o' joe every day. While smart coffee makers are becoming increasingly popular, we're keeping things more analog with choices from capsule-based solutions. To filter your coffee favorites, we've got the perfect options to suit you.
Brew crew
How you like your coffee can be a very personal thing for most people. If you prefer the manual method, it doesn't get better than the ever-popular AeroPress, beloved by coffee connoisseurs.
If you're looking for flexibility, then the Hamilton Beach 2-Way Coffee Maker has the ability to make just a single cup or brew up a full pot using the same grounds. It is a really clever and space-saving solution.
Our overall staff pick, the Bonavita Connoisseur 8-Cup One-Touch Coffee Maker, nabs the tops lot thanks to its showerhead water distribution, simple operation, quick brewing time, and good looks.
Amy-Mae has been writing about consumer technology since before the iPhone was even a twinkle in Steve Jobs' eye. She started out in magazine publishing with the UK lads' mag 'Boy's Toys' then moved online with startup Pocket-lint.com as the first full-time member of staff, helping grow the site to one of the UK's largest gadget sites. Amy-Mae then moved to Mashable when it only had a staff of around 10 people. After working her way up to a senior role there, Amy-Mae left in 2014 to have her daughter. Since then Amy-Mae has continued to contribute to Mashable and The Daily Dot, keeping up-to-date with the latest consumer technology and social media trends. For iMore.com, Amy-Mae gets to her explore her love of home cooking, concentrating on all things kitchen tech.
Get the best of iMore in in your inbox, every day!
Thank you for signing up to iMore. You will receive a verification email shortly.
There was a problem. Please refresh the page and try again.