Best Cordless Electric Snow Blowers in 2022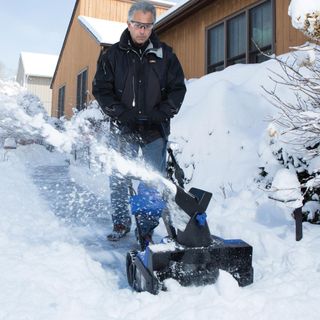 Snow can be fun, but at a certain point, it can become an annoyance and even unsafe. Clearing a walking path as well as a place to get your vehicle in and out from your home can be difficult — and time-consuming with just a shovel. This is where a reliable snowblower comes in handy, and even more so a cordless electric unit. Because the last you thing you want to deal with when it's freezing cold is fighting to get a gas-powered machine going, here are some of the best battery-powered snow blowers out there to help get rid of the snow as quick a possible so you can enjoy a nice warm cup of cocoa sooner.
Combat the cold
It's said that having the right tool for the job can make any job enjoyable; okay, maybe not enjoyable, but definitely easier. If you live somewhere where a moderate amount of snowfalls in the winter, then a cordless snow blower is an excellent solution to expensive gas models. Not only will an electric model start quickly and require minimal maintenance over its gas counterpart, but electric versions are also better for the environment. The Snow Joe iON18SB-HYB (opens in new tab) is the unit that should heavily get your consideration if your winters typically consist of a little more than a dusting. Aside from the high volume of snow, this machine can move. Its flexibility in power source via battery or cord makes it ready to go no matter what.
However, if you a regularly getting enough snow that you have considered building large forts with it, then you might want to look at the Snow Joe iON100V-21SB. (opens in new tab) This beast moves over a half-ton of snow per minute, and over 16 tons per charge of its 100V battery. On the flip-side, if all you are looking to do is make shoveling your periodic light snow a bit easier, then the Earthwise SN74016 (opens in new tab) power shovel might be for you. It's not going to clear the neighborhood, but it sure will make getting your walking paths usable again. Regardless of what your annual snowfall looks like, one of these options is likely to be the tool for the job.
Get the best of iMore in in your inbox, every day!
Thank you for signing up to iMore. You will receive a verification email shortly.
There was a problem. Please refresh the page and try again.