Best Digital Magnifiers in 2022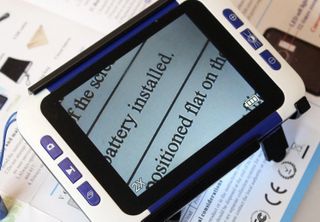 If you struggle with a vision-related condition, a digital magnifier can significantly improve your quality of life, especially at home and in the workplace. There are several digital magnifiers available right now, with different screen sizes, battery life, and ports, so choosing the right model depends on your needs. We researched several models with a broad range of capabilities and magnification powers and found the Eyoyo Portable Digital Magnifier to be our best pick.
Best Overall: Eyoyo Portable Digital Magnifier
You can always trust iMore. Our team of Apple experts have years of experience testing all kinds of tech and gadgets, so you can be sure our recommendations and criticisms are accurate and helpful. Find out more about how we test.
If you have trouble reading text on prescription labels, magazines, or newspapers, the Eyoyo Portable Digital Magnifier can help. Equipped with a 5-inch display, 17 color modes, five levels of brightness, and up to 32x zoom, the handheld Eyoyo digital magnifier is an excellent tool for making the tiny text legible.
With 17 different color modes, the Eyoyo device is accessible to many different vision-related conditions, from low vision to color blindness to amblyopia. With its 5-inch screen, users can magnify text from 4x-32x, making tiny labels easy to read. The Eyoyo also supports an AV connection, so you can hook the device up to your TV and make the small text even larger.
Best of all, the Eyoyo digital magnifier features a compact, portable design, making it easy to take the device to a coffee shop, library, or even use it in bed. Finally, the device comes equipped with a 2,500mAh battery, which should ensure plenty of usage throughout the day. However, it can take a while to charge, so make sure you plug it in ahead of time.
Eyoyo Portable Digital Magnifier
A more natural way to read
Reasons to buy
+
Large screen
+
Up to 32x magnification
+
17 different color modes
Reasons to avoid
-
Can take 6 hours to charge
-
Plastic design
If you suffer from vision issues, this digital magnifier is the best. It's a powerful tool that features magnification up to 32x.
Best Portable: Koolerton Portable Digital Magnifier
With a 3.5-inch display and a diminutive design, the Koolerton Portable Digital Magnifier is an excellent device for reading on the go. It's small enough that you can easily place it in a pocket or purse, so you can have it ready when you get to your destination.
The Koolerton features 2x-32x zoom modes, up to three hours of battery life, and a convenient freeze-frame feature, so you don't accidentally lose your place in the document you're reading. The device also supports three color modes, including white text on a black background, for more comfortable reading in low light.
From a design standpoint, the Koolerton is simple to use with easy-to-understand buttons. There are buttons to change the display brightness, zoom in and zoom out, and freeze the frame, among others. If you want simplicity and portability, the Koolerton is an excellent choice.
Koolerton Portable Digital Magnifier
Easy to use and endlessly portable
Reasons to buy
+
Portable design
+
Easy to use
+
2x-32x zoom
Reasons to avoid
-
Plastic build
-
Smaller battery
-
The display may be too small for some
The Koolerton is easy to use, features 2x-32x zoom, and offers three color modes, making it a great choice for reading on the go.
Beyond Budget: ION Supersight
With just 10x magnification, you might think the Supersight by ION isn't worth looking at, but you'd be wrong. It isn't going to help those who are legally blind, perhaps, but if you have a less severe impairment, then 10x zoom may be enough for you.
The Supersight doesn't have a huge array of features. Still, the ability to save to a MicroSD card is beneficial to allow you to transfer images to the computer so you can look on a larger screen than the 3.5-inch display can offer.
The most significant gains from the Supersight come at the price, though. It is by far the cheapest choice in our selection, and as such, is a great starter device for anyone. Now you may need something much more powerful, and we have options for that, but if you only need a little help, the Supersight might the device for you.
ION Supersight
Make the little things big
Reasons to buy
+
Super cheap
+
microSD card support
Reasons to avoid
-
Only 10x magnification
-
No rechargeable battery
10x zoom may not be the most powerful in the bunch, but the price cannot be sniffed at.
Best Design: Koolerton 5-inch Portable Digital Magnifier
Portable digital magnifiers aren't the most attractive gadgets on the market, but the 5-inch Koolerton has a nice design, with a visually pleasing color palette and easy to understand button layout. It's also one of the more powerful options on this list.
With a 5-inch display, 2,500mAh battery, 4x-32x zoom, and an HDMI output, the Koolerton offers plenty of features to make your reading experience more enjoyable. And although it features a larger display, the device is still pocketable, making it easy to take on trips.
Best of all, the Koolerton supports several different color modes, so it's suitable for users with vision-related conditions such as glaucoma, retinopathy, macular degeneration, and more — all while offering the sleekest design compared to other portable digital magnifiers on the market.
Koolerton 5-inch Portable Digital Magnifier
A beautiful design with a lot of features
Reasons to buy
+
Pleasing design
+
Big battery
+
Several color modes
Reasons to avoid
-
Expensive
-
Not as portable as other options
This 5-inch Magnifier features a sleek, symmetrical design, great features, and color modes for different types of impairments.
Bottom line
Selecting the right digital magnifier will depend on what you need it for and how often you plan to use it. While some of the features of our top picks overlap, you'll get different uses out of the different models. If being mobile is a priority, then battery life will be a major consideration. A portable digital magnifier is a great tool because it can be used anywhere, including a restaurant or in bed. The main thing is your digital magnifier has excellent battery life.
The Eyoyo Portable Digital Magnifier promises up to four hours of continuous battery life, which should be plenty for reading throughout the day, whether you're verifying a prescription label, reading your favorite book, or perusing a magazine.
You should also be mindful of screen size. The bigger the screen size, the more real estate you have to see what's being magnified. A few of our picks can connect to most modern-day TVs, too, allowing you to see the small text better. Regardless of what digital magnifier you choose, all of our picks should make reading much more accessible. It just comes down to whether you want a big screen and all the bells and whistles.
Master your iPhone in minutes
iMore offers spot-on advice and guidance from our team of experts, with decades of Apple device experience to lean on. Learn more with iMore!
James is a lover of all things new and shiny. From 3D printing to Nintendo he stays current with all the technology that will lead us into the future.