Best digital video camera 2022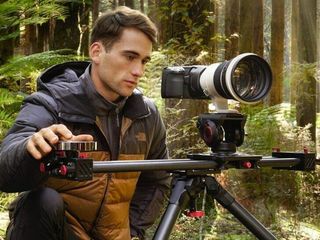 (Image credit: Blackmagic Design)
We've always said that the best digital camera is the one you have with you. If your outdated camcorder is too heavy to lug around all day, you're missing out on memorable footage and opportunities. The best digital video camera today is lightweight, feature-packed, and fits your budget. My favorite model is the Black Magic Design Pocket Cinema 6K, which I've owned for a year. It's compatible with Canon lenses, has a generous touchscreen, and intuitive controls. There are a few other contenders, though. Check out my top picks this year on my best digital video camera list.
Best overall: Blackmagic Design Pocket Cinema Camera 6K
You can always trust iMore. Our team of Apple experts have years of experience testing all kinds of tech and gadgets, so you can be sure our recommendations and criticisms are accurate and helpful. Find out more about how we test.
The Blackmagic Design Pocket Cinema is my digital video camera of choice because it outputs stunning Hollywood-quality video but doesn't come with a price tag to match. This is a DSLR-looking camera with an EF lens mount. That means any Canon lens in your EF or EF-S collection will work on this dedicated video camera. If you already own a Canon DSLR or can find used glass, this is a steal! And DaVinci Resolve, Blackmagic's color correction, and video editing software are also included. Score!
You get impressive 6k footage from the Pocket Cinema, 13 stops of dynamic range, 21.2MP, four shockproof mics, a speaker, and a heavy-duty lens mount. You can film at 50fps in full resolution or up to 120fps in windowed mode. The five-inch touchscreen on the back is where to focus shots and navigate the menu, and both tasks are easy to do, even for beginners.
This is a workhorse of a camera, and it's geared toward professionals. If you're new to the game, though, it's also a top-notch learning tool. Its only downfall is the battery. The camera is a battery power hog, so it's a good idea to pick up a few spare batteries for long shoots. If you want the best digital video camera your money can buy, go with the Pocket Cinema 6k from Black Magic Design.
Blackmagic Design Pocket Cinema Camera 6K
A production-quality camera
Reasons to buy
+
Stunning video quality
+
Pro-level specs
+
Works with all Canon lenses
+
Comes with DaVinci Resolve
+
5-inch touchscreen
Reasons to avoid
-
Battery life could be better
A dedicated video camera that does 6K at 50fps and has 13 stops of dynamic range. It's in a league of its own.
Best value: Kicteck 604s
If you're new to videography, we recommend the Kicteck 604s. You can use your Android phone or iPhone as a video camera, but a dedicated camcorder offers a smoother experience. This is a camcorder-style digital video camera that's easy on the wallet. For your money, you'll get a lightweight video camera with a flip-out 3-inch TFT LCD, two batteries, a USB charger, an AV cable, a carry bag, and the user manual.
The camera is easy enough for total newbies to operate. It has physical buttons all along the body that control zooming, navigate through the menu, handle playback, and so forth. The Kicteck connects directly to a TV to review and share footage and is useable as a great webcam when paired with your computer. The sensor is 24 megapixels, and the fixed lens zooms in and out up to 16X.
The Kicteck shoots decent footage and stills during daylight hours but struggles a little after dark. If you're a nighttime creative, you should carry a fill light of some sort to locations to avoid the possibility of grainy footage. Also, the zoom does not work in webcam mode, so you may want to look elsewhere if this is your sole reason for purchasing a digital video camera. For the money, we find this to be a good beginner video cam at a great price that will thrill young minds.
Kicteck 604s
An easy to learn gem
Reasons to buy
+
Beginner-friendly
+
Inexpensive
+
Flip-out TFT LCD
Reasons to avoid
-
Can't zoom when in webcam mode
-
Grainy in low lighting
The Kicteck is inexpensive, easy to use, and comes with a few extras. It's not great in low light, but it's a steal.
Best for content creators: Sony ZV-1
Sony's newest release is the ZV-1, a 20.1 MP digital camera designed with content creators and vloggers in mind. Wi-Fi is onboard the Sony to share videos and photos across your network seamlessly and instantly. This model captures images at 24 fps, does 4K, and even super slow-mo HFR movie clips at 960 fps.
There's an optical zoom on this model, and it swings out to 2.7x. It's also coupled with 44x digital zoom. With the zoom range, you can hone in on the action no matter where it may be. With Sony's impressive real-time eye autofocus, you can track people and animals as they move, always keeping them in focus. Pretty cool! Sony has also included advanced image stabilization, so shots and videos are never shaky or blurry.
This model lacks a viewfinder. For video enthusiasts, this isn't important because there's a flip-out screen. If you want to do stills with this camera, though, take note. The battery life on the ZV-1 could be better, too. Sony claims you can get up to 45-minutes of recording, but it comes a little closer to half an hour. Still, if you're a vlogger or whetting your creative muscle, this is a sweet video camera with a mic, splendid zoom, and eye AF.
Sony ZV-1 - Digital Camera
Best for vloggers
Reasons to buy
+
Superb video stabilization
+
Flip-out screen
+
Real-time eye AF
+
Good zoom range
Reasons to avoid
-
Short battery life
-
Lacks a viewfinder
Content creators rejoice! This small video cam has a sweet zoom, flip-out screen, and your work is instantly shareable.
Best size: DJI Pocket 2
We reviewed the DJI Pocket 2 and found it to be one of the tiniest pro-quality cameras. It's 5.5-inches long, which means that you can slip it in a pocket or bag, and it's never a hassle to carry. This new and improved model offers a wider field-of-view, a better sensor, and four microphones.
Vloggers and those who love to capture action will dig this pint-sized video camera. The 4K HDR footage is silky smooth thanks to the 3-axis gimbal stabilizer. Videos roll at 60fps in 4K, so you never miss a moment. The 8X zoom is also a nice touch. It lets you hone in on anything and get up close while standing at a distance.
This isn't a perfect video cam. We found the viewfinder challenging to see in bright sunlight, and the screen controls are clunky. Still, if you want a pocket-sized video camera with built-in stabilization, enhanced audio, and high-quality footage, throw this in your cart now and stop searching.
DJI Pocket 2 - Handheld 4K Camera
An action camera that fits in your pocket
Reasons to buy
+
3-axis gimbal stabilization
+
Tiny
+
Shoots 4K at 60fps
+
8X zoom
Reasons to avoid
-
Viewfinder hard to see in sun
-
Screen controls are clunky
It's small enough to fit in your pocket yet packed with features like built-in stabilization and 4K.
Best for stills and video: Canon M50 Mark II
Now in its second generation and fully mature, the Canon EOS M50 Mark II is one of the best mirrorless cameras out there. It takes 24.1MP stills with an ISO range of 100-25,600. And it does 4K UHD video at 24fps and HD at 120fps. It's a beast of a workhorse video shooter, yet small and portable.
Whether you're filming up close, want to go wide, or need to zoom way out, you can do it with Canon. There are 23 lenses in Canon's crop sensor lineup, so you can shoot anything. The battery life could be better! It holds out for just over 200 shots or 130 minutes of video. If you can swing an extra battery, you should definitely go that route. This kit comes with the M50 Mark II, a rechargeable battery, and a videocentric 15-45mm kit lens.
Canon M50 Mark II
When you shoot stills and video
Reasons to buy
+
4K @ 24fps
+
Large collection of available lenses
+
Shoots beautiful stills
+
Small and lightweight
+
Affordable
Reasons to avoid
-
Battery life needs improvement
If you shoot stills and video, grab the Canon M50 Mark II. Image quality is excellent, and lens selection is superb.
Best for action: GoPro HERO9 Black
No list of the best digital video cameras would be complete without the GoPro HERO9 Black. This small video cam connects over Bluetooth to stream live in 1080p over social media, and it shoots action in realistic-looking 5K. HyperSmooth is built into the GoPro HERO9 Black, making all your films smooth as can be.
You can grab pro-level photos in 20MPs with this model. They come out crisp and detailed. The new, larger rear touchscreen lets you zoom in on the action, frame photos, and navigate the menu. TimeWarp 3.0 is also included and supports time-lapse scenes as you move on foot, in a car, on a bike, or anywhere else your day takes you.
This is a rugged, waterproof video camera that can handle even the gnarliest of conditions. Take it down to 33-feet while swimming or along for the ride on your next ski trip. Yes, it's pricey, but with an endless number of accessories available and a reputation for durability, this is a fitting model for anyone of any age or skill level.
GoPro HERO9 Black - Waterproof Action Camera
The gold standard in action cameras
Reasons to buy
+
5K
+
20MP
+
Can livestream
+
Built-in video stabilization
+
Waterproof
The latest GoPro has a big screen and sensor, plus stabilization, and it's waterproof to boot.
The last word
Whether you're looking for the best vlogging camera, a video cam that works underwater, or one you can take anywhere, you have choices. Lots of choices.
The best digital video camera for me is the Blackmagic Design Pocket Cinema 6K. I've had this camera in my bag for a year, and I love almost everything about it. Unlike the old-school camcorders your grandparents used, the Pocket Cinema 6K looks and feels like a small DSLR in your hand. That's important because muscle strain is a thing for photographers and videographers. The handgrip is deep enough to be comfortable, while the body is lightweight enough to handle all day.
The battery life of this model could be improved. I get a few hours of filming out of it. If you need a little more gas in the tank, I'd suggest a second or extended battery. All Canon lenses work on the Pocket Cinema, and the buttons that control actions and the rear touchscreen make operating this model enjoyable. Whether you're just learning to shoot video or have honed your skills, you won't be disappointed with this class-leading digital video camera.
Master your iPhone in minutes
iMore offers spot-on advice and guidance from our team of experts, with decades of Apple device experience to lean on. Learn more with iMore!
Jodi Owan works behind a keyboard and a camera. She's a freelance writer for iMore, Android Central, and Windows Central.