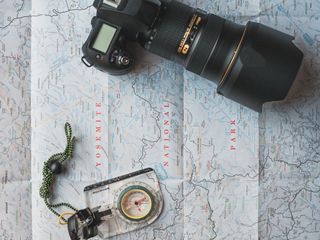 (Image credit: @camdicecca on Unsplash)
The best digital cameras fit your budget and your needs. DSLRs are used and trusted by professionals and hobbyists and have been for years. Unlike mirrorless or point-and-shoot cameras, DSLRs are tough enough to withstand all the challenges of Mother Nature. And since every brand has a mature system, you won't have trouble finding new or used lenses on the market. I've been shooting with DSLRs for more than 20 years. I think the best camera out these days is the Nikon D850. It's not the only model I like, though. These are the best DSLR cameras on the market and the ones I'd choose if I started with fresh gear this year.
Disclaimer: Due to electronics part shortages, a lot of camera bodies might be out of stock.
Best overall: Nikon D850
You can always trust iMore. Our team of Apple experts have years of experience testing all kinds of tech and gadgets, so you can be sure our recommendations and criticisms are accurate and helpful. Find out more about how we test.
The D850 is Nikon's latest professional body billed as the world's best DSLR to date. We agree. I've toted the D850 from one side of the country to the other for the last two years, and it's always delivered. With 45.7-megapixels (MPs) and a dynamic range exceeding Nikon's already high standards, this top-shelf camera works for every style of photography and excels in any situation. Internals include 9 frames-per-second (FPS), a 3.2-inch tilting touchscreen LCD, Focus Shift, 4K HD video, a bright viewfinder, 153 autofocus (AF) points, Bluetooth and Wi-Fi, water and dust resistance, and an excellent ISO sensitivity range.
The D850 holds up to bad weather with capable weatherproofing. Like all DSLRs, the word waterproofing isn't used, but I've had this model out in the pouring rain, in sleet, and clicked away during snowstorms without issue. The grip is thick without being cumbersome, and the camera is comfortable to hold through long sessions indoors or out. My one major complaint is the lack of in-body image stabilization. None of the DSLRs on our list have this feature, but at this price point, it's frustrating nonetheless. Using stabilized lenses is the answer, of course, but we'd love to see the DSLRs compete with mirrorless by adopting stabilization in-body instead of relying on a lens's capabilities.
The battery life on the D850 is outstanding, toughing it out through more than 1,800 clicks of the shutter or 70-minutes of HD video on a single charge. Unlike other cameras on our list, the D850 isn't a one-trick pony. Thanks to a wide selection of glass available, its high MP count, and excellent dynamic range, this model excels as a wedding camera; it tackles landscapes day or night, does action photography, and anything else you can throw in its direction. If you're upgrading from an older full-frame Nikon or making the switch from APS-C to full-frame, the Nikon D850 should be at the top of your list.
Nikon D850
Best full-frame camera ever made
Reasons to buy
+
Excellent dynamic range
+
45.7-megapixels
+
Tiltable LCD
+
Indestructible build
+
Impressive ISO sensitivity
Reasons to avoid
-
Lacks in-body image stabilization
-
It's expensive
The D850 is the best full-frame camera on the market. With 45.7MPs and superb dynamic range, it does everything well.
Best value: Nikon D3500
If you've never used a DSLR or you want a one-size-fits-all camera, you'll love the recently released Nikon D3500. You can pick this model up and shoot in auto mode while learning how to hold a camera and frame a shot properly. Auto mode gives you a point-and-shoot style of shooting that's just right for learning the ins and outs of photography or capturing quick-moving objects. When you're ready to move up the learning ladder, the D3500 has more advanced setting options to keep you challenged.
The D3500 is lightweight enough to go anywhere, yet not so featherweight that it can't balance out a long lens. This model specs include a 24.2 MP sensor, 1080P HD video, 11 AF points, Bluetooth, Wi-Fi, built-in flash, optical viewfinder, and a bright fixed 3-inch LCD on the rear. The battery is long-lasting, holding out for about 1,550 clicks, and recharges in less than two hours. There's a handful of cool tech tricks in this model, too. You can use your smartphone as a remote with the D3500 and instantly upload pics from your camera to your phone over Bluetooth with Nikon's free SnapBridge app, which, for some reason, works smooth as butter with this camera while it stutters on other models.
The D3500 takes beautiful photos and is easy to use. If I must find fault, it's that Nikon has removed the function (FN) button from this model, which was a useful feature on the previous iteration, allowing photographers to perform tasks like changing ISO settings on the fly. If that doesn't concern you, Nikon's D3500 is one of the best and newest entry-level cameras out today. And with more than 300 lenses available, this is a camera you can grow into while you learn photography basics. This offering comes with Nikon's popular 18-35mm zoomable kit lens and the long-range 70-300mm lens. If you're just starting your photography journey, this is one of the best DSLRs around.
Nikon D3500
Best entry level camera
Reasons to buy
+
Great for beginners
+
Super lightweight
+
Excellent ergonomics
+
Inexpensive
+
Comes with kit lens
Reasons to avoid
-
Function button is absent
-
No articulating screen
This is a solid entry-level camera and two-lens kit. It's lightweight, user-friendly, and has a long-lasting battery.
Best Canon full-frame: Canon EOS 5D Mark IV
Canon's 5D series is legendary and remains a favorite among many of photography's elite shooters. The latest iteration, the 5d Mark IV, arrived on the scene in 2016, and it's still Canon's newest full-frame professional camera. It's a few years old now, but it stands up to time with Canon reliability, specs that still impress, and a robust build. The 5D Mark IV has a 30.4MP sensor that shines, producing the same vibrant colors and beautiful skin tones Canon is known for. The 5D Mark IV also boasts 4K, dual pixel autofocus, 7 fps continuous shooting, and 61 AF points.
The 5D Mark IV is a beefy camera. There's a definite heft to this DSLR. Like all Canons, ergonomics are polished and refined to feel like this camera is meant just for your hand and your hand only. The familiar top LCD puts out useful info like remaining battery life, ISO, and metering. And you get all the usual knobs, dials, and buttons, many of which are customizable. The LCD is a touchscreen, and the menu system is easy to navigate. The viewfinder is also comfortable for those handholding shots and gives a realistic, crisp view of the scene before you.
My biggest complaint with the 5D Mark IV is with the fixed rear LCD and subpar megapixel count. For those who shoot landscapes, especially during the blue hour or after dark, the ability to tilt the LCD is crucial. The added megapixel count could improve Canon's continual dynamic range problem. Canon comes up short on both counts. Still, those coming from the 5D Mark III or even a 7D crop sensor will find meaningful improvements. We sing praises to Canon for the improved ISO and AF points. The addition of 4K was also long overdue. If you're already a Canon shooter, have a collection of Canon glass, and you're looking to upgrade, the 5D Mark IV is a fine-tuned camera that works well as a portrait, wedding, or all-purpose tool.
Canon EOS 5D Mark IV
An upgrade to a legendary line
Reasons to buy
+
Touchscreen LCD
+
Clean high ISOs
+
61 AF points
+
Great choice for any style of photography
+
Superb photos
Reasons to avoid
-
No tilt screen
-
Megapixels fall short of Nikon's offering
-
Expensive
It has improved AF and ISO, 4K, and a touchscreen. The LCD doesn't tilt, but we think it still deserves a place in your bag.
Best updated classic: Nikon D780
The D750 was one of Nikon's best-selling DSLRs. It took great night photos with exceptional clarity and rang up a little cheaper at the register than some of Nikon's other full-frame offerings. Released in 2016, it was running a little long in the tooth. Nikon surprised photographers everywhere this year by putting out an update on this camera, the Nikon D780.
The full-frame D780 doesn't disappoint. It has a 24.5 MP sensor, 51-point AF, and 4K UHD video. The only bummer is the lack of battery grip. There isn't one, and Nikon doesn't plan to make one. That aside, I love the ability to shoot long exposures without a remote, the impressive Live View focusing, and the spot-on face and eye auto-detection focusing. And this is the best DSLR camera today for night photography.
If you're looking to upgrade from the D750, making the jump up to the D780 is a no-brainer. It's packed with enough features for pros and yet is learnable by enthusiastic hobbyists. It's also significantly smaller and lighter than Nikon's other full-frame models, so it's a breeze to take this DSLR anywhere.
Nikon D780
Best Nikon update this year
Reasons to buy
+
Full-frame
+
24.5 MP
+
4K UHD video
+
Remote-less long exposure
+
51-point AF
Reasons to avoid
-
No battery grip available
The new full-frame Nikon D780 has speedy AF, dead-on Live View, and an articulating screen.
Best action shooter: Nikon D7500
Nikon's D7500 is a top-of-the-line APS-C camera. It's an update to the slightly beefier and older flagship, the Nikon D500. I've been shooting wildlife and action with this camera since its release in 2017, and it's still one of the best-selling cameras in DSLR land for good reason. With a thick grip and a lightweight, water-sealed body, the D7500 is at home with everything from landscapes to wildlife to portraits. This is a package deal that includes two kit lenses and a camera bag, and it's a bargain that's tough to beat.
The D7500 features a 20.9 MP sensor, ISO range up to 51,200, 4K UHD video recording, tiltable rear touchscreen LCD, large viewfinder, and 51 AF points. There's an abundance of dials and programmable buttons on the D7500. Changing ISO sensitivity is as easy as depressing the ISO button on the top of the camera. Moving between the viewfinder and live view screen happens via a back panel button. For experienced photographers or those who want to grow into their cameras, the D7500 is sturdy, trusted choice.
I have one gripe with this camera after a few years of use, and that's with the software Nikon uses. Called Smartbridge, Nikon's proprietary software is built into the camera and also available as a free app. It's supposed to make moving photos from your camera to your phone easier. It's not. Though software upgrades have made it more stable, it's still hit or miss on the D7500. If you don't mind downloading photos via memory card or are patient enough to wait out slow transfers with Smartbridge, this isn't an issue. For most, this is an excellent addition to your camera kit and one that will help up your skills.
Nikon D7500
A robust camera for a steal
Reasons to buy
+
Weather-sealed
+
Good all-around daily shooter
+
Accurate autofocus
+
Excellent ergonomics
+
Tiltable touchscreen LCD
Reasons to avoid
-
Smartbridge software is slow
A weather-sealed crop sensor camera with a deep grip, impressive sensor, and a wide range of lenses available.
My final thoughts
DSLRs are not as antiquated or outdated as the mirrorless camera makers advertise. Today, they're every bit as capable of competing with mirrorless models in size, weight, and function. So despite phones being so capable, it's still worth it to buy a digital camera in 2021. The one camera that stands out is Nikon's D850. It's pricey, yes, but it's an investment that will pay off.
The megapixel count and dynamic range on the D850 are out of this world. Its tank-like build holds up to weather challenges, travels, and daily use. I've carried this model from coast to coast for two years with nary a problem. And because Nikon has hundreds of high-quality lenses on the market, if you're already a Nikon photographer, it's a no-brainer to upgrade to the D850.
You won't find in-body image stabilization with this model or any DSLR in Nikon's lineup. Instead, Nikon uses image-stabilized lenses. They work well, but not every lens has this feature, and for this reason, I'd love to see Nikon add this capability to future releases. Aside from that quibble, the D850 is a piece of equipment that will stand up to the rigors of daily shooting and output some of the highest quality images you've ever seen. If you're on the fence, it's time to make your move. Prices are dropping, and this model is worth every penny.
Master your iPhone in minutes
iMore offers spot-on advice and guidance from our team of experts, with decades of Apple device experience to lean on. Learn more with iMore!
Jodi Owan works behind a keyboard and a camera. She's a freelance writer for iMore, Android Central, and Windows Central.