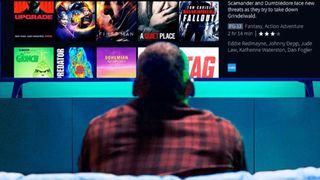 (Image credit: TiVo)
The best DVR is just around the corner. There's more than a fair few that will catch your interest, yes, but it is best to find what's truly great first before you get stuck in. We've decided that our overall best is the TiVo Bolt VOX DVR, but there are many more DVRs options that may suit your needs. Here we explain what makes them a must-buy.
Best Overall: TiVo Bolt VOX DVR
You can always trust iMore. Our team of Apple experts have years of experience testing all kinds of tech and gadgets, so you can be sure our recommendations and criticisms are accurate and helpful. Find out more about how we test.
The TiVo may not seem as big as the Amazon Fire recast, but that doesn't mean it doesn't come packing. It has over 1TB in storage, as well as 150 hours of storage for all your TV needs. It also comes with four tuners, allowing you to record four different programs, on four different channels, all at once.
Even better, you no longer need to pay a monthly fee for TiVo's DVR. You can have access to all these recordings without having to pay a single cent over the asking price on Amazon. Unfortunately, you'll still need to pay TiVo's subscription fees.
The controller that comes with the TiVo box also has some pretty nifty features that are connected to voice control. For example, speaking into the controller allows you to change channels, record, as well as schedule your shows in whichever way you like. Best of all? You can press a button and presto! The advertisement is completely skipped.
However, the TiVo remote has a lot of buttons. For those who prefer a more minimalist approach, this may seem a little overwhelming. If buttons don't bother you, TiVo Bolt has another bonus with the inclusion of 4K viewing!
TiVo Bolt VOX DVR
A ton of features worth your attention
Reasons to buy
+
4K included
+
Stream onto phone
+
Voice-controlled
Reasons to avoid
-
TiVo subscription fee is hefty
Offering a lot of storage and quality features, such as streaming, 4K, and voice control, to keep you happy and entertained.
Best Value: Amazon Fire TV Recast
If you live and breathe Amazon products, and already own a Fire TV stick, then it should be no surprise that this is the best DVR for you. With the Amazon Fire TV recast, you're able to record the local news, live sports, late-night shows like Game of Thrones, and others no matter where you are — all you need is a connection, and a mobile phone with the Fire TV app installed.
Beyond its impressive connective abilities, the original Fire TV recast comes with two tuners, allowing you to record two channels at once. If two isn't enough, you can upgrade to four tuners if you so choose. With the two tuners DVR, you can also store up to 75 hours of unwatched TV, and with the four, 150 hours. Storage space isn't too bad either, with 500GB more than enough for a medium-sized household.
One of the best things is the Amazon Fire TV recast's compatibility with Alexa. With Alexa, you're able to use voice commands to guide, manage, and schedule recordings. Doing this hands-free allows you more time to relax or do more while on the move.
However, if you don't have the required equipment, the price of the DVR may begin to rack up. You'll need to buy the HD antenna and a Fire Stick, Echo Show, or mobile device with the Fire app separately from the DVR.
Amazon Fire TV Recast
DVR for the Amazon lover
Reasons to buy
+
No monthly fees
+
75 hours record time
+
Alexa compatible
Reasons to avoid
-
Requires a lot of equipment to set up
Amazon's Fire TV Recast works beautifully with other Amazon products, average amount of space, and doesn't break the bank either.
Best for Multi-Recording: Avermedia Ezrecorder 130
The Avermedia EzRecorder 130 may not have the same features as other DVRs on this list, but don't let that put you off as it still can work as a standalone DVR. You're able to record your favorite shows easily, even if you aren't around to set up your recording.
The EzRecorder 130 also supports video resolution of up to 1080p and offers an unlimited, expandable storage thanks to the inclusion of external storage. You'll also be able to capture certain shots of your TV program as the EzRecord 130 comes with a snapshot feature, so you'll never have to miss another moment again. What's even better is you'll be able to edit these shots and video frames without even needing a computer.
Of course, if you're more invested in using the EzRecorder as a way to record both TV as well as other content like PC/console gaming, then that's possible too. With this added feature, you'll be able to do things like creating content for social media and more.
Unfortunately, the EzRecorder 130 doesn't have quality features such as voice control. This may be off-putting to some, especially those who want more modern features.
Avermedia EzRecorder 130
Record from TV and consoles/PCs
Reasons to buy
+
Can be used for PC/Console gaming too
+
Snapshot feature
Reasons to avoid
-
Not a lot of modern features
Avermedia EzRecorder 130 isn't like most DVRs, but it can still record not just TV shows, but also content from consoles/PC too.
Best for Local Channels: HDHomeRun Scribe Quatro
With the HDHomeRun Scribe Quatro, access to your local channels without the need for cable has never been easier. It captures clear signals from local channels via an HD antenna included with the 1TB built-in storage DVR. The set-up of the antenna is simple, as you can place it behind your TV or on the nearest window, preferably near the top to test the connection between your TV and the HDHomeRun Scribe Quatro.
The HDHomeRun Scribe Quatro has four tuners that let you catch up to four shows at once. There is an annual feel to access the guide and your recordings via the app on your iOS and Android devices. You also can integrate the Scribe Quatro into entertainment management software such as Plex.
It is also compatible with several different TVs, such as Roku TV, Amazon Fire, and Android TV. With the HDHomeRun app, you'll be able to see all of your recordings from your local channels and watch them where you please. Whether that's on your phone, tablet, computer, or to your TV, you'll have plenty to watch with the Scribe Quatro's large storage and four tuners.
HDHomeRun SCRIBE QUATRO
For the local channels
Reasons to buy
+
Good for local channels
+
Compatible with several different TVs
+
1TB DVR storage
The HDHomeRun Scribe Quatro is the best DVR for those who want to catch their local channels all at once to watch nearly anywhere.
Best Budget DVR: Ematic AT103B Digital TV DVR
Have you ever wanted to pause your TV while watching something live, but at a reasonable price that doesn't have you regretting it months afterward? With the Ematic AT103B digital DVR, you can do just that. The Ematic comes with a USB connection to play media content from your USB stick if you so choose. You'll also be able to look at your photographs or even listen to music.
What makes this DVR really special, however, is its inclusion of parental controls. These will allow you to select which channels are suitable for your children. You can do all this with the remote that comes with the DVR. Unfortunately, it is chunky and full to the brim with buttons so that it may be a bit overwhelming.
For storage, you'll need to use a USB drive. You can record manually when the program starts, or you can schedule when the Ematic will record. To make this easier, the Ematic DVR also comes with a favorite channels feature so that you can get to your most-watched channels without any hassle.
Ematic AT103B Digital TV DVR
Ease access to favorites
Reasons to buy
+
Parental controls
+
Favorite channels feature
+
Easy to use
The Ematic AT103B is a great DVR for those who want the best price for a DVR and still have some of the best features on offer.
Best for Storage: Tablo Quad Lite DVR
Cut the cord from cable. You'll no longer need it with the Tablo Quad Lite DVR. All you'll need is a Wi-Fi connection, HDTV antenna, a USB hard drive, and a device to watch your TV on, and you're all set up for watching OTA (over the air) TV without cable company bills to drive your mood down.
Not only will you be able to browse whichever categories you want and record them, but you can also do the very same thing with live TV from channels such as ABC, CBS, Fox, NBC, the CW, and PBS. No more missing Game of Thrones and living to regret it the next day with tons of spoilers on your social media feed!
You'll also be able to enjoy the Tablo Quad Lite from your iOs and Android smartphones, as well as your laptop or PC. All you need is a steady internet connection, your Tablo switched on and connected to your devices, and a pair of earphones, and you'll be set to watch anything, anywhere.
Storage isn't an issue for the Tablo Quad Lite either, as flexible storage units allow you to record up to 8TB worth of TV. However, for those who are looking for a simple plugin and play, the amount of equipment needed to get the Tablo Quad Lite started may seem off-putting and old-fashioned.
Tablo Quad Lite DVR
Watching anywhere is simple and easy
Reasons to buy
+
Watch anywhere you want
+
No subscription fee
+
Great storage
Reasons to avoid
-
A lot of equipment to set up
Great for those who are on a budget, but also want to experience their favorite shows anytime, any place with a ton of storage.
Bottom line
With the busy lifestyle that so many of us lead these days, having a DVR is nearly a requirement for watching TV. This is true whether you are a cable subscriber or a cord cutter and want to record your OTA channels. After looking at so many options out there, we've determined that the best overall DVR is the TiVo Bolt VOX DVR. It offers a ton of options, such as voice control and streaming to smartphone devices even if you're not in the room. Plus, it has 4K to allow you to watch something in fantastic resolution. It has over 1TB in storage, as well as 150 hours of storage, all for a reasonable price.
From DVRs that do everything from tuning four channels at once and storing them locally to stream on nearly any device you choose, to a simple tuner and hard drive — there's something for everyone. So, unless you have a swell job that lets you watch TV all day, a DVR is a great way to let you catch the shows you want on your schedule.
Master your iPhone in minutes
iMore offers spot-on advice and guidance from our team of experts, with decades of Apple device experience to lean on. Learn more with iMore!