Best fitness trackers for backcountry hiking 2022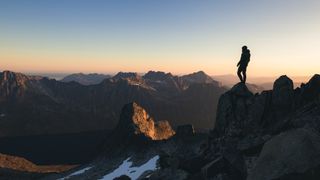 (Image credit: Wirestock / FreePik)
If you love exploring the great outdoors, chances are good you're a fan of backcountry hiking. Hiking in general is an incredible workout, and we don't want you to miss recording a step of that physical activity. That's why we created this list of best fitness trackers for backcountry hiking. Whether you're trying to record your stats, navigate your routes, or find yourself in a sticky situation in a remote area, these are the best wearables to take on your explorations.
Explore the outdoors
If you're a backcountry hiker, it's a smart choice to bring a fitness wearable that offers navigation, safety tracking, and activity tracking so you can track your routes, record and store your movement, and get help should you ever find yourself in an emergency situation. You'll also want something that either has great battery life, quick-charging, or even solar charging, like our top pick, the Garmin Instinct Solar. It's not the most affordable option on this list, but it's durable and designed for outdoor wear. It features vastly extended battery life through solar charging, so you can actively charge in the sun while you explore.
If you need something a little more budget friendly, check out Fitbit Charge 4. It's a great value that features built-in GPS, workout intensity maps, Sp02 and 24/7 heart rate monitoring, and a battery life that lasts for days. It's also very lightweight, which is perfect for those with smaller wrists. If you want to splurge, scope the Coros Vertix. It's designed for adventuring and offers exceptional battery life even in GPS mode.
Whatever your needs are when it comes to exploring the outdoors, we've got you covered with this list of best fitness trackers for backcountry hiking.