Best fitness trackers for rock climbing 2022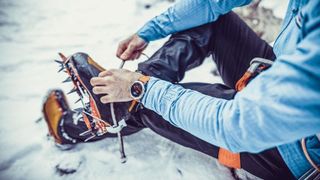 (Image credit: Coros)
Crush clean routes with one of the best fitness trackers for rock climbing. These wearables are outfitted with the sensors that matter to rock climbers. They'll track altitude, distance, calories burned, routes, and more. Some even offer emergency features if you ever find yourself in a bind. These all-day activity trackers will keep you on top of your health to show how daily activity and sleep affect your overall performance.
Metrics that matter
Why you can trust iMore Our expert reviewers spend hours testing and comparing products and services so you can choose the best for you. Find out more about how we test.
Stay safe and track the performance metrics that matter with one of the best fitness trackers for rock climbing. We like Coros Vertix because it's outfitted with a plethora of key sensors to track every move at any altitude. Plus, it offers impressive battery life.
If you want a tracker that's budget-friendly but feature-heavy, take a look at Fitbit Charge 4. It's one of the best Fitbits available. Or maybe you're looking for something more all-encompassing?
It doesn't get better than Apple Watch Series 6 when it comes to comprehensive health and fitness tracking. Whether you're a gumby or seasoned vet, these fitness trackers can help you crush every climb.
Get the best of iMore in in your inbox, every day!
Nicolette is a freelance writer for iMore. She's been hooked on Apple products since she got the very first iPhone in 2007 and made the switch from PC to Mac in 2008 after inadvertently dousing her laptop with a hefty dose of water. A dedicated creative, Nicolette has had the pleasure of working with some of the top websites, studios, and brands in the industry throughout her career, and enjoys writing about all things: Apple, health, fitness, audio, and home. With over a decade of high-level experience as a health and fitness professional, Nicolette specializes in tech pertaining to the field. If she's not working, you can find her sipping a glass of wine, enjoying a concert, or hanging with her family.
Thank you for signing up to iMore. You will receive a verification email shortly.
There was a problem. Please refresh the page and try again.