Best fitness trackers for triathlon training 2022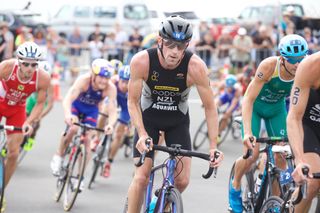 (Image credit: Olympic NZ)
Competing in a triathlon requires some serious training. We understand that triathletes are looking for fitness trackers that are excellent at tracking biking, swimming, and running. We obviously covered the bases there and took it upon ourselves to search for fitness trackers that go above and beyond in their health and fitness tracking, features, music, and more! These are the best fitness trackers for triathlon training.
Train insane triathletes
We understand the prep work, training, and athletic prowess that goes into competing in a triathlon. We want you to find the perfect fitness wearable for your training program. We believe you'll find it, and then some, with this carefully curated list of best fitness trackers for triathletes.
We love the Apple Watch Series 6 because it's tricked out with upgraded Sp02 monitoring, advanced sleep-tracking, an always-on altimeter, and comprehensive health and fitness tracking so you can ensure you're making the most out of every training session.
If you're looking for a great value, look no further than Coros Pace 2. It features a triathlon-specific training mode and the option to create your own workouts and training plans. If you're looking for the best outdoor smartwatch, the Garmin fenix 6 Pro is where it's at. It pulls out all of the stops when it comes to premium outdoor performance. Whatever your training needs are, we've got you covered with this list of best fitness trackers for triathlon training.
Nicolette is a freelance writer for iMore. With over a decade of high-level experience as a health and fitness professional, Nicolette has become an expert in the industry. As a writer, quadruple-certified master fitness instructor, DJ/MC, and mom; she's had the pleasure of working with some of the top websites, studios, and brands in the world throughout her career. A dedicated creative, Nicolette enjoys writing about all things: health, fitness, audio, and home. If she's not working, you can find her sipping a glass of wine, enjoying a concert, or hanging with her family.
Get the best of iMore in in your inbox, every day!
Thank you for signing up to iMore. You will receive a verification email shortly.
There was a problem. Please refresh the page and try again.