Best Fitness Trackers for Weight Training in 2020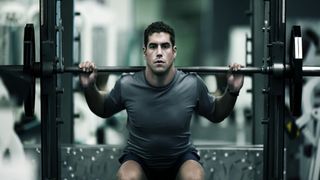 (Image credit: Uppercut)
There are a ton of fitness trackers out there that offer all kinds of high-tech health and fitness monitoring. We scoured our resources and searched high and low to create this list of trackers with weight training specifically in mind. Check out our favorite fitness trackers for weight training and why they'll help you get the most out of every rep.
Designed for weight training

This fitness tracker was explicitly designed for weight training. You can watch in real-time how much you are pushing rep by rep on your smartphone screen. You can break fixed set and rep schemes and let your daily shape and performance dictate the optimal loads for your training session. It will guide you towards optimal training zones for reaching your goals. Plus, all your data is collected in the Beast Webportal, the first performance-based training diary for weightlifting.
(opens in new tab)
Versa me this

The Fitbit Versa 2 is Fitbit's second-generation smartwatch. It features a AMOLED screen for vibrant colors and sharper blacks, 24/7 heart rate monitoring, and it tracks: steps, distance, calories burned, hourly activity, active minutes, and floors climbed. It can auto-recognize 15+ workouts and offers sleep tracking so you can better know your cycles and ultimately get better rest. It also has smart features like Amazon Alexa built-in, call, text, email, and calendar notifications.
(opens in new tab)
Charge your routine

This fitness tracker offers 24/7 heart rate monitoring so you can better understand your resting and active heart rate zones and better measure your calorie burn. You can choose from 15+ workout modes like run, bike, swim, yoga, circuit training, strength training, and more. You set a goal, then get real-time stats during your workouts to see exactly where you're at. This tracker also features sleep monitoring, is swim-proof up to 50 meters, and enables smart notifications.
(opens in new tab)
Atlas Wearables Wristband
Counts your reps

This tracker is great for weight training because it counts your reps for you, so you don't have to. You can maximize your training with its validated wrist-based heart rate monitoring, and its adaptive motion tracking technology auto-detects every exercise repetition. It's swim-proof up to 30 meters. Fitness coaches will guide you through exercises like CrossFit, HIIT, swimming, and strength training.
(opens in new tab)
Superior battery life

The TicWatch Pro 4G/LTE features a superior battery life of up to 30 days. It is water-resistant and suitable for swimming and has six different workout modes, including strength training. You can manually record your reps in your TicWatch so you can keep tabs on your weight training stats. It also has a built-in GPS system, which is great for cross-training.
(opens in new tab)
Get skulpted

This fitness tracker gives you fitness and nutrition guidance based on your unique physiology. The Skulpt Chisel uses science-driven techniques to optimize your workouts based on your body type. It can take and record accurate measurements of muscle quality and fat percentage for 24 muscle groups and will provide detailed tracking progress. It offers adjustments to guidance over time and fitness and nutrition notifications to keep you motivated.
(opens in new tab)
Take a bite out of this apple

The latest and greatest from Apple, the Apple Watch 5 has a built-in GPS and cellular system so you can better track your workouts and make calls and texts from anywhere without your phone. It features an always-on retina display, 30% larger screen, is swim-proof, has an ECG app, electrical and optical heart sensors, and a built-in compass. It recognizes multiple workouts, including weight training, and offers advanced metrics for every level of athlete.
(opens in new tab)
Get moovin'

Receiving accurate heart rate measurements while you work out is a crucial part of getting accurate stats. This fitness tracker is worn on the forehead so it can get precise pulse readings. It uses heart rate to get users in their target heart rate zone and audio coaching via HIIT and weightlifting workouts for optimal results.
(opens in new tab)
Activity & fitness tracking

This slim, smart activity tracker features a bright, easy to read display. It includes advanced sleep monitoring and can gauge blood oxygen saturation levels during the night with the wrist-based Pulse Ox sensor. The fitness and health monitoring tools include estimated wrist-based heart rate, all-day stress tracking, relaxation and breathing timer, Vo2 max, body energy monitor, and more. Plus, it will track walks, runs, strength training, yoga, swimming, and other workouts. You'll get vibration alerts for all smart notifications, including calls, texts, and email alerts.
(opens in new tab)
Great value

Utilize 24/7 heart rate monitoring to accurately track calorie burn, resting heart rate, and heart rate zones during workouts. The Fitbit Inspire tracks all-day activity, including steps, distance, hourly activity, active minutes, and calories burned. It will also track your sleep. Automatically and conveniently record your workouts like swimming, walking, biking, and strength training.
(opens in new tab)
LETSCOM Fitness Tracker HR
Budget friendly

This budget-friendly fitness tracker automatically and continuously tracks your sleep and provides data to help you get better rest. It features all-day activity tracking as well as 14 different exercise modes, including strength training. You'll also get smart notifications like calls, texts, and calendar alerts.
Which is best for your weight training?
We understand the need to make the most out of your weight training routine. One of the best ways to optimize your workouts is with a fitness tracker that possesses the ability to recognize your strength training workout, count your reps, and give you the metrics you need to get the most out of your workouts and improve your strength over time.
We love the Beast Athlete because it was designed specifically for weight training and will give you metrics in real-time, so you know how much you are pushing rep by rep on your smart screen. We also like the Atlas Wearables Wristband (opens in new tab) because it counts your reps for you, so you don't have to. If you want to treat yourself and splurge, we recommend the Apple Watch 5 (opens in new tab) because it offers a ton of high-tech smart features and will effectively monitor and record your weight training workouts. Whatever you're looking for to maximize your weight training sessions, you'll find it on our list of the best fitness trackers for weight training.
Nicolette is a freelance writer for iMore. With over a decade of high-level experience as a health and fitness professional, Nicolette has become an expert in the industry. As a writer, quadruple-certified master fitness instructor, DJ/MC, and mom; she's had the pleasure of working with some of the top websites, studios, and brands in the world throughout her career. A dedicated creative, Nicolette enjoys writing about all things: health, fitness, audio, and home. If she's not working, you can find her sipping a glass of wine, enjoying a concert, or hanging with her family.
Get the best of iMore in in your inbox, every day!
Thank you for signing up to iMore. You will receive a verification email shortly.
There was a problem. Please refresh the page and try again.