Best Flash for the Nikon D3400 in 2022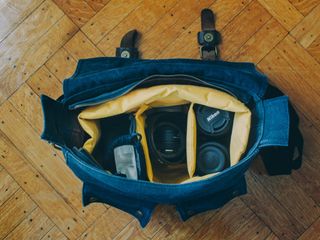 (Image credit: @kellysikkema on Unsplash)
The Nikon D3400 is one of our favorite entry-level DSLRs for its simplicity and ease in managing photos. With excellent dynamic range, color depth, and a long-lasting battery, the budget-friendly D3400 checks all the right boxes. If you take portraits, do product photography, or want to step up from the D3400's built-in flash, we recommend getting an external flash that slides into the hot shoe at the top of your camera. Grab one of these flashes and take your photo skills to the next level.
Nikon SB-300 AF Speedlight
Everyday flash

The Nikon SB-300 has a 59-foot range, ensuring maximum coverage for any style of shooting. A preflash fires milliseconds in advance of the shutter click to measure the scene and balance shadowy areas. With a 120-degree tilt, you can aim the light anywhere and even bounce the flash off a ceiling or wall. The SB-300 has a wide range of uses and offers slow first and second curtain syncing for optimum creative control. The SB-300 works with some of the best DSLR cameras from Nikon and comes with a soft carrying case.
(opens in new tab)
Altura Photo AP-UNV2 Bundle
Look at that price

Investing in a bundle is the smartest way to get a lot of necessary gear in one go. You'll save a ton of cash and fill out your camera bag with goodies with Altura Photo's AP-UNV2 Bundle. This bargain pack of tools includes the excellent AP-UNV2 Speedlite flash, batteries, an infrared remote control, a flash diffuser reflector, a carrying pouch, and a flash stand. The Altura off-camera flash fits on the hot shoe of your D3400 or can sit on an included stand and placed anywhere in your environment. You won't get through-the-lens (TTL) mode with this Ultra model, but you will get a professional-level lighting kit that works on-camera or off.
(opens in new tab)
Voking VK430 I TTL Speedlite
Supports multiple lights

The lightweight Voking VK430 is pairable and capable of working together with an unlimited number of off-camera flashes. It has front and rear curtain sync, an easy-to-read LCD, user-friendly controls, overheat protection, and functions well on a hot shoe or with the included mini stand. Bounce light off the ceiling with the Voking or aim it directly at your subject. Control is precise and accurate, and it works with a wireless trigger sensor. This inexpensive flash is one of the best accessories for your Nikon D3400 on the market.
(opens in new tab)
Nikon SB-700 AF Speedlight
It's all here

Nikon's SB-700 is a favorite with professional photographers and those learning the craft. It's portable, lightweight, and endlessly useful indoors and out in the field. Nikon gives you precise i-TTL flash control, flash head positioning, wireless control, and a simple on/off switch. The SB-700 automatically detects your camera type and selects a suitable light and distribution angle. This versatile Nikon flash fits on the D3400 hot shoe and also works as an off-camera flash. It has a steeper learning curve than other units, but this flash is top in its class.
(opens in new tab)
A non TTL budget-friendly flash

Neewer's TT560 is a basic manual speedlight flash that throws light up to 125 feet when shooting at ISO 100. You'll need to understand how to control your camera manually to operate this flash, but this model is a steal if you have the photography chops. It rotates 270 degrees, has eight output levels, and can bounce light up to 90 degrees. You can aim this light anywhere to fill shadows or bounce it off the ceiling to brighten a dark room. The TT560 comes with a wide-angle diffuser to soften the light's output.
(opens in new tab)
Nikon SB-5000 AF Speedlight
Take the next step

Nikon's SB-5000 is an advanced lighting system for those who need optimum speed and wireless control. Nikon's Creative Lighting System with Advanced Wireless Lighting is built-in, so this model excels at shooting weddings, commercial photos, fast action, landscapes, and so much more. An optional wireless remote control gives you hands-on control from a distance. The SB-5000 has a cooling system built-in and a heat-shedding design, so you never miss a shot.
(opens in new tab)
Neewer NW561 LCD Display Flash Speedlite for Canon Nikon Panasonic Olympus Pentax Fijifilm and Sony
A universal bargain

Neewer's NW561 is compatible with a Canon, Nikon, Panasonic, Olympus, Pentax, Fujifilm, and Sony cameras. Its small size is a nice compliment to the Nikon D3400, and it's packed with features found in more expensive flashes. The NW561 supports multiple flash modes, has temperature protection, and eight levels of output control. If you're just getting started, the NW561 is a capable on or off-camera flash that won't set you back too much.
(opens in new tab)
Nikon 4794 SU-800 Wireless Speedlight
For greater control

If you work with a choir of speedlights, Nikon's SU-800 Commander is just what you need to make settings to all lights at once. This unit operates on four channels and controls three groups of speedlights, in addition to metering and triggering groups. A one-touch switch automates accurate exposure and manages an unlimited number of lights. And you can control flashes wirelessly from up to 66 feet away. There's even a built-in autofocus assist illuminator for critical focus in low light settings.
(opens in new tab)
Manual trigger magic

It's 30 percent lighter and more compact than most external flashes, so it pairs well with the tiny D3400. With a swivel and bounce head, you can aim light exactly where you want it day or night. The Altura Photo AP-305N has a 1/8000 high-speed sync, catch light panel and diffuser, TTL capabilities, and works on your camera's hot shoe or an included mini stand. Best of all, this model includes a wireless receiver to control flash functionality from a distance manually. The AP-305N shoots light 118 feet in any direction and is compatible with many Nikon crop sensors, full-frame, and mirrorless cameras.
Bottom line
Why you can trust iMore Our expert reviewers spend hours testing and comparing products and services so you can choose the best for you. Find out more about how we test.
We love the Nikon D3400 and consider it one of the best digital cameras available today. You'll be able to shoot at higher ISOs and with less noise by employing an external flash. Our favorite is the Nikon SB-300. It gives a soft, balanced light that renders excellent realistic color and skin tones, and it tilts back and forth so you can aim it right where you need it.
If you're new to photography, Altura Photo's AP-UNV2 Bundle gives you plenty of tools to play with, including the flash, batteries, a remote, flash diffuser reflector, and a carrying pouch.
For the ultimate in wireless control and flexible shooting, go for the Nikon SB-700. It's a professional tool with a steeper learning curve, but it has bells and whistles you'll appreciate for years to come.