Best Gifts for the Apple Fan in Your Life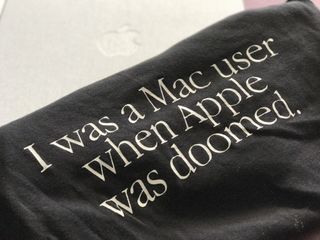 If you have an Apple fan in your house who already has the latest Apple Watch or Mac, it doesn't make sense to try and gift them a piece of tech this holiday season. Instead, try this gift list on for size: We've picked some fun apparel, decoration, and reading material sure to delight the Apple nerd in your house.
Retro Edition iPhone case
Why you can trust iMore Our expert reviewers spend hours testing and comparing products and services so you can choose the best for you. Find out more about how we test.
Sometimes the best thing you can do for an Apple lover is give them a bit of a throwback — and what says retro more than these #throwback cases from Red Bubble?
You can sport your iPhone with a cracked back, the classic Macintosh blue see-through design that captivated every 90s movie, or that all-too-familiar beige and rainbow logo that took the world by storm when Apple first launched!
The best part? These cases are pretty protective and will only cost you around $23.
See at RedBubble (opens in new tab)
Mac decals
Give the Apple fan in your life a little decoration for their favorite laptop with these MacBook decals:
Though I've linked to my favorite (a nod to the Apple desktops of yore), there's a veritable slew of different designs available for the Mac laptop of your choice.
You can pick up this particular decal for around $10.
See at Etsy (opens in new tab)
New Mac Candle
Nothing's better than the smell of a freshly-unboxed Mac, but if you don't have $3000 to spend on a computer this year, here's a gift idea for your loved one:
Stick Twelve South's New Mac Candle into an old Mac box! It's the most loving troll you can give your friends and family this holiday season.
This particular Apple-scented treat will cost you $24.
See at Twelve South (opens in new tab)
Classic Mac Apple Watch Stand
If you're any sort of long-term Apple geek and the thought of transforming your 2016 gadget into something from the 1980s doesn't fill your heart with whimsy and delight, well — I pity you and your soul. Because this thing is adorable: The W3 Vintage Mac stand is not only a well-crafted and cute take on an Apple Watch stand, but a pitch-perfect miniature for the Macintosh line of yore.
It's the little details that matter: The charger and cord snap in through the underside of the Vintage Mac stand, sending power to the brick through a tiny little cutout through the rear of the computer; when viewed as a whole, it looks like a proper power cord for the tiny computer.
Elago also nails the design: The slot for your Apple Watch is just big enough to slide the watch body into without feeling flimsy or too big, and its surrounding aesthetics (and perfectly-matched off-white coloration) really do make it look like you've just planted a little Macintosh computer on your desk or nightstand.
You can pick up the Classic Mac Apple Watch Stand for around $10.
See at Amazon (opens in new tab)
RetroConnector's mini Macs
The original creator of the Classic Mac Apple Watch stand, this Etsy seller also sports mini Mac casings for the Raspberry Pi, tiny Apple Mouse and disk earrings, iPod Nano docks, and more.
If you're looking for an old-school gift that also serves modern relevance, check out RetroConnector's store!
This stylin', handmade, Apple-lovin' earrings will cost you around $30.
See at Etsy (opens in new tab)
Susan Kare prints
Susan Kare helped design the icons and typography of the original Macintosh; though she's no longer at Apple, she's published books of her art for fans of icon design and offers prints of many of the icons she created over the years.
These posters are beautiful — I had one in my kitchen for several years — and a nice hat tip to the Apple of yore, too.
(Plus, they're so modern and minimalist that almost anyone could enjoy them in one way or another, whether you've been an Apple fanatic for years or you're an ironic hipster who just likes all things retro and vintaaaage).
Prices range from between $100 to $500.
"I Was A Mac User When Apple Was Doomed" Shirt
If your loved one flew the Apple flag long before anyone knew what an "iPod" was, let them declare their superiority with a shirt or mug from iMore contributor Rich Stevens's online store, Diesel Sweeties.
Plus, how cool is this design? The answer: super cool.
You can pick this shirt up for around $19.
Iconic: A Photographic Tribute to Apple Innovation
If your holiday budget can't quite afford the luxury of Jony Ive's pristine Apple retrospective, check out the book that did it first:
Jonathan Zufi's Iconic collects imagery of Apple products from its early days to 2014, photographing them impeccably. It's the perfect coffee table book for the longtime Apple fan.
You can pick up your own copy of Iconic: A Photographic Tribute to Apple Innovation for around $55.
See at Amazon (opens in new tab)
Visit Apple's company store
If you're lucky enough to live in Northern California, consider stopping by Apple's Company Store in Cupertino, CA. It features clothing, office accessories, mugs, and other trinkets that you can't get anywhere else — and those options change regularly; something you spot one day might be gone tomorrow.
If you can't get to Cupertino and don't have any pals nearby, all hope isn't lost: You can always hire someone on TaskRabbit to buy something and ship it to you.
Your favorite Apple gifts?
Have your eye on the perfect gift for the Apple fan in your life that's not on this list? Share it with us in the comments!
Updated December 2017: This article has been updated with the best of the best Apple-specific items available!
Get the best of iMore in in your inbox, every day!
Serenity was formerly the Managing Editor at iMore, and now works for Apple. She's been talking, writing about, and tinkering with Apple products since she was old enough to double-click. In her spare time, she sketches, sings, and in her secret superhero life, plays roller derby. Follow her on Twitter @settern.
Eneloop are probably the best rechargeables out there. They cost a bit more than, say, Rayovac recharge, but are worth it. That said, Ive been very happy with the Rayovac recharge batteries I use in my EDC flashlight. As for chargers, I cant in good conscience recommend any of the chargers listed. I used ones like those for a bit, then looked into others. The one I recommend is the Nitecore D4. It will charge multiple sizes and multiple chemistries of batteries. Not only that, but it shows the charge the batteries have when put in, progress of the charge, charge rate and charge time. Nitecore D4 on Amazon - https://www.amazon.com/NITECORE-version-Intellicharge-universal-ELECCESS... IF that is a bit more than you need, there is the D2 version which is a bit cheaper. ITs everything the D4 is, but charges only two batteries at a time rather than 4. Nitecore D2 on Amazon - https://www.amazon.com/Nitecore-Charger-Universal-Rechargeable-Batteries...

The Apple company store is no longer a good source of Apple-logo clothing, mugs, etc.. A couple years ago it was renovated and turned into a regular Apple Store (sans Genius Bar) with very few items available (just a few T-shirts and hats). The new Apple Park visitor's center is also an Apple Store and now has more items that are specific to Apple Park, however there is no longer an official source for most of those items.
Thank you for signing up to iMore. You will receive a verification email shortly.
There was a problem. Please refresh the page and try again.