Best Gifts for Cord-Cutters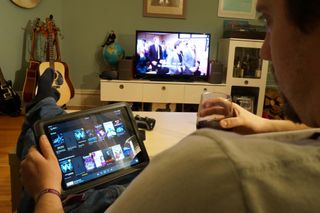 The cord-cutter movement is continues to gain momentum. In the age of apps, people are looking to save money by cancelling that pesky cable bill and finding alternative ways to fulfill their entertainment needs via internet and/or wireless needs.
Netflix. Plex. Over-the-air antennas. Just a few of the options cord-cutters rely on to stay entertained without cable TV. Give the gift of cutting that special someone's cable bill with these fantastic gifts for cord-cutters.
OTA Antennas
Why you can trust iMore Our expert reviewers spend hours testing and comparing products and services so you can choose the best for you. Find out more about how we test.
If you or someone you know is looking to cut out the cable bill from their budget, but still enjoys just throwing on the TV and vegging out without the hassle of finding something new to watch on Netflix (right?), an over-the-air (OTA) antenna can be a great compromise. But before you consider whether to buy an OTA antenna, you'll want to know what channels are available in your area and what type of antenna you'll need to draw them in. This TV signal locator from TVFools.com will let you know what signals are available from you or your giftee's address, and from there let you determine whether you should be getting an indoor or outdoor antenna.
An OTA antenna can be hooked up straight to a TV in your house to watch live TV. A couple of the other items on this list require a OTA antenna — HDHomeRun Connect and TiVo Roamio. If either of those boxes tickles your fancy, you'll need one to draw in the signal. Depending on what channels are available in your area, you'll need either an indoor or outdoor digital antenna. The antenna we've recommended here is designed for urban areas, and can be set up indoors or outdoors. Again, the channels you'll get will be dependant on a number of variables, so the price of this antenna makes it great for testing purposes.
See at Amazon (opens in new tab)
HDHomeRun Connect
The HDHomeRun Connect is a HDTV broadcast tuner that, working in conjunction with an OTA antenna, lets you draw in the available HDTV channels broadcasting in your area. Set up is easy — simply connect your HDHomeRun box to power, the antenna, and your router, then install the software on your computer. From there, you're able to watch live TV from the available channels shows on any DLNA-compatible device connected to your Wi-Fi network, whether that be a smart TV, or a phone or tablet running the HDHomeRun DVR app (opens in new tab).
But that's not all. What makes the HDHomeRun a real home run (I'm sorry) is it's beta compatibility with Plex. All your recorded shows can be stored on your Plex server and then streamed to all your other devices thanks to how widely supported the Plex platform has become.
See at Amazon (opens in new tab)
TiVo Roamio
TiVo… Now that's a name you probably haven't heard in a long time. But the Roamio is certainly worth looking into if you're cutting a cord and considering an OTA antenna. The Roamio comes with 1TB of space to record all your favorite shows as well as built-in integration with Netflix, Amazon Prime Instant Video, Hulu and more.
It's a TiVo, so you'll be able to pause and rewind TV live, as well as use SkipMode to skip over the commercials in your recorded content, or use QuickMode to watch your shows 33% faster with no audio distortion, meaning you can binge watch your favorite shows in less time.
See at Amazon (opens in new tab)
Chromecast Ultra
Once you get your first Chromecast, you quickly learn that you can never have too many Chromecasts. It's such a versatile little device that lets you stream Netflix, Amazon Prime Instant Video, Hulu, YouTube, HBO Now… There's a ton of great iOS apps available with Chromecast compatibility.
This year, Google introduced the Chromecast Ultra, which supports 4K TVs if you already have one or are planning on upgrading. If not, the Chromecast from 2015 is still a completely capable little device, and you really can't beat the value here. And like I said, once you've got a Chromecast on one of your TV's, you're going to want to have one for every TV in the house.
Apple TV
If you're buying for a cordcutter who also happens to a huge Apple fan, and they don't have an Apple TV, you can give them the gift of integrating their TV into their Apple ecosystem.
From iMore's full review:
The Apple TV is a great option, but won't be idea for those looking for 4K support, or for people who rely on Amazon Prime for media.
See at Apple (opens in new tab)
Gift memberships to streaming services
Netflix. Amazon Prime. Hulu.
These are the services that are largely replacing cable TV for an ever-growing number of consumers. Whether or not your loved one already has one of these services, you can cover a few months of their favorite streaming service for a gift that keeps giving throughout the year.
Your best value is absolutely a year's worth of Amazon Prime. Not only do they get access to both Amazon's music and video services, they also get all the benefits of being an Amazon Prime including next-day delivery on a number of products.
Both Netflix and Amazon Prime offer electronic gift cards for their services, but you should also be able to find them at a most major retailers. Hulu currently doesn't offer electronic gift cards, but you should find physical Hulu gift cards at retailers such as Target, Best Buy, and Walmart.
Get the best of iMore in your inbox, every day!
Pop culture geek, hopelessly addicted to streaming movies, tv shows, and podcasts. Would be lost in life without unlimited data.