Best Headphones to Use with your Blue Yeti in 2020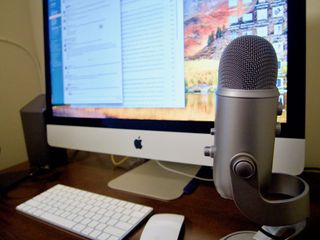 (Image credit: iMore)
Those who love the Blue Yeti do so passionately. It has a wide spectrum of users, from YouTubers to streamers, musicians, and podcasters. Its USB connection makes it easy to use, and with no software downloads required, it's quick to set up anywhere. With the use of a Blue Yeti, your audio will always sound professional and clean. Surely, it makes sense to have headphones to match, right? Here are five different microphone options that are compatible with your Blue Yeti and will help you grow in your hobby, passion, or pursuit.
Audio-Technica ATH-M50x Professional Studio Monitor Headphones
Best overall

These Audio-Technica headphones deliver exceptional quality through perfectly amplified sounds and precise bass response. These headphones are also equipped to deal with change as they come with three interchangeable wire options: a 1.2m TRS straight cable, a 3.0m TRS straight cable, and a TRS coiled cable that can stretch from 1.2 to 3 meters. There's also a quarter-inch adaptor, so whatever equipment you need them to handle, be it a phone, laptop, desktop, microphone, or mixing desk, these headphones are ready.
Logitech G433 7.1 Wired Gaming Headset with DTS Headphone
Value pick

If you're looking for an immersive sound experience, comfort guaranteed, and a nice price to round it off, the Logitech G433 headphones are the ones you need. With a detachable mic, X 7.1 surround sound, Pro-G drivers, and fun color options, they are a great partner to your Blue Yeti. These lightweight headphones come with two earpad options for extreme comfort: sports mesh and microfiber.
Sennheiser HD 650 Open Back Professional Headphone
For professional use

The Sennheiser HD 650 Open Back Professional Headphone is the stallion of headphones. Compatible with your Blue Yeti, this headphone is designed with specially formulated acoustic silk to ensure that you hear an impressive frequency response of 10 decibels. These lightweight headphones are designed to merge creativity with precision, and the high power neodymium magnets built into the design ensure that these headphones are working to their maximum potential and efficiency. The cable length on the Sennheiser HD 650 headphones reaches 118 inches.
Bose QuietComfort 35 II Wireless Bluetooth Headphones
Voice control

Compatible with Alexa and Google Assistant, the Bose QuietComfort 35 Series 2 go all out to impress. In addition to its extremely comfortable design, these headphones deliver Bluetooth wireless capabilities with around 20 hours of use per charge. You can spend an entire day immersed in your project without interruptions from needing to plug your headphones back in to charge. An audio cable is included for hook-up with the microphone.
(opens in new tab)
Sennheiser Momentum 2.0 Wireless with Active Noise Cancellation
Noice cancelling

Although there is a multitude of noise-canceling headphones available in the market, the Sennheiser 2.0 Wireless with Active Noise Cancellation stands out from the rest. These headphones use four different microphones to isolate and improve the sound quality in your studio. If there is too much noise coming from a certain direction, these headphones will regulate the sound and ensure that only the audio you intend to hear is heard. With a 22-hour battery life after a full charge, these Bluetooth and Noise Gard activated headphones are great for use during long periods. You are free to lose yourself in your project.
The bottom line
Why you can trust iMore Our expert reviewers spend hours testing and comparing products and services so you can choose the best for you. Find out more about how we test.
When it comes to finding the best headphones for your Blue Yeti, you must take into consideration what you are hoping to achieve. If you're searching for a pair of headphones that deliver impressive sound quality and are versatile and easy to use, then the Audio-Technica ATH-M50x Professional Studio Monitor Headphones (opens in new tab) are a great choice. These headphones can be connected via USB and don't require any software downloads. Simply plug them in and lose yourself in an immersive audio experience.
For a high-quality professional microphone that can be used to hear even the slightest sounds, the Sennheiser HD 650 Open Back Professional Headphone (opens in new tab). These headphones are great for use in a studio for editing or recording purposes.
The Sennheiser Momentum 2.0 Wireless with Active Noise Cancellation (opens in new tab) headphones are a great choice for anyone who is looking to cancel out unwanted background noise. These headphones come equipped with four different microphones to ensure that you hear what's playing through the stereos rather than what is happening outside of your studio.
Get the best of iMore in in your inbox, every day!
Camille Sanghera is a freelance writer who loves using the power of words to give individuals and objects a voice. When she is not content writing, you can find her running trails with her dogs or writing novels and e-books. Find her on Instagram at @projectpvo.
Thank you for signing up to iMore. You will receive a verification email shortly.
There was a problem. Please refresh the page and try again.