Best Humidifiers for Your Home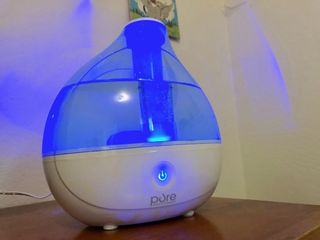 During blustery fall days, cold winter months, and all through allergy season, many of us have to deal with respiratory and sinus issues like dry sinuses, congested lungs, and sometimes bloody noses. According to the Mayo Clinic, humidity in your home should be between 30 and 50%, which is hard to achieve in the winter. A humidifier can help.
How to measure the humidity in your house
If you want to keep track of the humidity levels in a specific room in your house, an inexpensive hygrometer is a perfect solution. There are dozens out there for less than $10.
This humidity monitor is simple but effective. It shows you the current humidity temperature in your room and displays the high and low range. It also gives you a glimpse into the past to show you the record high and low for the room. It's got a kickstand so you can set it up on your desk or nightstand and a magnet so you can mount it to any metal surface. It only costs $8.99.
See at ThermoPro (opens in new tab)
If you're looking for something with a little more pizzazz, but still inexpensive, the TP55 is larger (about the size of the standard house thermostat), has a touch screen with a few more display features, and lights up at night so you can read the numbers in the dark. It shows the current humidity with the high and low range, the record high and low, and predicts the upcoming humidity based on past trends so you can decide ahead of time whether to turn on the humidifier that night. It has a kickstand for tabletop use, a magnet so you can stick it on the fridge, and a wall mount so you can post it to any wall in the house for about $13.
See at ThermoPro (opens in new tab)
If you're ready to invest in something with a lot more features that can really help control and regulate the humidity in the air, you should take a look at Elgato Eve Degree. It measures temperature, humidity, air pressure, climate trends, and more. It is HomeKit enabled to let you know when the humidity in the air is too high, too low, or just right. You can even check the climate in your house while your away so you can turn on or off other HomeKit connected devices. It's available on Amazon for about $60.
See at Amazon (opens in new tab)
If you're looking for the perfect humidifier to keep moisture in the air for your bedroom or office, these are the best on the market.
Philips Series 2000 Air Humidifier
Philips makes an evaporator humidifier specifically designed to keep the spread of bacteria as low as possible using an evaporation process that draws in the dry air and adds water to it. It has its own built-in humidity monitor that you can set to 40, 50, or 60%. It's great for bedrooms and nurseries and has a bedtime mode to keep the motor as quiet as possible while you sleep.
It has two speeds and three timer settings so you can blast the air for just an hour, bring up the humidity in the room just a bit for four hours, or run the humidifier all night with the 8-hour timer. Philips' humidifier costs $170.
See at Amazon (opens in new tab)
Motorola Smart Humidifier
Motorola's smart humidifier is an evaporator style humidifier that you can access from your iPhone. It's got four speed settings and cool or warm mist and an onboard humidity monitor. It also has a timer that can be set for up to 12 hours and has a night light.
It connects to your iPhone through Motorola's Hubble App (opens in new tab), which lets you check the current humidity, turn the humidifier on, and set a timer without having to touch it. You can get Motorola's Smart Humidifier for $80.
See at Amazon (opens in new tab)
Renpho Essential Oil Diffuser and Humidifier
Renpho makes a bamboo style humidifier that looks great on your dresser and smells great in your bedroom. It uses ultrasonic technology to send a light mist throughout the air around you. It's designed to allow for essential oil to disperse through the mist, sending a nice, relaxing scent throughout your room. If you don't like adding smells to your humidifier, it still works great as a smart humidifier thanks to Alexa support. When you install the companion app, you can connect it to your Echo device and ask Alexa to turn it on or off for you. It's pretty and functional.
The LED accent light can be changed to seven different colors. This essential oil diffuser and humidifier costs about $28.
See at Amazon (opens in new tab)
MistAire Cool Mist Humidifier
If you're looking for a humidifier that works well but keeps the price low by not having a lot of bells and whistles, Pure Enrichment's ultrasonic MistAire humidifier does the trick.
This is model humidifier I use in the winter time. The 1.5-liter tank is large enough to push out full steam for two nights without needing a refill and four or five nights on low without needing a refill. It has a bright blue nightlight if you want your room to look like a spaceship, or you can leave the light off. It's very quiet. The only noise I hear is a slight shushing sound as the mist is pushed through the humidifier. No motor noise at all.
You can easily make something like this into a smart humidifier by using Elgato's Eve Degree (opens in new tab) to monitor the humidity in the air, combined with Elgato's Eve Energy (opens in new tab) to automatically shut off the humidifier when it reaches a certain percentage point. The total cost would be about $140 and the Eve Degree and Eve Energy offer multiple uses. That's pretty smart if you ask me.
See at Amazon (opens in new tab)
How do you humidify?
Do you use a humidifier? Which style and brand do you prefer? Have you made it smart?
Lory is a renaissance woman, writing news, reviews, and how-to guides for iMore. She also fancies herself a bit of a rock star in her town and spends too much time reading comic books. If she's not typing away at her keyboard, you can probably find her at Disneyland or watching Star Wars (or both).
Get the best of iMore in in your inbox, every day!
Thank you for signing up to iMore. You will receive a verification email shortly.
There was a problem. Please refresh the page and try again.