Best Internet Radios in 2020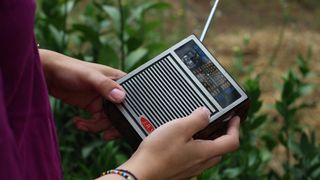 (Image credit: Israa Ali via Unsplash)
Internet radios give you the ability to listen to content from all around the world with a signal as strong as your Wi-Fi. Whether you like to have soft jazz playing in the background while you do your household chores, the latest news highlights as you wake up in the morning, or even to tune into last week's podcast episode, internet radio can make this possible. You aren't limited to local broadcasts. Here are our top picks.
The bottom line
Why you can trust iMore Our expert reviewers spend hours testing and comparing products and services so you can choose the best for you. Find out more about how we test.
Internet radios are a great way to tune in to your favorite stations regardless of where they are locally broadcasted. With the use of Wi-Fi, you can access thousands of radio channels with crisp and clear sound. When it comes to finding a unit that features a modern and sleek design and is perfect for inside the home, the Ocean Digital Wi-Fi Internet Component Radio Tuner (opens in new tab) is a great choice.
However, for use outside of the home, the Ocean Digital Portable Internet Radio (opens in new tab) may be a better option as it is compact and portable, allowing you to use it on-the-go. This particular internet radio also has battery life long enough to last your adventure.
If your household is smart home compatible, then you may be interested in the Bose Wave SoundTouch Music System (opens in new tab). This radio can be connected to Alexa and then accessed through voice commands. This gives you the freedom to focus on other tasks while you flip through your favorite stations.
Camille Sanghera is a freelance writer who loves using the power of words to give individuals and objects a voice. When she is not content writing, you can find her running trails with her dogs or writing novels and e-books. Find her on Instagram at @projectpvo.
Thank you for signing up to iMore. You will receive a verification email shortly.
There was a problem. Please refresh the page and try again.