Best low-cost alternatives to Otterbox for iPad Air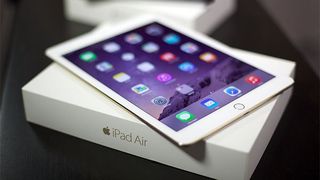 (Image credit: iMore)
When you spend a lot of money on a piece of gear like your iPad Air, you want to make sure nothing happens to it if you accidentally drop it while snapping a photo, or knock it off the counter while pulling up your favorite chocolate chip cookie recipe.
While Otterbox makes great, rugged protective cases for the iPad Air, their high price-tag isn't always the most realistic for most people. Luckily, there are numerous, less-expensive options available to protect your iPad Air. Here are a few worth checking out!
Trident Aegis
Why you can trust iMore Our expert reviewers spend hours testing and comparing products and services so you can choose the best for you. Find out more about how we test.
Durable, minimalistic, and simple, the Trident Aegis case goes for around $20 to $26 and has garnered its fair share of positive, glowing reviews online for its high quality and reliability.
The case, which is reinforced with polycarbonate to add additional drop protection, has dust filters to prevent any debris from plugging ports and comes with a tough screen protector and an anti-skid design, so you don't have to be very worried about dropping your iPad Air and having it shatter.
If those qualifications didn't persuade you to check out the case, the Trident Aegis meets military standards for both drop- and vibration-protection. But the Trident isn't all business – the case comes in bright, fun colors like red, electric green, royal blue, hot pink, and a traditional black.
See at Amazon (opens in new tab)
Gumdrop iPad Air case
Quite positively one of the most fun iPad Air cases color- and design-wise, the Gumdrop case is much more than just a different-looking accessory for your iPad Air: it's actually an incredibly durable, rugged case that's sure to protect your iPad for around $45!
The Gumdrop is made from a tough silicone material and comes with reinforced rubber bumpers on the corners of the case. While numerous layers of shock-absorbing material keep your iPad Air safe from falls, dust covers make sure ports are secure from any outside gunk that may ruin your iPad.
The Gumdrop comes in over eleven color combinations, including grey & red, royal blue & lime, teal & white, and so much more.
See at Amazon (opens in new tab)
Supcase Beetle Defense
With over 3,000 reviews and a nearly 5-star rating online, it's no surprise that people love their Supcase Beetle Defense case for their iPad Air. At around $27, it's a pretty inexpensive case, but with a super-durable design, hard-shell reinforcement, and shock resistant guarantee, the Beetle Defense is for sure an option to keep in mind while browsing.
Built with a dual-layer design to protect your screen, tough, shock absorbing materials like polycarbonate and thermoplastic polyurethane, and convenient port covers to protect against dust and debris, the Beetle Defense is the ultimate defense against broken iPad Air screens and scratched devices.
The case, while extremely protective, still allows access to all features on your iPad like your camera and speakers. It also comes in more traditional colors, like black and white, or vibrant colors like blue, green, and red.
See at Amazon (opens in new tab)
New Trent Gladius iPad Air case
If you're looking for a durable case with a little bit of a modern fashion flare for around $40, then check out the New Trent Gladius iPad Air case! Its techy, tough design is offset by a stylish brown leather hand strap stretched across the back of the case for extra security when you're holding your iPad Air.
The New Trent rugged case comes with a built-in screen protector, reinforced corners for additional drop protection, and a high-quality rubber shell with a tough, hard inner casing to prevent your screen from shattering or your iPad Air from getting dinged up in a fall.
The case also comes with a kickstand that extends from behind the genuine leather strap, making your iPad Air simple to prop up. The leather strap is perfect if you're shooting video at a family party, or giving a presentation at the office so everything stays and feels secure.
See at Amazon (opens in new tab)
TIANLI ArmorBox
You wouldn't think a case that cost around $15 would be protective and have great reviews, but the TIANLI ArmorBox has proven us wrong with its affordable price tag, innovative design and durability.
With the TIANLI's dual-layered, polycarbonate hard-shell design with TPU bumper, you get quite a bit of additional protection for your iPad Air. The case also comes with a rubberized texture on the outside, making transporting and holding your iPad Air in your hands a lot more secure.
The ArmorBox also comes with a versatile kickstand that lets users prop their iPad air up horizontally or vertically. The case also comes in a couple of vibrant color options, including mint, red and black, navy blue and lemon yellow, navy blue and green, blue and black, black and green, and black.
See at Amazon (opens in new tab)
What's your pick?
Is there an alternative to Otterbox for the iPad Air you think we missed that must be on this list? Let us know what it is in the comments below and we'll be sure to check it out!
Get the best of iMore in in your inbox, every day!
Cella writes for iMore on social and photography. She's a true crime enthusiast, bestselling horror author, lipstick collector, buzzkill, and Sicilian. Follow her on Twitter and Instagram: @hellorousseau
No Pencil slots / holders built into any of these? This seems to be the most difficult thing for case makers. Sent from the iMore App
Thank you for signing up to iMore. You will receive a verification email shortly.
There was a problem. Please refresh the page and try again.