Best microSD Cards for Polaroid Snap 2022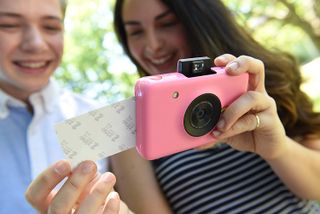 (Image credit: Polaroid)
One of the worst things that can happen when you're out shooting pictures is running out of storage room and not being able to save a special moment. You don't necessarily need a microSD card to use your Polaroid Snap, but having one in place allows you to take more pictures. Here are the best Polaroid Snap microSD cards for your money today.
Storage saver
The Polaroid Snap is one of the best instant cameras on the market today. When choosing a microSD card, you'll want an option that provides enough storage to fit your picture-taking habits. The best cards come with a micoSD adapter so you can plug the card into a computer and view your image files. We didn't include any large-capacity storage cards since the Polaroid Snap can only handle microSD cards up to 32GB.
So what's the best Polaroid Snap microSD card?
We recommend the SanDisk 32GB card for those who like to snap lots of pictures a day. If you're looking for a bargain, grab the PNY Elite 32GB. It boasts speeds of up to 100MB/s and is a steal. And if you don't require much space, we love the Kingston Canvas Select. You'll get 16GBs to play in this Class 10 card.
Jodi Owan works behind a keyboard and a camera. She's a freelance writer for iMore, Android Central, and Windows Central.
Get the best of iMore in in your inbox, every day!
Thank you for signing up to iMore. You will receive a verification email shortly.
There was a problem. Please refresh the page and try again.