Best Navigation Systems in 2022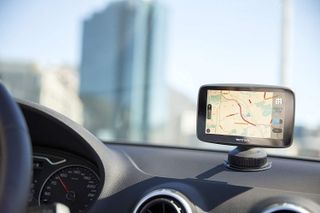 (Image credit: TomTom)
Buying a GPS shouldn't be tricky; all you need is to get from point A to point B, right? Once you see everything else they can do, you'll be switching from your smartphone app over to a real GPS. We're here to help find the customization you want at the price you like, whether you're a casual driving trying to find better routes for work or a trucker with a long path ahead. No matter how far you plan to go, we recommend the TomTom GO COMFORT as the overall best navigation system with features to help you avoid traffic, access your phone, and much more.
Best Overall: TomTom GO COMFORT
You can always trust iMore. Our team of Apple experts have years of experience testing all kinds of tech and gadgets, so you can be sure our recommendations and criticisms are accurate and helpful. Find out more about how we test.
This device gives the avid road-tripper everything they need to know on their trip — all without being overly expensive. It'll send you traffic updates and change your route to help find a quicker one. You can also connect your phone through Bluetooth and have texts read out loud to you so you can avoid distracted driving. For those used to the classic look of their TomTom, the screen displays have been updated and maybe a bit unfamiliar, but don't worry; you'll get used to them in no time!
Another great feature: Once the TomTom is set up, it's quick to get your trip going! The maps update seasonally, changing anything from new speed limits to planned out roadwork. It's also easy to update; all you need is to connect it to Wi-Fi — no computer required! The GPS has a 6-inch screen that switches views when turns are coming up. You'll find all the features any other GPS may have all compacted here in one. The only features your TomTom won't have are the ones for those driving vehicles other than a car.
TomTom GO COMFORT
Best for everyone
Reasons to buy
+
Phone and text connectivity
+
Live traffic updates
+
Easy to update
Reasons to avoid
-
Different menu and display screens than previous TomToms
-
Voice only works in language purchased in
-
No options specific for other vehicles
This GPS gives you directions and connects to your phone for more hands-free options like voice control texts and phone calls.
Best Value: LTTRBX GPS Navigation for Car
Enter the address fo where you want to go, and the LTTRBX GPS navigation system will both show and tell you how to get there. It tells you upcoming turns and lane changes, exits, traffic jams, and high-speed cameras with enough time to adjust your route. The large, colorful display includes current road conditions, speed limits, and approximate arrival times. It comes preset with the most up to date maps in North America along with a lifetime map update for no additional charge. It also can be programmed to give directions in 58 different languages. You can also preset destinations.
Because it is a basic unit, this GPS system doesn't have Bluetooth capabilities or a dashcam. Its battery only holds enough power for about an hour. You can recharge the battery using the included car charger or USB charger.
LTTRBX GPS Navigation for Car
Why spend too much?
Reasons to buy
+
Inexpensive
+
Free, unlimited map updates
+
Visual and audio directions in 58 languages
Reasons to avoid
-
No voice connection
-
No dashcam
-
Low battery life
This budget-friendly GPS both shows and tells you directions to anywhere in North America in 58 different languages.
Best for Trucks and Trailers: Rand McNally OverDryve 8 Pro
We spoke to several semi drivers and fleet managers, and Rand McNally is their top pick for truck navigation. The Rand McNally OverDryve GPS navigation system gives you real-time updates for road conditions, including upcoming tolls, construction, and traffic jams. Rand McNally shows you the street layouts of your route, including road signs and traffic signals. It includes a dashcam to help digitally record drivers and road conditions around you and has SiriusXM radio built into its system.
Truckers can set this GPS to warn of upcoming weigh stations and speed limit changes. It helps you find truck-only routes, avoid toll roads and routes with bridges of a certain height. It shows truck stops and rest areas with enough time to decide when and where to stop when daily hours of service limits have been hit. The OverDryve connects with electronic log systems to help keep accurate reports and has so many voice-activated prompts, including hands-free calls and texts, and news, weather, and sports updates.
The biggest complaint truckers have with the Rand McNally OverDryve GPS is the mounting unit it comes with. It doesn't adhere to the dashboard or window very well, and the magnet used to attach the GPS to the mount isn't secured well, causing the OverDryve to shift, rattle or fall off while being used.
Rand McNally OverDryve 8 Pro
When you need to account for bridge height
Reasons to buy
+
Real-time updates
+
Truck-specific navigation
+
Connect to electronic log system
+
SiriusXM radio
+
Voice control
Reasons to avoid
-
Expensive
-
Mount isn't sturdy
This GPS helps truck drivers avoid bridges and toll routes. It shows truck stops and weigh stations, plus connects to travel logs.
Best for Motorcycles: TomTom Rider 550
Personalize your trip for your motorcycle. This weatherproof GPS will help you plan out trips no ordinary GPS could do. Traveling on a motorcycle shouldn't lead you on a monotonous path, for example, and the TomTom Rider 550 will let you select different levels of windiness and hilliness for your trip.
By connecting to the MyDrive app, you can plan out your route so you can make stops along scenic paths, for instance. Connect your headset, and you'll be able to change the music, make calls, and hear texts through your GPS. You'll be able to make trips from one coast to another no problem with the road trip routes available.
TomTom Rider 550
No cars allowed
Reasons to buy
+
Customize for thrill
+
Road trip planning
+
Weatherproof
Reasons to avoid
-
Instruction manual is minimal
-
Requires app for trip planning
This TomTom lets you customize your route, whether you need to get there quickly or want to take the scenic route.
Best Simple GPS: Garmin Drive 50
Sometimes all you need is just a simple GPS to get you from one place to another, and the Garmin Drive 50 will do that for you. It's an excellent price for what you get; the screen display is easy to read, and navigating through the menu is very simple. You'll be back to the basics with this GPS, and that's more than enough for a lot of people.
This GPS will alert you of dangerous road conditions and keep you updated if there is traffic on your route. With its connection to Foursquare, you'll get access to plenty of locations to stop at. If you're looking for something to help out your daily commute and a few little trips on the side, look no further than the Garmin Drive 50.
Garmin Drive 50
Stay simple
Reasons to buy
+
Inexpensive
+
Foursquare compatibility
+
Easy to use
Reasons to avoid
-
No Bluetooth connectivity
-
Low battery life
The Garmin Drive 50 is all you need to improve your daily commute or take the occasional quick trip out of town.
Best Voice Only: Garmin Speak
Not everyone needs a screen for their GPS, and not everyone wants to spend a ton of money on one either. The Garmin Speak is cheap and features a small screen to show you which direction you'll be turning — and that's it! The small size of the GPS is great for people with small cars. Sometimes a GPS can take up a lot of room on the dashboard, but this one can be attached to your windshield.
Other than it's small size, the Garmin Speak uses Amazon Alexa. You will need to download the Garmin Speak app to connect with your Alexa, which will require your phone to connect with data. You can use your Alexa to change music, check weather and traffic updates, and other common Alexa functions. Ask Alexa questions to help along your trip, such as "Alexa, ask Garmin what lane I should be in?" All the navigation features of a regular GPS, but you can just ask rather than having to look at the map while driving.
Garmin Speak
Super small
Reasons to buy
+
Small
+
Cheap
+
Amazon Alexa compatibility
+
Can attach to your windshield
Using Amazon Alexa, the Garmin Speak gives you step-by-step directions but only audibly rather than visually with maps.
Bottom line
Sometimes you need a bit more than what your phone GPS gives you. Whether you want to save your phone's battery while you're on the road or stick with a dedicated system for extra features, there's a navigation system out there for you. One of the greatest advantages that these devices have over your phone's is specialization: you can get a GPS for your car, but also your motorcycle or your truck.
There's a lot of different navigation systems to choose from out there, but if you're looking for the best to one to take you around the country, the TomTom GO COMFORT is the best deal. It offers all the perks of any other GPS, such as Bluetooth control and traffic updates, all in one. This is the perfect GPS for someone that likes to drive — in a car. For other vehicles, there are systems out there for you.
For truckers, who depend heavily on navigation systems to help them stay on truck routes, avoid toll roads and find truck stops, we recommend Rand McNally OverDryve 8 Pro. This system connects to electronic log systems to help keep track of driving and downtime. You can see upcoming weigh stations, posted truck speed limits, and approaching road, weather, and traffic conditions.
Master your iPhone in minutes
iMore offers spot-on advice and guidance from our team of experts, with decades of Apple device experience to lean on. Learn more with iMore!
Nicole writes for multiple Future Publishing brands covering topics from antivirus to kitchen appliances to SAS. She has over 15 years of research and writing experience, including eight years of testing and reviewing consumer products. Nicole earned bachelor's degrees in both English and Political Science with a focus on empirical research. In her spare time, Nicole serves on several school councils and volunteers for a local arts board.