Best Philips Air Fryers 2022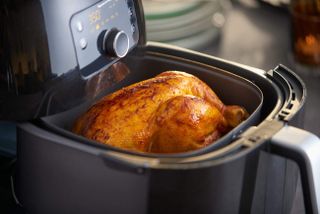 (Image credit: Philips)
As convenient as it is, you can't use a meal delivery service for every dinner. You'll save a lot of money, time, and your health by doing some cooking at home. Philips is the original inventor of the air fryer, and they've mastered the technology. Our favorite model, Philips XXL (opens in new tab) makes delicious home fried food with up to 90 percent less fat. It uses less oil and has fat-removing technology, giving you healthy fried food in minutes. We have a few favorites to talk about today. Here are the best Philips air fryers your money can buy this year.
Best Overall: Philips XXL
When what you want is crispy fries and crunchy chicken wings minus the artery-clogging grease, the analog Philips Airfryer XXL HD9630/98 is the kitchen helper you need on your countertop. Unique technology that fries food with hot air and only a tablespoon of oil will delight your tastebuds and your doctor. In addition to its small oil requirements, this model can capture and remove excess fats from food with its powerful Twin TurboStar technology.
The Philips Airfryer XXL HD9630/98 gives you enough room to fit a whole chicken or two bags of French fries in the basket. It cooks up to six portions at a time and does it all faster than your oven can. The Airfryer XXL is hot the moment you flip the switch on, no preheating necessary, and it fries food instantly so that you can have dinner on the table fast. This model includes a basket with removable non-stick mesh that's easy to clean.
This is a big, bulky unit, but we think it's worth the counter real estate. If you're feeding your whole family or aiming for leftovers, this is one of the best Philips air fryers around.
Philips XXL
All the flavor, almost none of the fat
Reasons to buy
+
3-pound capacity
+
Healthiest model on the market
+
Uses very little oil
+
Can cook six portions at once
Reasons to avoid
-
Takes up a lot of space
-
Heavy
The Philips XXL air fryer makes crispy, crunchy fried foods while removing 90 percent of oil.
Best Value: Philips Viva
Make better food choices and mouthwatering meals with the compact Viva. The fry basket in the HD9220/29 is spacious enough to cook breakfast, lunch, dinner, and dessert for two people. Internal starfish-shaped technology circulates a continuous stream of heat around the food, and with less than a tablespoon of oil, turns out golden brown crispy fries, chicken legs, battered fish, and more.
This little air fryer grills, bakes, and roasts food to perfection. An included recipe book will get you off on the right foot with easy to make meal ideas. And when you're done, all removable parts can be hand washed or put in the dishwasher. What could be simpler? Our only complaint: this is an analog model. With such a small control button, a display would be beneficial. Even so, if you're cooking for one or two, this is the best Philips air fryer for you.
Philips Viva
Small fryer, small price tag
Reasons to buy
+
Compact size
+
Easy to clean
+
Affordable
+
Includes cookbook
Reasons to avoid
-
No digital display
-
Too small for a family
This air fryer is small enough to live on your counter full-time, cuts calories, and does away with unhealthy fats.
Best Multipurpose: Philips Premium TurboStar
If you love to take total control of the cooking process, then you will adore the Turbostar! You use a quick control dial to choose from five preset temperature/time settings or select settings more suitable to your food. A brightly lit LED displays the temperature and timer, so you never have to pop the lid to see how things look under the hood. If that weren't enough, the Turbostar handles anything you throw at it. You can bake, fry, grill, and roast while preparing breakfast, lunch, dinner, snacks, and even dessert.
The Turbostar turns one tablespoon of oil and a bag of fries into golden brown goodness in minutes! The TurboStar technology circulates heat and air, so your foods are cooked evenly and with 90 percent less fat than traditional frying. This model works with the Philips mobile app, which gives you access to more than 200 recipes. If you need a one-size-fits-all model, we think you'll be pleased with this one. Keep in mind, you'll need to purchase the baking racks and grill pans separately.
Philips Premium TurboStar
Does everything well
Reasons to buy
+
Cooks food evenly
+
LCD shows time and temp
+
Works with mobile app
+
Has setting to keep food warm
Reasons to avoid
-
Baking pans and grill racks must be purchased separately
This small unit is fit for two, has a control dial, LED, and adjustable settings.
Best for Beginners: Philips Air Fryer
Minimize the time you spend in the kitchen with the easy-to-use Philips Air Fryer. With analog control dials, a countertop-friendly size, and instant heat, this is one of the best air fryers if you're new to the technology. It works fast, and the whole thing, including the fryer basket and removable handle, are dishwasher safe.
Due to the small size, you can only cook for two with this air fryer. It generates superfast heat with TurboStar technology and air fries food with little oil or smell. Like other models, you can fry, bake, grill, roast, and even reheat in this air fryer, and it's small enough to keep on a kitchen counter or store in a cupboard.
Philips Air Fryer
Perfect for couples
Reasons to buy
+
Compact
+
Easy to use
+
Heats instantly
+
Dishwasher-safe
It's small, easy to use, and air fries food in seconds.
Best Kit: Philips Premium Digital
It's three times faster than your oven, cooks for four, and removes 90 percent of the fat in foods. The Philips Premium Digital even comes with a cookbook that gives you access to hundreds of easy to prepare meals. If you want an affordable all-in-one kit, you just found it.
The LCD and digital controls are beginner-friendly and straightforward. You can air fry, grill, bake, roast, reheat, dehydrate, and even toast foods with this one device. This model stays cool to the touch, even when in use, and cleans up in a dishwasher or kitchen sink. If you want to dehydrate foods or roast, you'll need to grab a few additional racks.
Philips Premium Digital
Quick meals for four
Reasons to buy
+
Includes cookbook
+
Beautiful LCD
+
Digital controls
+
Cooks for four
It has an LCD, digital controls, and comes with a cookbook. What's not to love?
Bottom line
If you're a foodie, you know that it's hard to replicate the taste, crunch, and texture of fried foods without oil. Attempting to make fried chicken in a doctor-approved manner usually results in a soggy mess that tastes nothing like what you're actually craving. Philips changed all that with the invention of the air fryer. Our favorite, the Philips XXL (opens in new tab), passed every test we put to it. This model is ready-to-go from the moment you turn it on, never needing preheating. And it uses less than one tablespoon of oil, plus removes more than 90-percent of grease that comes out of food. How great is that?
You can also count on the Philips XXL to be your new best friend in the kitchen when you're in a rush. This unit grills, bakes, roasts, and delivers perfect fries, and it does it all quickly and cleanly. Cook up to three pounds of food in minutes and then toss the removable parts in the dishwasher and you're done. Nice! If you're looking for the best alternative to a deep fryer, this is it! We love the rich features and tasty meals that came out of it, and we think you will too.
Like most air fryers from Philips, the XXL works with the company's mobile apps for iOS and Android (opens in new tab). The free app is the best place to go for tutorials and recipes. Prop your iPad up on the kitchen counter and you have a high-tech cook center.
Looking for more kitchen gadgets? Look at the reasons why one of our staff members went with an Instant Pot.
Jodi Owan works behind a keyboard and a camera. She's a freelance writer for iMore, Android Central, and Windows Central.
Get the best of iMore in in your inbox, every day!
Thank you for signing up to iMore. You will receive a verification email shortly.
There was a problem. Please refresh the page and try again.