Best Rechargeable Battery for your Oculus Go Controller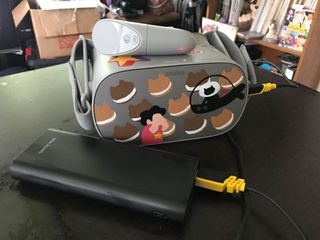 Your Oculus Go (opens in new tab) is a virtual reality headset you almost never want to stop using. Sometimes, however, your fun is cut short when you realize your controller has died and you've got no spare AA batteries lying around the house. This is where rechargeable batteries come into play. This way you can always have a backup battery waiting for you. We at Android Central are tech experts, so we're here to show you the best rechargeable batteries that will help not just in your Oculus Go, but your average household as well.
Deciding what's best for you
As you can see, Energizer (opens in new tab) and EBL (opens in new tab) offer the best deals out of the options above. While all are the same price, those are the only two packages that also come with the plugin that will charge the batteries. If you're a first-time rechargeable battery owner, those are the best options for you.
Essa Kidwell is an expert in all things VR and mobile devices who can always be found with an Oculus Go, a Pixel 2, and an iPhone 7+. They've been taking things apart just to put them back together for quite some time. If you've got a troubleshooting issue with any of your tech, they're the one you want to go to! Find them on Twitter @OriginalSluggo or Instagram @CosmeticChronus.
Get the best of iMore in in your inbox, every day!
Thank you for signing up to iMore. You will receive a verification email shortly.
There was a problem. Please refresh the page and try again.